5 Best And 5 Worst Things That Happened At The MTV Movie Awards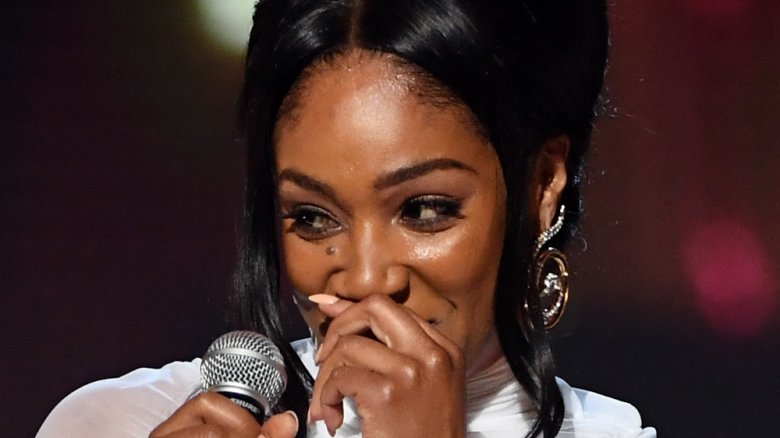 Getty Images
Far below the Oscars, Emmys, or Golden Globes in status, there's the MTV Movie & TV Awards. Rather than trying to be something it's not, the irreverent awards show is an unabashed celebration of pop culture. There are a hundred other awards shows out there that can sort out who actually has talent in the entertainment industry — MTV is just here to identify which two actors in the past year were the best at making out with each other. 
The 26th year of the ceremony saw the proceedings just as inessential as ever, but the slickly-produced show trounced its competition by being consistently entertaining. Compared to the often turgid and overlong Academy Awards, MTV's show moved at a brisk pace, shepherded quite capably by the highly enjoyable Tiffany Haddish. 
As a host, Haddish has a way of always being "on" without being abrasive, and her infectious enthusiasm served the show well. But what about everything around Haddish? That was a little less consistent. Here are the five best and five worst things we saw at the MTV Movie & TV Awards this year.
Best: Challenge the king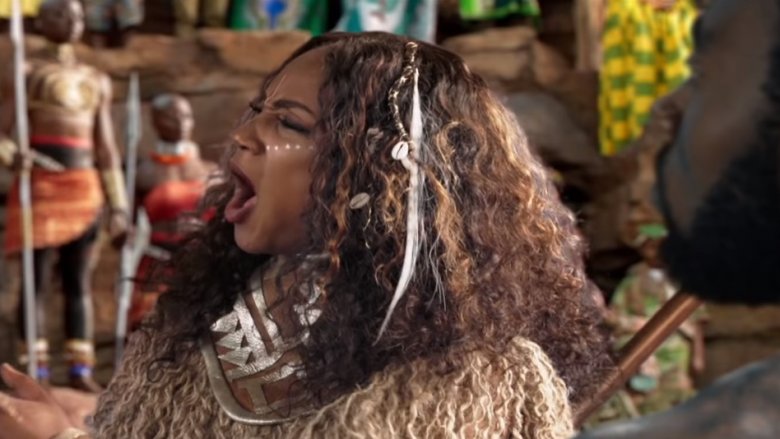 MTV/Marvel Studios
The 2018 MTV Movie & TV Awards show kicked off with a familiar set piece from the year's first Marvel movie, with King T'Challa of Wakanda standing ready to face down any challengers to his throne. But instead of M'Baku or Killmonger, the Black Panther spoof saw host Tiffany Haddish turning up in the secretive nation to do battle with T'Challa, then hang out at the Wakanda Sheraton for a steeply discounted rate when she was done.
Haddish was joined in her quest by Queen Latifah, Jada Pinkett Smith, and Lil Rel Howery as part of her squad of political insurgents. While she naturally failed in her efforts to best T'Chadwick Boseman in single combat, she did manage to hold on long enough for Thanos' snap from Infinity War to kick in, disintegrating the Panther before the eyes of his people. 
With the throne empty, Haddish then slammed a bowl of purple stuff and became imbued with the power of Wakanda's ancestors, finishing the skit by becoming the incredibly horny Black Unicorn. 
The good-natured spoof was a great start to the awards show and the best gag of the night, as impressively produced as it was well-written. It also perfectly set the tone for Haddish's turn as a host, happily unhinged and playing off a beloved (and very meme-able) movie. But will she be back for Avengers 4?
Worst: Scene stealer stolen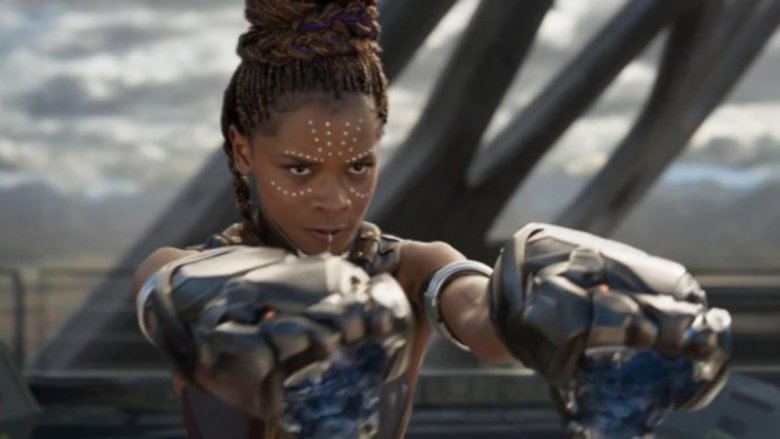 One of the first awards of the night was the Scene Stealer award, which Black Panther star Letitia Wright somehow didn't win. 
In a field that included Dacre Montgomery of Stranger Things, Taika Waititi in Thor: Ragnarok, Madelaine Petsch on Riverdale and Tiffany Haddish for Girls Trip, the trophy ended up unexpectedly going to Petsch for her work on Riverdale. 
The actress, who plays Cheryl Blossom on the CW series, didn't seem to expect the honor of an MTV Movie and TV Award to be coming her way, dropping one of the shortest and most to-the-point acceptance speeches of the night. 
To be clear, no one begrudges the Riverdale star her victory — we just respectfully disagree with the voters. Letitia Wright played Shuri, and became the whole world's little sister in a movie that grossed over a billion dollars. She roasted her brother's fashion choices, created the unbeatable Black Panther tech, and talked smack to colonizers even when they were trying to help. She was a highlight as Shuri in two movies this year, fighting off Thanos' aliens with her panther-styled fist gauntlets in another movie that grossed over a billion dollars. She stole so many scenes that it's hard to pick a favorite, winning hearts the world over as a standout player in a movie everyone saw. How did this award not go to her?
Best: Keiynan Lonsdale's eye-catching outfit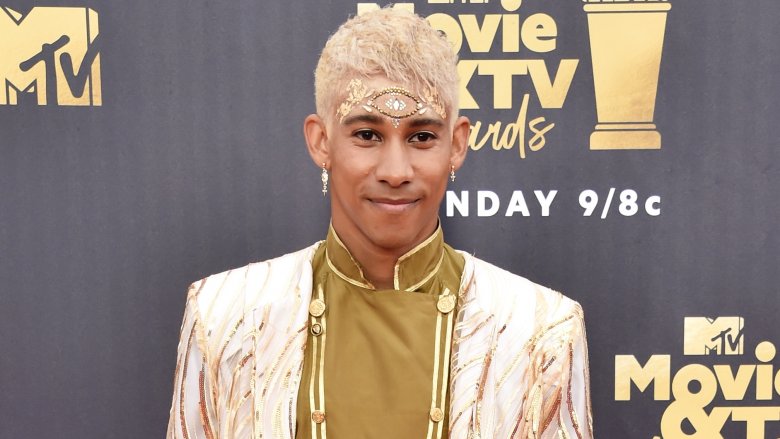 Getty Images
Now you see him — and his third eye sees you, too.
We're pretty big fans of the CW's superhero shows here on Looper — especially The Flash. And while Lonsdale may have left that series to pursue other career options, we've got no concerns about him disappearing anytime soon.
The actor, 26, came out as queer last year in an Instagram post, saying that he was "Not faking s*** anymore, not apologizing for falling in love with people no matter their gender." Since making the announcement, he's been increasingly letting his queerness show through his fashion choices, and the golden and white ensemble that he wore to the MTV Movie & TV Awards is his boldest choice yet. 
Wearing a skirt, sneakers, patterned overcoat, and round-collared shirt, Lonsdale had an androgynous look that seems to evoke Egyptian deities. As a public figure, he's clearly beginning to embrace the world stage as his authentic self, which is an inspiring thing to see. Also: We want that jacket.
Lonsdale went on to win the Best Kiss award with his scene partner Nick Robinson for Love, Simon, and the moment was triumphant for everyone in the room. (At least one of the presenters dropped their jaw when they got a good look at the eleganza coming their way.) Short and sweet and joyous, his victory speech was one of the most downright pleasant and life-affirming moments of the night.
Worst: Keeping up with the Kardashians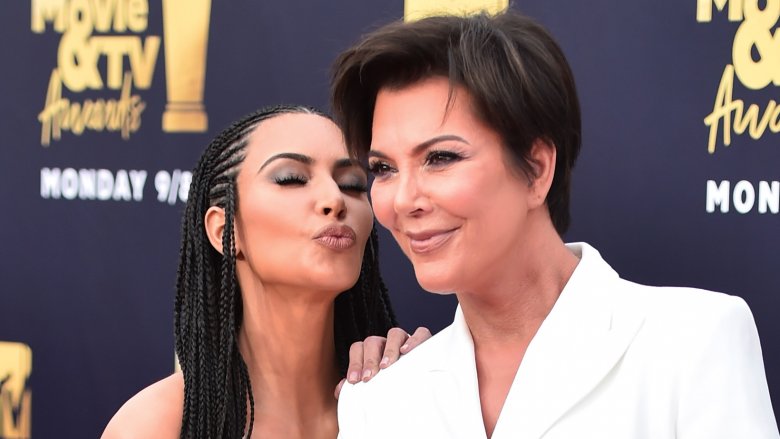 Getty Images
In a twist that could coax a yawn out of anybody, the long-running Keeping Up with the Kardashians won the year's MTV Movie & TV Award for Best Reality Series. It was the opposite of a trailblazing moment, with the award both given and received with a shrug. 
The award was accepted by Kim Kardashian West alongside Kris Jenner, striking a very familiar pose as the face and the brains of their self-made franchise. "We've been on the air for 12 years almost now," Kim said upon accepting the award, reminding us all that the long-derided series will probably continue to annoy us until the day we die and then some. The speech the duo gave was totally uninspiring and unmemorable, making one wonder why they even bothered to televise this particular award.
It's not like the competition was particularly robust or exciting, though. Instead, KUwtK went up against Love & Hip Hop, The Real Housewives, Vanderpump Rules, and RuPaul's Drag Race, with only one of those shows still being all that transgressive or exciting. If you go by just this category, where all of the contestants could have been up for the same award five years ago, it really makes it feel like reality TV has gotten stale. 
​Best: The force is strong with Tiffany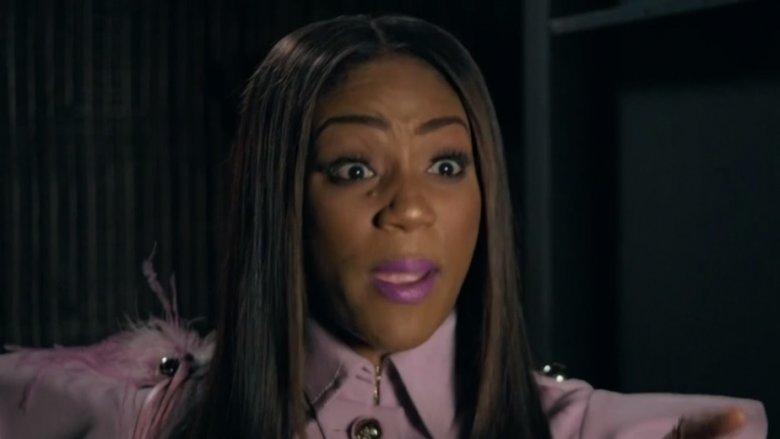 Star Wars: The Last Jedi is an unexpectedly controversial movie, with some regarding it as a herald of the series' future, and others seeing it as the franchise's death knell. One of the only indisputably good things to come out of the movie was the meme of Kylo Ren striking a buff bedroom pose, shirtless in a pair of very high-waisted pants. It was a thirsty meme that made the bratty force-wielder of Disney's sequel trilogy into a sex symbol, with just the barest hint of irony surrounding the whole phenomenon. 
This winning awards skit sees Tiffany Haddish showing up in Kylo's chambers. Facing off with the pale menace, she finds out on behalf of the whole galaxy that Kylo is into black girls — but she doesn't get the info without accidentally revealing her weakness for boys in pants that go up past their belly button. 
When Kylo begins to stress her out with his smoldering, aimless rage, she whips out a Hitachi magic wand to... relax with. Specifically, she's walking around town with the cordless massager, which is twice as expensive as the device's regular edition. The two end the skit by having a psychic duel over the tool, Kylo pulling it toward him with the Force, while Tiffany presumably wields the power of incomparable lust. But will she be back for Episode IX?
Worst: Chris Pratt's lengthy life advice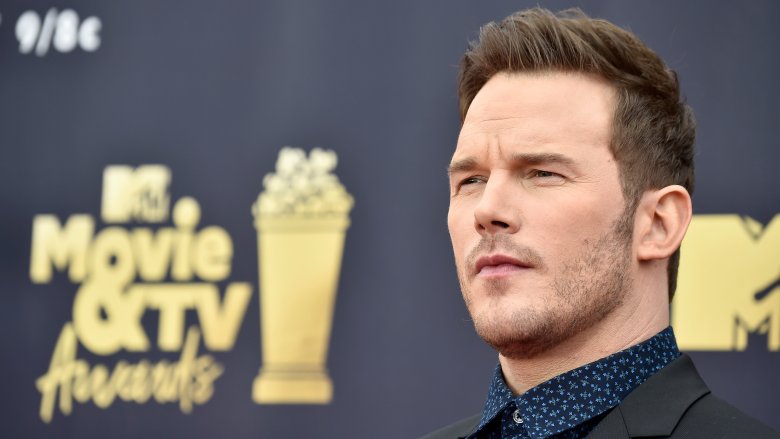 Getty Images
Chris Pratt took the occasion of his winning the MTV Generation award to share some deeply felt personal convictions, but the tone of his remarks fit in oddly with the nature of the show. Making things worse, the actor's speech went on for several minutes, bringing the party proceedings to a bit of a standstill. 
Pratt structured his speech as a nine-point list of life advice, going back and forth between faith-based guidance, like encouragement toward prayer, and scatalogical humor about, say, how to most effectively take a poop at a party. 
The shift back and forth between pious wisdom and poop and pee jokes was meant to be a humorous juxtaposition of lofty thinking and lowbrow humor, but the effect of the constantly swerving speech left viewers without a handhold to latch onto. 
Pratt's declarations that God is real, the soul is real, and that a faith-based life is a key to happiness weren't controversial in content or poorly delivered. But the awards show felt like an unexpected venue for such a message, and undercutting his more serious talk with lowbrow humor made it hard to get a read on what he wanted to convey. 
Best: The real Best Hero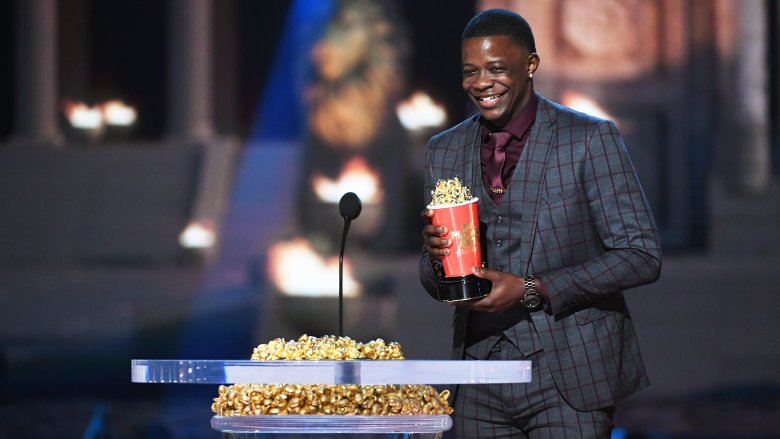 Getty Images
In terms of trophies won, Black Panther ran away with the MTV Movie & TV Awards this year. Chadwick Boseman kicked off the winning streak by taking home the trophy for Best Hero — or, he would've taken it home with him had he not given it away on stage to someone he felt was more deserving.
Boseman, who played Black Panther, accepted his award by reminding the audience of the story of James Shaw Jr., the man who in April single-handedly fought off a naked, armed active shooter in an Antioch, Tennessee Waffle House.
Though Shaw was able to put a stop to the shooting spree, some people at the site were killed, and others were wounded — him included. After taking down the gunman, Shaw then turned to raising money for the victims and their families, bringing in over $240,000. All throughout, he's continued to sidestep the media's repeated efforts to label him a hero, never seeking the spotlight or trying to make the story about himself. 
Shaw, who had been extended an invitation to the awards show, proved so inspiring to Boseman through his remarkable humbleness and genuine-feeling generosity that the actor decided to pass his trophy on to him. "This is going to live at your house," Boseman told Shaw.
For his part, Shaw indicated during Boseman's speech that he had no idea the trophy was coming to him, and accepted it just as sheepishly as he has every other bit of acclaim that he's received.
Worst: Family reunion, whether you want it or not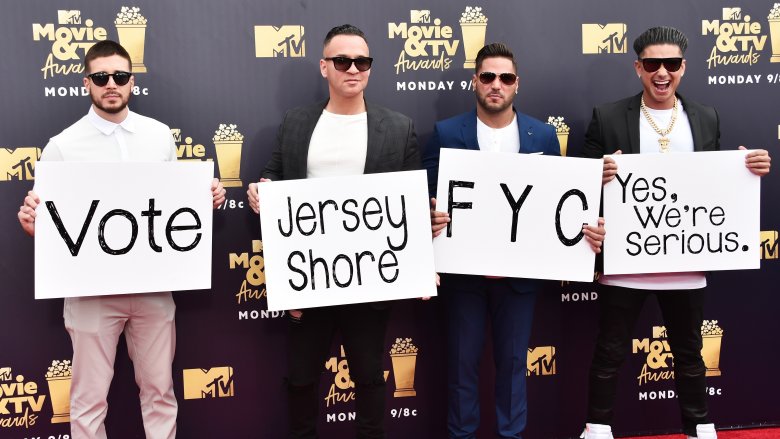 Getty Images
For the awards show's Best On-Screen Team category presentation, MTV served up a big glass of curdled milk. To introduce the award nominees, the show called in four of the dudes from Jersey Shore — specifically Vinny Guadagnino, Mike "The Situation" Sorrentino, Ronnie Ortiz-Magro, and DJ Pauly DelVecchio, the latter of whom could actually be seen working the ones and twos in the DJ booth for the awards ceremony itself earlier on in the show.
Though the foursome had all recently appeared on the reunion series Jersey Shore Family Vacation, their appearance on stage at the awards show reminded us all quite powerfully of the meaning of the phrase "diminishing returns."
The truth is, no matter how much fun Jersey Shore was at the time of its season one heyday, we simply know too much about these people, now. Nothing is pure anymore. Ronnie has a long, documented history of infidelity, violence, drug abuse and psychotic behavior, Mike is facing prison time, Vinny looks like he doesn't want to be there, and Pauly just seems like he's too successful to still be showing up for this stuff. Why couldn't they just have the Stranger Things kids do this one?
Best: Paris still burning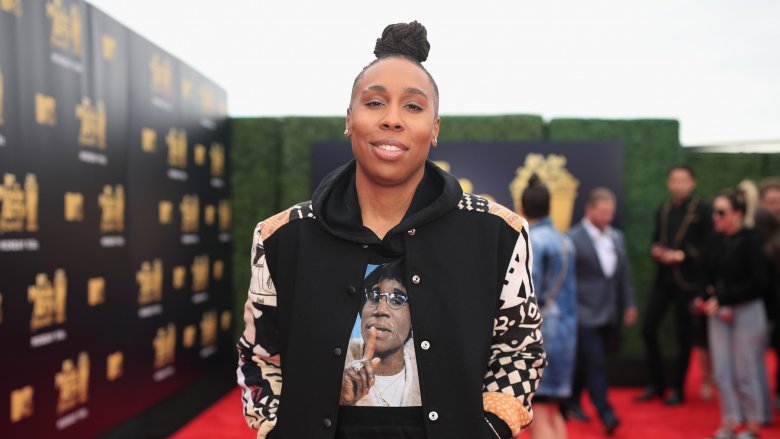 Getty Images
Another one of the night's triumphant moments was the acknowledgement of The Chi showrunner Lena Waithe, who received MTV's Trailblazer Award. 
The award, created in 2012, is meant to highlight the career accomplishments of a relatively young actor or filmmaker, as opposed to lifetime achievement awards which typically only come into play at the tail end of a career. Waithe received the honor for her diverse body of work, which includes an acting and writing stint on Netflix's Master of None, for which she became the first black woman to be nominated and win an Emmy for writing in a comedy series. 
Waithe, a lesbian, didn't make her acceptance speech about her and her accomplishments. Instead, she used her platform to give a shoutout to the movie Paris is Burning, which is one of the most treasured documents in all of queer cinema. A documentary about New York's ball scene in the late '80s, the movie features a number of true trailblazers who lived, suffered, danced, and died as their genuine selves, carving beauty and meaning out of a life on the fringes of society. 
"I believe the only reason why I'm even allowed to stand here is because of a few other trailblazers that some of you might not be aware of," Waithe said.
Worst: A stale joke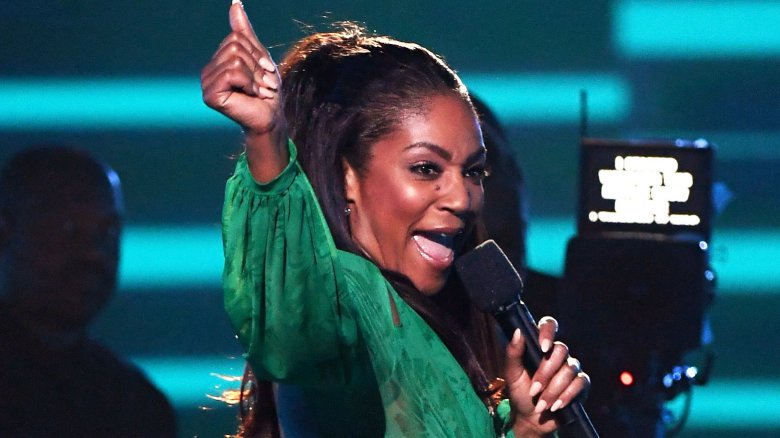 Getty Images
One of the few movie parody skits of the night that didn't quite land was a concept that felt like two ideas smashed together, neither of them really working to their full potential. 
Riffing off the super-successful horror film A Quiet Place, the skit followed Tiffany Haddish as she sat down for a theatrical screening of the movie. She provides a running commentary of the sign language-heavy picture, talking to the screen and questioning why the movie has to be so quiet, but the joke never really goes beyond that. 
The skit then pivots to a sort of spinoff movie idea called A Dark-Ass Place, which takes the concept of monsters sensitive to sound and flips it so that they can track down light and visual stimuli. Throwing up a black screen, Haddish provides voiceover along with Dave Chappelle, Elisabeth Moss, and Jamie Foxx, riffing casually on the concept of a horror movie you can't see. Despite sounding funny on paper, the spoof doesn't really go anywhere, and wastes some formidable comedic talents on a premise that goes stale fast.