Pump Rules: Katie Says Schwartz Dropped A Big Hint About Scandoval At 2022's BravoCon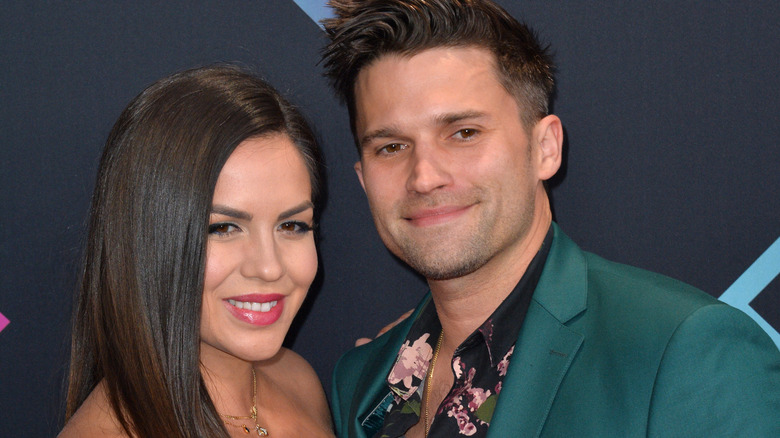 Featureflash Photo Agency/Shutterstock
As the "Vanderpump Rules" scandal dubbed "Scandoval" continues to relentlessly unfold, new information comes out every single day, thanks to the fact that the messy idiots who populate this show never, ever stop talking. According to current cast member Katie Maloney — formerly Katie Maloney-Schwartz — some of that information came out long before Scandoval came to light, and naturally, it involves her ex-husband Tom Schwartz.
On an early April episode of Kaitlyn Bristowe's podcast "Off the Vine," Maloney revealed yet another thing that probably should have tipped her off about Scandoval a long time ago. As she recalled, she called Schwartz out over Rachel "Raquel" Leviss — the woman at the center of Scandoval alongside her secret paramour Tom Sandoval — "following [him] around like a puppy dog" while the cast was attending BravoCon in October 2022.
"She [Leviss] wore this TomTom hoodie and everyone was commenting how bizarre it was," Maloney told Bristowe and her co-host Lo VonRumpf. "She went to the Tom and Tom panel and sat in the front row," Maloney continued. "I thought it was about him because I thought she was after him." Schwartz, according to Maloney, said otherwise, telling his ex, "She wasn't there for me. Trust me." Maloney went on to say that the comment "kind of stuck" and she "started putting things together," but in the moment, she recalls saying, "Say less. I get it."
Tom Schwartz is the king of saying too much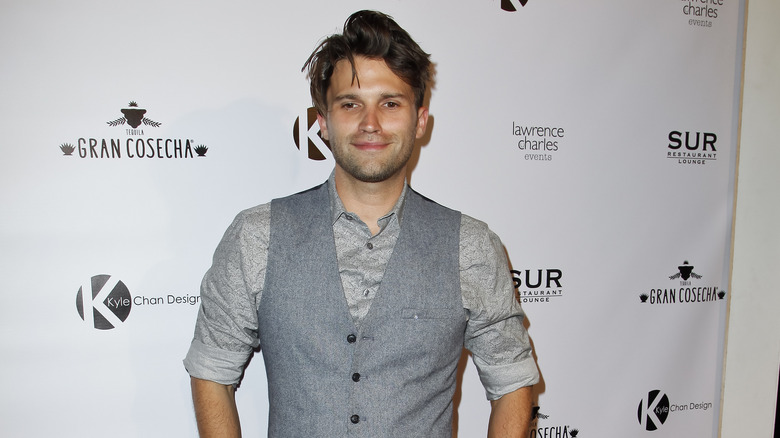 Tibrina Hobson/Getty Images
If there's one thing Tom Schwartz is not going to do, it's "say less." The co-owner of TomTom has been running his mouth ever since the news of the scandal broke, which is perversely funny considering that his role in it might be even stranger than one might think.
During an appearance on "Watch What Happens Live" alongside "Unstable" star John Owen Lowe and host Andy Cohen, Schwartz, predictably, said probably too much. He even clarified when the affair between Sandoval and Leviss began, saying, "Tom [Sandoval] was having, like, a midlife crisis. I learned in August [2022], in late August about the affair, the one-night stand — allegedly ... From my point of view, it became, like, an emotional affair, which is still inappropriate."
Schwartz also said Sandoval admitted he was in "love" with Leviss and kept telling his business partner he would do the right thing and come clean about his affair. Obviously, he didn't do that. "He did a good job of placating me," Schwartz said. "And he told me he has a game plan, he's gonna do the right thing — and then he just kind of continued to procrastinate."
Was Tom Schwartz a distraction from the Scandoval of it all?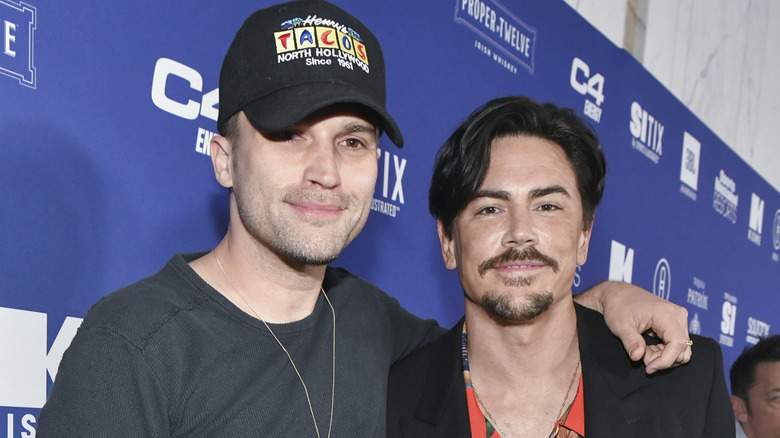 Rodin Eckenroth/Getty Images
The bizarre irony here is that, throughout Season 10, the storyline about Leviss and Sandoval's affair hasn't even come to light yet — the bigger issue is, allegedly, between Leviss and Schwartz (and, indirectly, Maloney). During this season, on the heels of Schwartz and Maloney's divorce, fellow cast member Scheana Shay encouraged Schwartz to move on... with Leviss, who was also back on the market after ending her engagement with "Vanderpump Rules'" resident DJ James Kennedy. 
This encouragement, which both Leviss and Schwartz seemed intrigued by, ended up causing a myriad of problems between Maloney and, well, just about everybody else. Hurt and betrayed by her former friend Leviss and her recent ex-boyfriend, Maloney has, thus far, made no secret of the fact that she's angry at both parties. When Schwartz and Leviss end up kissing at Shay's wedding in Mexico and their friends — Maloney's former friends — cheer them on, it's not surprising that Maloney is incredibly upset, which she expresses very subtly by saying she "wants to set them both on f***ng fire."
Through all of this drama, though, the truth was that Sandoval and Leviss were already involved, which makes Schwartz's role in this incredibly shady. Did he really not know and was accidentally pursuing his friend's secret girlfriend, or was he covering up for his buddy?
Wait, what's Scandoval?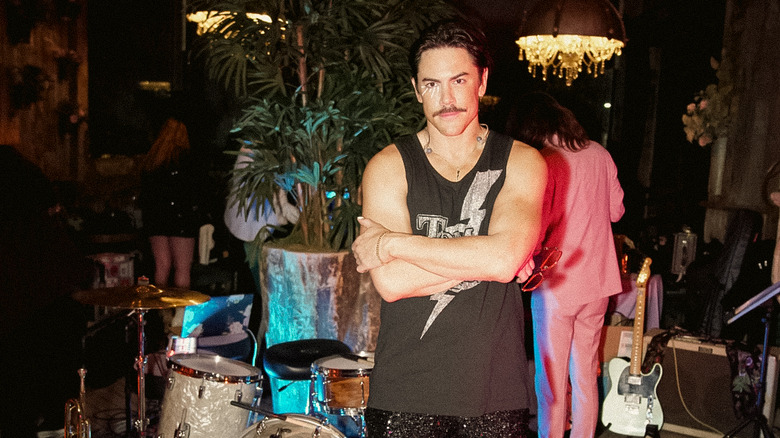 Andrew J Cunningham/Getty Images
Buckle up. Shut the door. Have a seat. Here's the deal with Scandoval (so far).
In early March of 2023, while attending Sandoval's self-funded vanity project Tom Sandoval and the Most Extras in concert, Sandoval's longtime girlfriend Ariana Madix allegedly discovered intimate videos of Leviss on her boyfriend's phone, breaking the news wide open and revealing the affair to everybody. In the weeks that have followed, the "Vanderpump Rules" fandom has been sent into a total tizzy, trying to unpack Sandoval and Leviss' betrayals of everyone around them and looking for clues in new episodes to clarify the timeline of it all. As of this writing, it's believed that Sandoval and Leviss were having an affair for seven months before it all came to light.
Sandoval has tried to defend himself, telling Howie Mandel on the latter's podcast that his relationship with Madix was all but over, while Madix seems to be generally thriving without him weighing her down (as she said in an Instagram post regarding the matter, "whatever doesn't kill me better run"). 
In any case, fans can look forward to the full dirt when the reunion starts airing on May 24 on Bravo. As Schwartz said in that same "WWHL" appearance, ""I have never seen such a ruthless denunciation of two human beings in my life. Ariana had a fire in her. I mean, she eviscerated those two. I didn't know she had it in her. I've never seen anything like it in my life. Tom [got more heat], for sure. Raquel took some blows, but, yeah, Tom got just eviscerated."
"Vanderpump Rules" airs on Wednesday nights at 9 P.M. EST on Bravo.