VPR: Tom Sandoval Reveals Failed Plan To Use Couples Therapy To Disclose His Affair To Ariana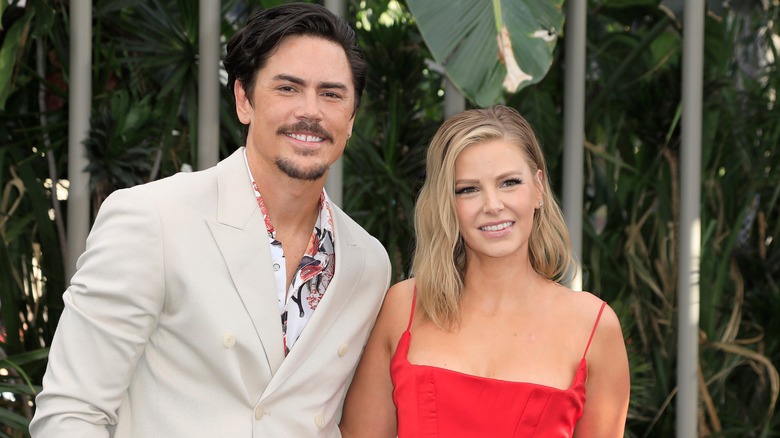 Joe Seer/Shutterstock
The "Vanderpump Rules" scandal known as "Scandoval" — in which Tom Sandoval cheated on his girlfriend of nine years, Ariana Madix, with fellow cast member Rachel "Raquel" Leviss for an extended period of time — is still making headlines. Now, Howie Mandel is involved. Yes, the guy from the show with the gold suitcases that once featured Meghan Markle, the former Duchess of Sussex.
Sandoval went on Mandel's podcast, "Howie Mandel Does Stuff," to address the scand(ov)al, and he certainly provided his side of the story, in any case. Not only did he say that he ended his relationship with Madix on Valentine's Day 2023 — and that Madix refused to accept that eventuality — but he said that he meant to end things in couple's therapy with Madix and ultimately didn't do that.
"I wanted to be there with a therapist because in the past when I tried to bring things up with Ariana she shuts it down and metaphorically flips the Monopoly board and walks away," Sandoval told Mandel. ""As we kept going, I kept more and more putting it out there, and then towards the later sessions I was going through hypotheticals. 'Hypothetically if we break up, what would you do?' And Ariana too, at this point had got a Coachella house and even after our first session, she was like, 'It's a lot of money if you want to break up with me.'"
Tom Sandoval claims that Ariana Madix had an extreme reaction to the breakup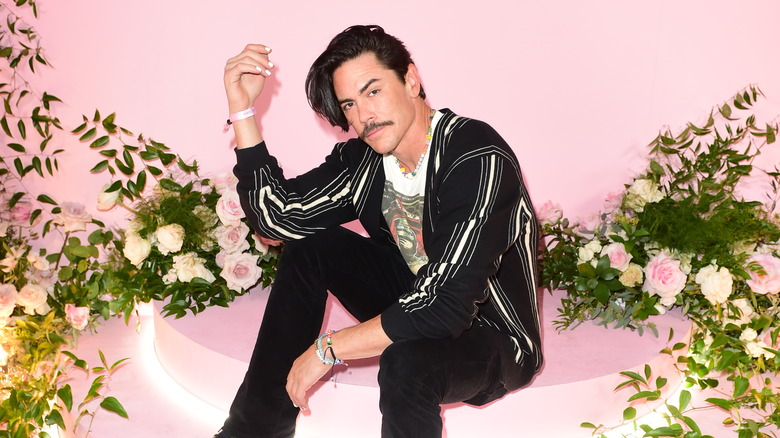 Vivien Killilea/Getty Images
What Sandoval claims about his breakup with Madix, which he admits happened after his first dalliance with Leviss but before the scandal broke, is that she told him in no uncertain terms that she wouldn't stand for it. "I sit down to talk with her again and she's like, 'I'm not letting you leave me. You're gonna have to force me out of this relationship,'" Sandoval alleged. "She's like, 'If you break up with me, you will effectively be ending my life.' ... I didn't know what to do. She was completely in denial and not accepting it."
Sandoval also made some pretty extreme claims about Madix's post-breakup behavior, including that she punched him and that she asked him about freezing eggs together to eventually have a baby in the aftermath of him supposedly ending their relationship. In any case, Sandoval's entire take on the situation is that the two were only together for "the brand," and that Madix said she would go scorched earth if they publicly ended their relationship, in that she would quit the show and fully disappear.
"You know how much that hurts me, because she's been on this show for nine years, building all of this. And you're just gonna throw that away?" Sandoval said, in an attempt to have a leg to stand on. "Also, you haven't had to deal with any real drama on the show in years, so now sh** hits the fan with you then you quit? That's not fair."
What's going on with Scandoval?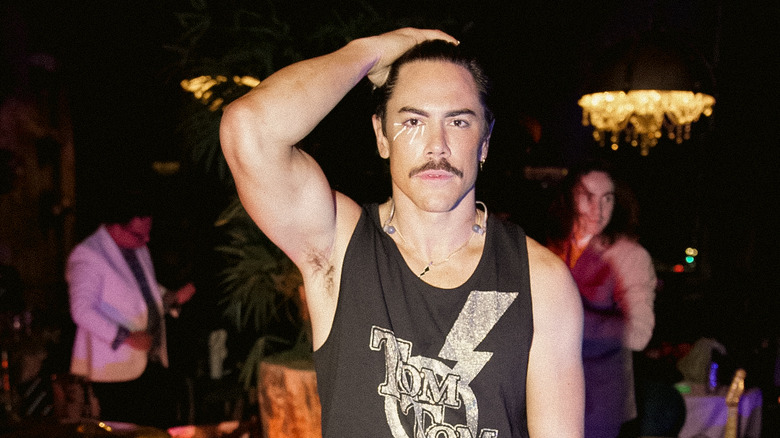 Andrew J Cunningham/Getty Images
For those unfamiliar with the broad strokes of "Vanderpump Rules" — or for fans who stopped watching when everybody got married and had babies, and things got way less messy and much more boring for a while — there's an easy way to explain Scandoval, thanks to a meme that's been going around since this all began. Imagine, if you will, if Chandler (Matthew Perry) and Rachel (Jennifer Aniston) had an affair for seven months behind Monica's (Courteney Cox) back, and Joey (Matt LeBlanc) knew all along.
The scandal broke in March of 2023 when Madix allegedly discovered an explicit video on Sandoval's phone while he was performing with the band and vanity project he personally funds, Tom Sandoval and the Most Extras. Since then, "Vanderpump Rules" fans have been obsessively poring over episodes as Bravo drops each episode on Wednesdays, and the reunion, which Sandoval's business partner and best friend Tom Schwartz described as "the most ruthless denunciation of two human beings" he'd ever seen in his life, will probably span two to three installments.
The first reunion for Season 10 of "Vanderpump Rules" airs on Bravo on May 24, so fans will hopefully get to learn more then.