Amber Heard Reveals How Zack Snyder Convinced Her To Play Mera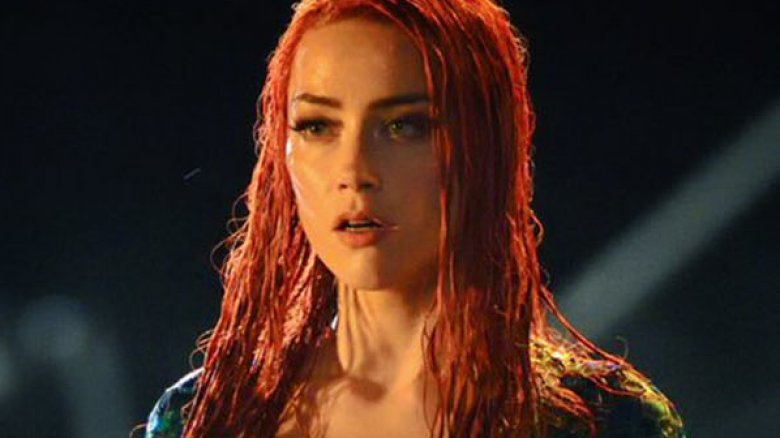 Jasin Boland/Twitter
Fans have director James Wan to thank for putting Amber Heard's Mera in the spotlight with his forthcoming DC standalone Aquaman, but they have to credit fellow filmmaker Zack Snyder for getting Heard to agree to play the underwater heroine in the first place. 
Heard revealed to Entertainment Weekly as part of the print's exclusive Aquaman cover story that the Batman v Superman: Dawn of Justice and Justice League director pitched her the role of Mera in a way that truly spoke to her and her beliefs. Because Heard has a self-described "allergy" to the run-of-the-mill damsels in distress and female characters who aren't treated in the same way their male counterparts are, Snyder's description of Mera as a bold badass had her hooked. 
"I'm allergic to being the damsel, the two-dimensional archetype of what women are often limited to in this industry, especially in the superhero world," Heard told the outlet (via ComicBook.com). "Zack got me at 'warrior queen.' He said, 'You get a sword and a crown,' and I'm like, 'Okay.'"
Prior to making her first appearance as Mera in Justice League, Heard gushed to Allure about the character, calling her a "personal favorite" of hers. "She's the damn queen of Atlantis. Daughter of the king of Xebel, she's a fighter, and she has the power to use hydrokinesis, the ability to control water," the actress said. "Her appearance on the big screen is long overdue."
Justice League, which was actually completed by Joss Whedon after Snyder stepped away as director following the death of his daughter, saw Mera protecting a box that the villainous Steppenwolf (Ciarán Hinds) eventually got his hands on. 
Heard's role in the critically lambasted Justice League was small, but she plays a pivotal part in Aquaman, in which she'll share the screen with Jason Momoa's Aquaman — her love interest that she may not see eye to eye with at first, further proving that Mera is not your typical heroine who's swept up by the main man of the movie. 
As director Wan once explained, Aquaman "starts off initially with them not quite clicking with each other," but ends up seeing the two progressing, working together, and acknowledging their chemistry. "I think Amber will bring that sense of strength, but at the same time, we also want someone who has a sort of feminine quality to her as well," he added. "She's a bit of a contrast to Momoa, who's more of a muscular machine almost."
Catch Mera's Warrior Queen of Atlantis when Aquaman swims into theaters on December 21.