The Captain America Endgame Death That Didn't Happen - Exclusive Giveaway
In 2019, the Marvel Cinematic Universe fanbase was shaken to its core with the tragic death of Tony Stark/Iron Man (Robert Downey Jr.) in "Avengers: Endgame" to conclude the superhero team's climactic battle with Thanos (Josh Brolin). Given the deep emotional impact felt by fans with the loss of Iron Man, it's hard to imagine the Avengers saga ending any differently. However, a new revelation by Anthony Francisco, a former senior artist in Marvel's Visual Development department, suggests that Marvel Studios may have been considering Captain America (Chris Evans) instead of Iron Man to make the ultimate sacrifice in "Endgame."
In a new original Looper video, Francisco, the creator of the new multimedia project "Creature Chronicles," and Ryan Potter — who stars as Gar Logan-Beast Boy in the HBO Max streaming series "Titans" and voiced Hiro in the best animated feature Oscar winning film "Big Hero 6" — discussed in depth their work in the film and TV industry. Among the topics was Francisco's expansive work on concept art for the MCU, which includes key scenes in the "Avengers" saga.
In his conversation with Potter, Francisco said while he was with Marvel Visual Development, it was customary to get the entire script for any given MCU movie, but that all changed with "Avengers: Infinity War" and "Endgame." The portion of the screenplay Francisco said he did receive, however, included a bombshell scene. As such, Francisco drew a sketch of the crucial moment, plus rendered some fully-fledged artwork for the scene.
"I had a scene that I was doing [with] Thanos in 'Endgame,' [where] his young self comes into the present," Francisco explained to Potter. "When I was painting it ... the skull of Captain America was in his hand. [So, I thought], 'Is Captain America going to die? No! Is he going to die?' And when I saw the film [I thought], 'Oh, they tricked me. It's Iron Man [who] is going to die.'"
Francisco says the Captain America skull artwork may have been part of a huge misdirect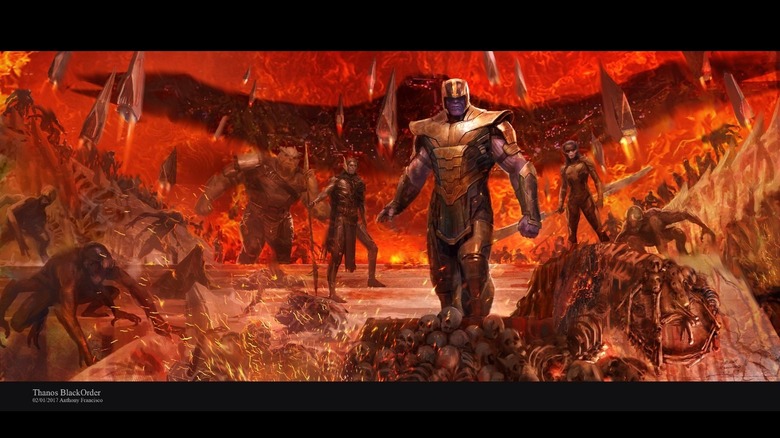 Anthony Francisco Art
In an era where movie spoilers proliferate the internet, Anthony Francisco told Ryan Potter that it's conceivable that the artwork he rendered showing Thanos holding Captain America's skull might have been one of the many measures Marvel Studios was taking to protect the conclusion of "Avengers: Endgame."
"I heard they were giving false scripts to different people and not giving [all the details about] all the main characters who are dying, so no one really knows," Francisco told Potter. "I don't know if they did that with us [at Visual Development], too, but there's a possibility they were choosing between the two big guys — Iron Man and Captain America."
The interesting thing is, at least part of Francisco's work ended up being in the film completed film, sans the skull of Captain America in Thanos' hand. "The scene I painted actually came to fruition — the part where the younger Thanos comes out of the portal with his army," Francisco told Looper in an email interview. "I only had two pages, I believe, and I didn't know if I had a fake script at the time. When I watched some interviews with the cast and they talked about getting only the pages they needed and that some pages were fake and that's when I thought maybe I had a fake script. 
"For the art book, I was asked to take [Captain America's skull out of Thanos' right hand] as to not reveal any spoilers, but boy was I surprised when it I saw that it was Iron Man who dies. At that time, I had no reason to believe what I got was fake until I watched the interviews, but I am just speculating."
While Francisco has never spoken with Marvel President Kevin Feige, "Endgame" directors Anthony and Joe Russo, or screenwriters Christopher Markus and Stephen McFeely, he has yet to confirm whether Captain America's death at the hands of Thanos was actually a consideration. If he can't get an official answer, Francisco said at the very least, "Maybe I would ask the Russos if they saw my painting and what they thought of it."
Win an Avengers: Endgame sketch recreation drawn by Anthony Francisco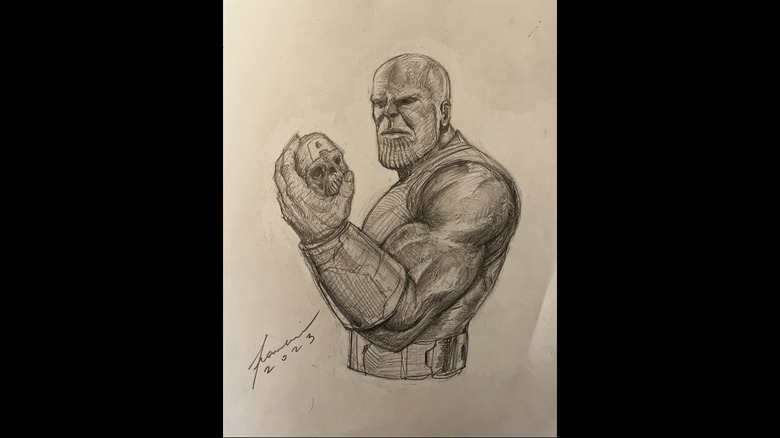 Anthony Francisco Art
Looper is giving away an original sketch by Anthony Francisco, which is a recreation of concept art of Thanos holding Captain America's skull that he drew for "Avengers: Endgame." To enter, follow Looper and /Film on Twitter, and re-tweet Looper's post about the giveaway — we've included it here for your convenience. The giveaway ends on Thursday, April 27, at 11:59 p.m. EST.
Learn how to draw comic book creatures with Anthony by clicking here, and be sure to follow Anthony on YouTube. Anthony is the Filipino-American artist who designed Baby Groot in "Guardians of the Galaxy: Vol. 2," Loki's costume in "Thor: Ragnarok," the Dora Milaje warriors in "Black Panther," and many more!
Fans can also follow Anthony on Instagram and Twitter.
Catch Ryan Potter's writing debut on the April 20 episode of "Titans" and the rest of part 2 of the final season Thursdays on HBO Max. Fans can also follow Ryan on Instagram to stay updated on his adventures.