Ryan Potter Hypes The Future Of Titans Season 4 - Exclusive Interview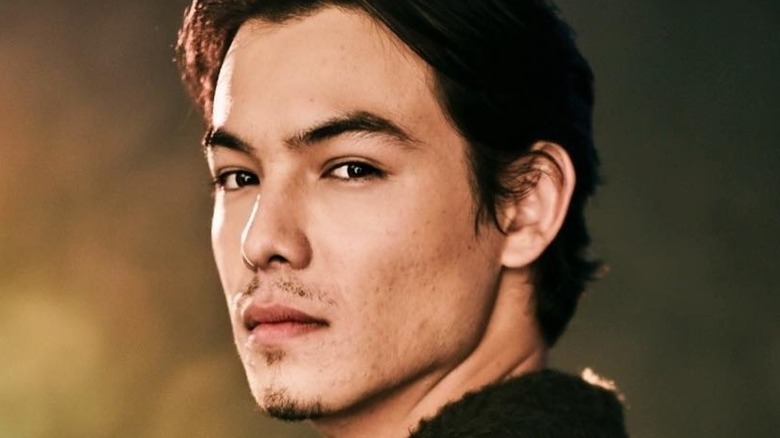 Ryan Potter
"Titans" Season 4 is already packing quite a punch, and Ryan Potter's character, Gar, is leading the charge. While the series has done more than a few homages to the "Batman" universe throughout the years, this season's focus is centered a bit more on Superman characters than we've seen in the past, widening the show's DC Comics inspiration.
In addition to his on-screen roles, Potter has quite an impressive voice acting resumé. He took on the role of Hiro in 2014's "Big Hero 6" and hasn't put down the character since, with more than a few spinoff projects. He also won voice roles on projects like "Throne of Elves," "Kingdom Hearts III," and "Jurassic World: Camp Cretaceous." Additionally, he's taken on live-action roles on shows like "Supah Ninjas" and "Lab Rats: Elite Force."
Looper spoke to Potter during an exclusive interview, where he discussed "Titans" Season 4, working with Krypto the super dog, his close-knit bonds with the cast, and what we can expect from Joseph Morgan's character, Sebastian Blood. Potter also discussed his role on "Big Hero 6" and on-screen Asian representation.
A touch of Superman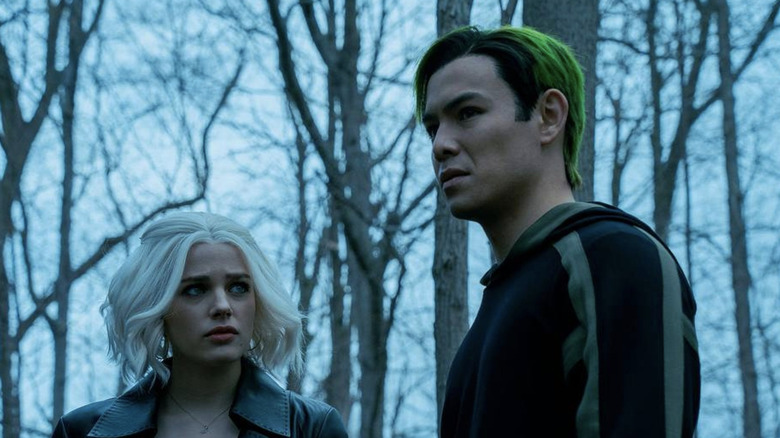 HBO Max
I love all of the Superman elements that are being brought in this season. Are there any storylines on that for any heroes or villains that you'd like to see on the show from the Superman spectrum?
Great question. Honestly, that's a question definitely meant for Josh [Orpin]. That storyline's a lot closer to his wheelhouse than mine, but we have the introduction of Lex Luthor this season. In my opinion, [that's] one of the most accurate Lex Luthors we've had in the DC canon up until this point. I love the animated version of him, and I feel like this version is very much reminiscent of that. In terms of Superman villains, if you were to introduce any, maybe Brainiac, but I feel like that's so much better for a film reveal [as] opposed to a series reveal.
If the series decides to cast Superman, is there anyone you can think of that would be cool to take on that role?
It's hard to top [Henry] Cavill. He's such a perfect Superman and — spoiler alert for the DC Universe fans — he's back. I don't think there's a better candidate than Cavill.
What have been some of your favorite moments working with actors like Alan Ritchson, Anna Diop, Teagan Croft, and do you have any fun stories from set with them?
Alan is a machine of a human, his work output. He's a father to three. He's able to get up and crush two workouts, or, I don't know, [maybe] it's ten workouts. I don't know how many he actually does in a day. But his commitment to the craft ... Project by project, he's been so professional and definitely a role model in terms of how I like to carry myself on set.
Anna is an icon. Clearly, social media absolutely loves her, and for good reason. There's a level of strength, and there's a vulnerability that she brings to this character that is kind of difficult when you're asking for this warrior princess that exudes joy but also will resort to violence, usually as her first line of defense.
And Teagan's wonderful. I've watched her grow on this project, year after year, and what she brings to this character is so reminiscent of the "Teen Titans" animated show that I tend to forget that she's in character when she's in her deadpan brooding process. They've all been incredibly wonderful to work with, and I think our show has been very blessed with [an] abundant amount of good human beings that are also talented performers.
The bonds of found family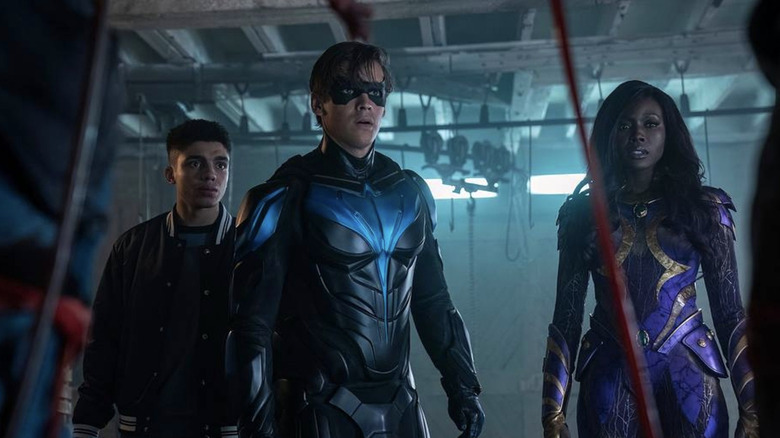 HBO Max
There's this lovely idea of found family amongst a group that's ripe with trauma. What do you love most about that aspect of the show? Have any of those familial bonds extended off-screen as well?
Yeah. Like many shows that have had to shoot during the pandemic ... Our show, in particular, with how locked down the conditions in Toronto were and how locked down Canada was, over the course of Season 3, we really came together, and it was one of the only things that we were allowed to do. Luckily, [we were able to] be sociable and get to work with an incredible crew of professionals, [and we] also [got] the opportunity to do our job and be playful and be joyous and make jokes and try and allow that levity to transfer on-screen, and then hopefully try and improve people's days throughout 2021.
That bond was cemented, I think, in Season 3 with a revised and slightly smaller cast, [and that] was even more cemented in Season 4. This season is all about teamwork and family. We would go to concerts, hang out at the park, [and] we would go to the gym. The cast dynamics were slightly different, but I definitely was the one that was jumping around from age group to age group and also friend group to friend group. It was lovely getting to further know these humans and also further explore the professional workplace relationship.
Krypto is the best (super) boy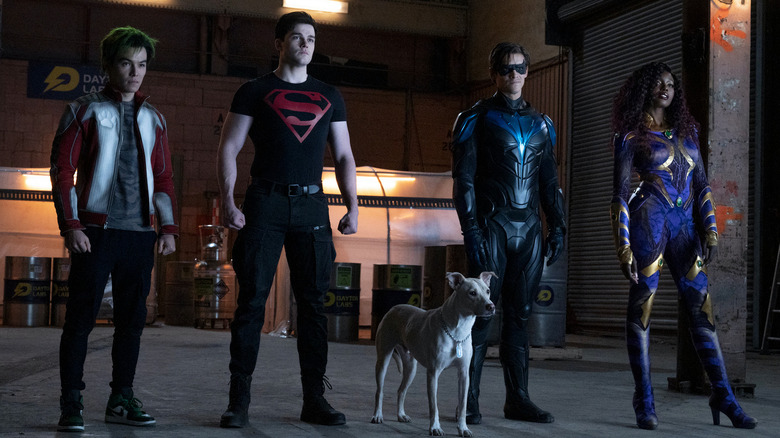 HBO Max
One of my favorite characters in this show is Krypto. How exactly does the series bring everyone's favorite super dog to life? What are the CGI components when you're filming scenes with him?
Melissa and the team that are the dog trainers and animal trainers for our show, they're wonderful. That team is on it. I don't think I've ever met a more sentient and well-behaved animal in my life. Aside from the Kryptos that they've trained and brought onto our show, there's maybe 25% of the Krypto assets that make it to camera or onto [the] screen, and the final product [is] CG. But the majority of Krypto, the majority of Pepsi and Wrigley, the dogs that portray the character, are actually on set. 
Josh and I have had numerous scenes with Krypto. It's been fun learning how to work with these animals but also realize that they have their own rhythm and their own schedule that they need to abide by, [such as] taking five or ten minutes for the dog to get a snack break and move away from set, from the loud noises and the energy of that workplace. It's a pleasure to see.
Can we expect to see him in Season 4?
Yes. It's always difficult shooting around Krypto because sometimes our dogs can be a little unpredictable, but also, shooting the group scenes are already difficult as is. So trying to work Krypto in isn't always the most effective for our shoot schedule. But the scenes that he's in, they're worth having him in. They're themes that create more [of a] sense of family and paint the bigger picture that not only is there a family dynamic at play, but we're also caretakers of this hyper-intelligent dog with superpowers that also is a caretaker of us. It's a beautiful relationship between Superboy and Krypto and also Josh and the animals that portray Krypto.
Working with Joseph Morgan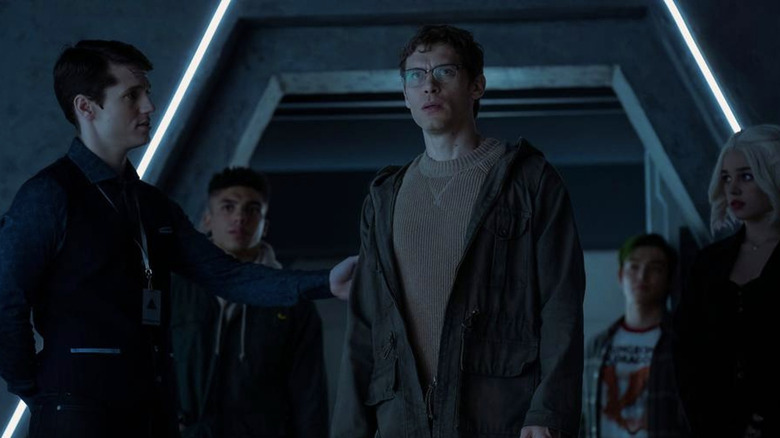 HBO Max
I'm really excited for Joseph Morgan's arc as Sebastian Blood. Have you gotten a chance to work with him yet? Can you tease anything about that storyline?
It's tricky because Joseph and I are complete opposites [in terms] of what we bring to the show. Joseph is portraying this really complex human-turned-villain, and I play a fairly simple individual who is always trying to bring levity. While Joseph is bringing the stakes and the intensity, the darkness to the show, I'm always on the other end, trying to dismantle how gruesome our show can get. So we actually don't have many scenes with one another.
I don't know if it was on purpose, but tonally it made sense. I got to spend some time with him in the gym and in passing, and he's an incredible human being and the most professional villain we've had on our show yet. His artistic process — it's every actor's dream to be able to work with someone who not only inspires them but also reminds them that what they get to do is a privilege, and that the craft is an art form but also still a privilege.
Joseph embodies that and understands it fully. He shows up with a commitment and a joy that I haven't really seen on our show, especially from the villains. Shout out to Seamus [Dever], who is our villain in Season 1. Joseph brings a level of professionalism and notoriety to the show that we otherwise haven't had, and he shows you that you can be a good villain and still be a good human.
The show has covered quite a lot of Batman-inspired storylines. Are there any villains or heroes from that universe or any other DC franchises that you're dying to see on the show?
Yes. The Royal Flush Gang are a crime syndicate family from the DC Universe. They're really well known for being in "Batman Beyond," but also fighting Batman numerous times. I love their visual aesthetic. I think they're a really fun team that would pair well versus the Titans, because each member of the team has a slightly different specialty in a way that ours does. And there is a friend-turned-foe in [the] "Teen Titans" animated series that I think would do really well on our show if it were to continue. I don't really want to share who that is and play that card yet because that would be a fun surprise for fans if there were to be a Season 5.
Revamping the DC classics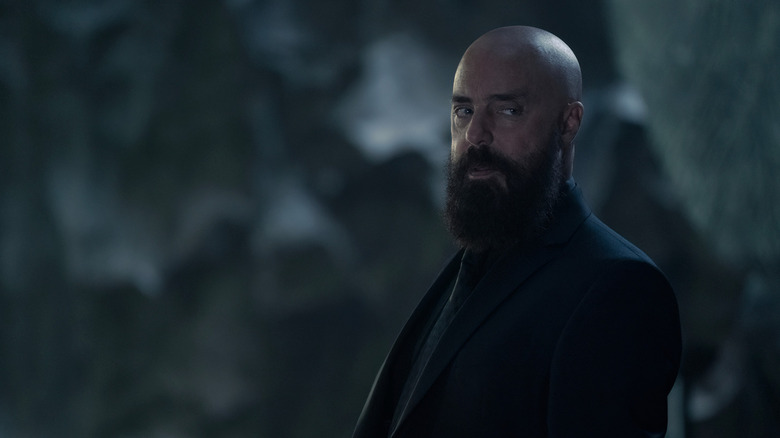 HBO Max
How do you think "Titans" puts its own spin on beloved characters like Bruce Wayne, Lex Luthor, and Slade Wilson without overshadowing the Titans aspect of the show? 
I think the tone from the get-go has always been [for] these characters to feel like they could operate and exist in reality. There's that sense of these characters being very grounded. But the writers and the creators have done a really good job of sticking to their origins, especially from the comic book origin. The Luthor that we've seen is cold, calculated, [and] hyper-intelligent. He has his motives, but he also [has] a tinge of fear that motivates his actions, which we feel from the comics. 
And Trigon is as accurate as we can get to a giant sitting tall like a red inter-dimensional demon. And Death Stroke has been, in terms of his appearance, one of the most comic book-accurate looks that we've ever seen in live action, maybe aside from a Joe Manganiello suit, which I absolutely love as well. Our show has done a fine balance of doing their own spin on these characters but pulling the bulk of their personalities and motives from the comics.
Did you watch the original "Teen Titans" or "Teen Titans Go!" and did either of those shows help inform your vision?
Oh, yeah. I grew up on "Teen Titans." I was a huge fan of that show. I'm actually seeing Greg Cipes in an hour or so. I grew up with that show, and it has certainly informed my performance and the energy that I bring to the character. The conversations that I've had with Greg have informed the ethos and the mindset that Garfield should always operate from in terms of levity and peace and love and unity. 
I'm a huge fan of those projects. They've fully informed the project, and this season we actually pull from "Teen Titans" a little bit in terms of some of the storylines. There's definitely some inspiration from the animated show, and I can't wait until the people see it because I think they're going to know exactly the episodes that we were inspired from. I can't say too much more on that, but there will definitely be "Teen Titans" influence this season.
The impact of Big Hero 6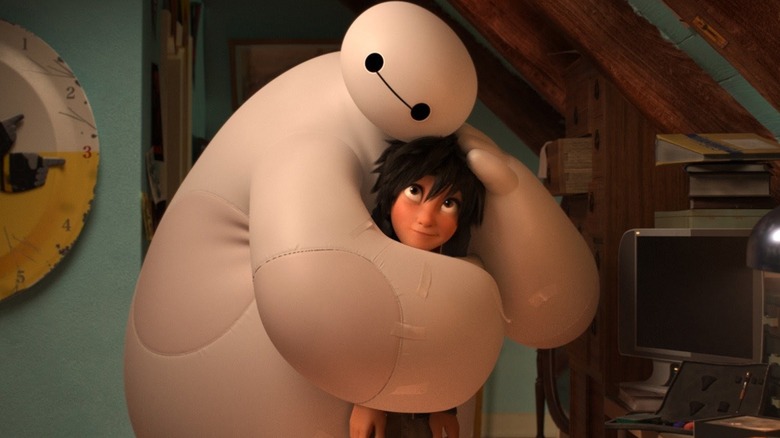 Disney
You've been voicing Hiro on "Big Hero 6" for years. What have been some of the highlights of working on that franchise, and what keeps you excited to keep coming back into that world?
[With] Disney, so many of our childhoods have been formed by those classic stories. To be able to voice a character that grew up in San Fransokyo, which is this amalgamation of two cities that I grew up in as a kid, and to represent this character with a diverse background and layered origins, it's fulfilling. I'm not playing a one-dimensional character in that universe. 
I get to play a character that has an assortment of friends from backgrounds. It's not singular in tone. The universe is very rich in color. The universe is very rich in really positive ideas and how the direction of the world should go in terms of farming, wind power, and looking to tech as being a potential savior for our cities. [I'm] incredibly proud to be on that project and to help inspire that next generation of children to look to science as an answer.
That movie marked a major change in Hollywood in terms of showcasing Asian stories on such a major scale. How do you think movies like "Big Hero 6" have impacted the industry and provided more opportunities for representation?
It won the Oscar. I think it showed Hollywood that stories with the Asian-centric plot line that wasn't using race and nationality as the driving force of the film. Using that as a background isn't the right answer as well, but using it as the tapestry in which the story is able to be woven together to be centered around this mixed race Asian kid, who is growing up in a city very clearly with direct influence from both Tokyo and San Francisco. It shows that there is this overwhelming desire to see characters of various races and looks on camera and on screen now.
Hiro is part of that movement that George Takei started 60 years ago of bringing Asian Americans to the forefront of media and allowing them to shine. We've seen the success that's had over at Marvel in recent years.
Changing Hollywood for the better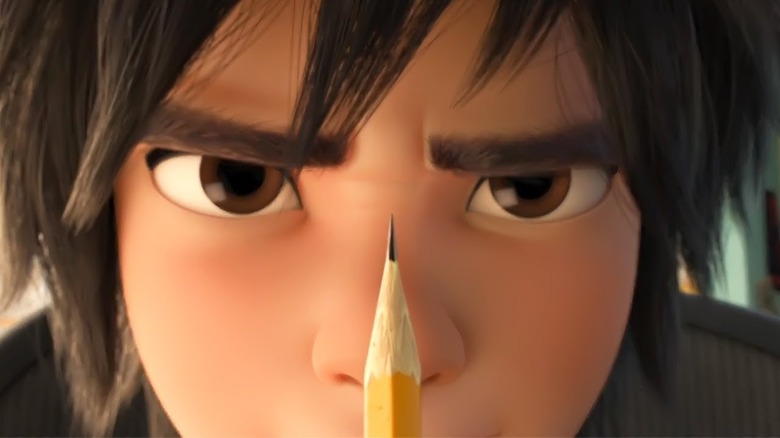 Disney
It's a massive demographic in a population that I think has been underserviced for a very long time. I'm excited to see that they're getting their flowers finally. They're getting projects that young Asian-American kids get to watch at home and see characters that represent them and look like them and don't have to turn to other people of color as a reference to their experience. They have a direct reference. They have a direct representation. I think the conversation still continues to this day, because that film was so groundbreaking in how colorblind its approach was.
Yes, these characters were people of color, but that wasn't the reason they were special. The reason they were special is because they were hyper-intelligent. The reason they were special is because they prioritized family and community and coming together to fix universal problems.

Are there any other Asian characters that you'd like to play or cultural stories you want to see Hollywood tackle, either from your own life mythology or family dynamics?
Yeah, I've been pondering this idea for quite some time. Personally, I'm excited for the narrative to start to be inclusive to the range of the Asian American experience and the range of the bicultural experience being able to pass in both cultures, in both societies. It gives you perspective as to where you are similar and where you aren't similar, which then creates its own story and its own unique perspective that has been lacking in Hollywood and media thus far. 
There are a number of mixed-race individuals all around the world and all around the states that feel as though they have to watch a project that represents half of them and align themselves with those core ideals and be given representation through one of their many facets and one of their many sides. I'm excited for Hollywood mainstream media, but also independent projects, to start to tackle these more nuanced, unique stories of the mixed-raced experience.
Comic book adjacent dream roles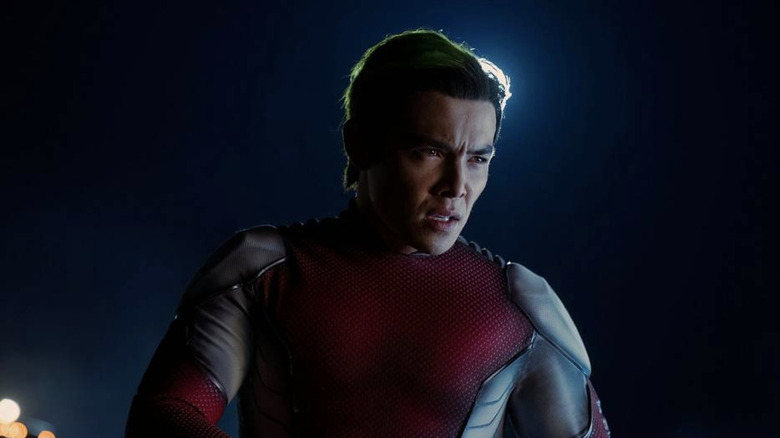 HBO Max
Do you have any interest in joining the MCU or "Star Wars" franchises? And which character or kinds of characters would you want to play in those realms?
I would absolutely love to. I had this conversation with a couple [of] people in the comic book community not two weeks ago as to who else I could play. I don't know if the comic book world is where I want my next project to be, but I definitely don't see myself ever fully leaving it. I'm fully here for the fan castings and the potential comic book and pop culture blockbusters.
If I can — I got relatively close to a "Star Wars" project in the past. If I can stake myself and weasel myself into a "Star Wars" project, that would be really exciting — or rightfully claim a role. It's one of those universes that has such a unique opportunity to showcase every walk of life and every potential human and extraterrestrial hybrid. I'm here to voice a robot if need be.
Would your dream role be a Sith, an alien, or a Jedi if you could choose?
A mercenary of some kind would be fun — more in the smuggler, not wholly Han Solo, but to play a character that becomes beloved, because they don't have an allegiance to any certain party, but they find themselves constantly in the heat of battle for no particular reason and they're there to survive, [that] would be a fun time. If I had to choose, the Jedi, being able to play a character with similar ideologies and approach like Qui-Gon Jinn would be so exceptional because so many of those core beliefs that "Star Wars" has bolstered over the years is from a set of beliefs that I personally inherently follow and believe in as well. It'd be cool to do it on a bigger stage — [an] intergalactic stage.
New episodes of "Titans" stream Thursdays on HBO Max.
This interview has been edited for clarity.