Who Plays Anna In The Last Voyage Of The Demeter
It's shaping up to be a banner year at the multiplex for fans of the blood-sucking literary beast Count Dracula. Nicolas Cage hammed it up to the delight of audiences as the nefarious Count in "Renfield," and now the not-so-goodly Count is in full monster mode, feasting on an unsuspecting crew of sailors in "The Last Voyage of the Demeter."
The new film — directed by "Scary Stories to Tell in the Dark" helmer André Øvredal — expands on "The Captain's Log," which some might argue is the finest chapter in Bram Stoker's gothic masterpiece "Dracula." That chapter, of course, details Dracula's ocean-bound journey from Transylvania to American shores. He survives the journey by consuming the entire crew of the titular vessel, and that dreadful tale is hauntingly told through the recounting of the dead Captain's journal. Øvredal's take mixes the atmospheric eeriness of Stoker's source material with a few classic creature feature chills.
There are a few notable faces on board, with Liam Cunningham, Corey Hawkins, and David Dastmalchian fronting the cast of "Last Voyage of the Demeter." Viewers likely recognized the lone female member of the cast as well, with Irish actor Aisling Franciosi bringing her formidable talent to the mix as a Demeter stowaway, Anna.  
Aisling Franciosi changed everything in Game of Thrones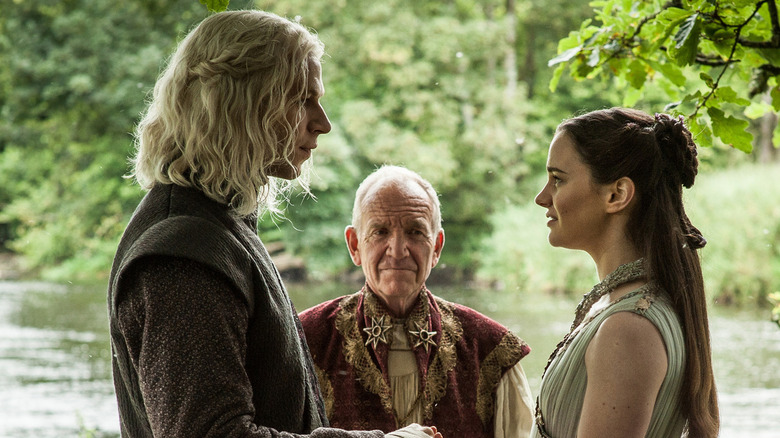 Helen Sloan/HBO
If you aren't yet acquainted with Aisling Franciosi's name, it's because she hasn't quite had a breakout sort of moment with mainstream audiences. From 2013 to 2016, Franciosi played troubled teenager Katie Benedetto opposite Jamie Dornan in the crime drama "The Fall," which also starred Gillian Anderson. She also played Sister Ruth in the 2020 BBC-FX co-production "Black Narcissus." But as far as small-screen stints go for Franciosi, none are as notable as her brief run playing Lyanna Stark on "Game of Thrones." Though she only made two appearances on the show in flashbacks, she arguably became the series' most singularly important character as the revelations from those flashbacks in Season 7 altered the course of Jon Snow's (Kit Harington) and Daenerys Targaryen's (Emilia Clarke) futures forever. 
On the movie front, Franciosi caught the attention of many a cinephile in 2018 when she fronted Jennifer Kent's brutal "The Babadook" follow-up, "The Nightingale." If the actor never made another movie, she'd likely still be remembered for her ferocious turn as an egregiously wronged young mother out for vengeance in that film. Franciosi also made appearances in the Sandra Bullock Netflix film "The Unforgivable," as well as the A24 drama "God's Country." Perhaps "The Last Voyage of Demeter" will give Franciosi the boost to become a household name.