The Best TV Shows Airing Their Final Seasons In 2023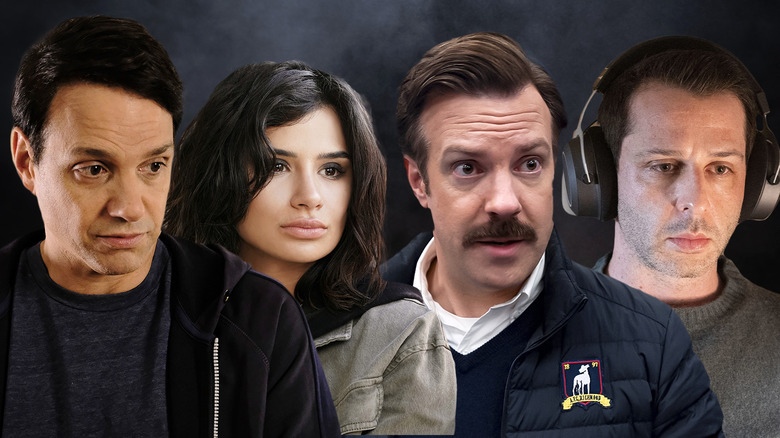 Static Media
As we head deeper into 2023, and networks roll out the latest seasons of their best and brightest shows, audiences have had to come to grips with the end of an era. TV viewers say goodbye to shows every year, but in 2023 we stand to lose some of the best of the last decade, from tense action thrillers to heartfelt dramas, teen romances to epic sci-fi adventures. These world-class shows have captured the hearts and minds of fans over the course of their acclaimed runs, but are now ready to close their doors.
Some of these shows have been running just a few years, and were planned to only have a finite time on the air, while others have been going for a decade or more. Perhaps you watched the cast of a hit sitcom grow up on screen or marveled at the adventures of a super-powered hero, but as the saying goes, all good things must come to an end.
So before we look to the future and get excited about new shows in 2024 — like a new "Walking Dead" spin-off – it's time to prepare to say goodbye to shows airing their final season in 2023.
Succession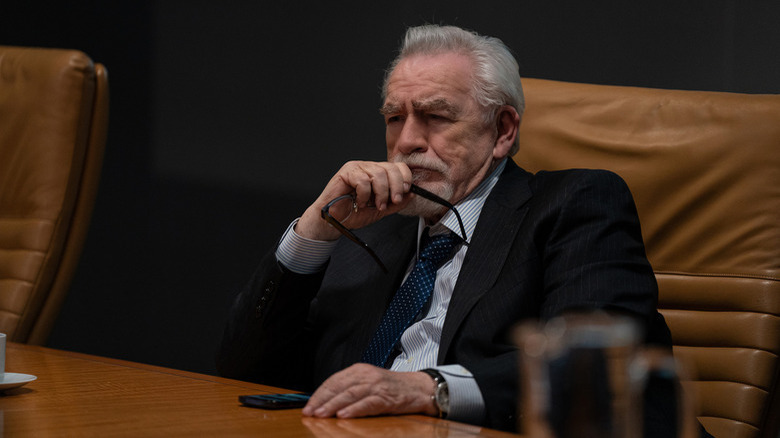 HBO
British TV writer Jesse Armstrong came to HBO after concluding his BAFTA Award-winning comedy "Peep Show" and created "Succession," a dark drama about a prominent but deeply dysfunctional family. Landing in 2018, "Succession" stars Brian Cox as Logan Roy, the head of a wealthy clan whose company RoyCo is a powerful force in the entertainment industry. But as Logan's ill health continues to decline, questions arise about who will succeed him, and a power struggle soon develops between his children and colleagues.
Co-starring Kieran Culkin, Alan Ruck, Sarah Snook, and Jeremy Strong as the Roy children, "Succession" shows the dark side of an emotionally damaged family who are willing to backstab each other to claw their way to power. During its time on the air, "Succession" has become one of the most universally praised dramas on television, with Rolling Stone already labeling it one of the best shows in TV history.
In 2023, "Succession" entered its fourth and final season, drawing to a close a riveting family tale that has been downright Shakespearean. Already meeting with rave reviews, the family continues its fight for survival as the company moves forward with a sale to mighty tech mogul Lukas Matsson (Alexander Skarsgård).
Snowfall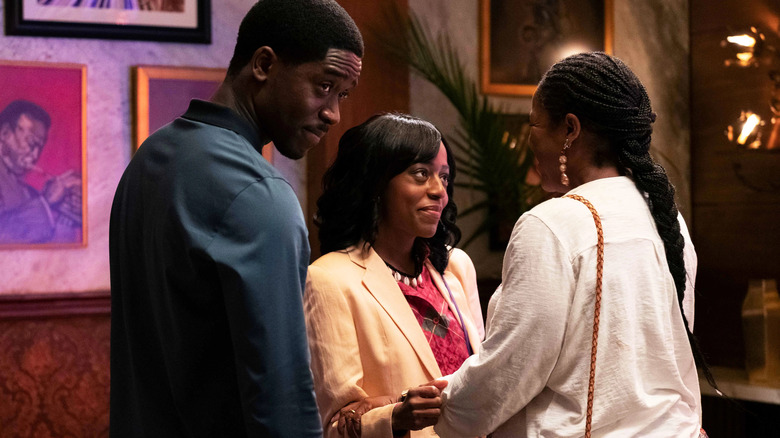 FX
The FX crime drama "Snowfall" hasn't gotten the same level of media attention as many of the other entries on this list, but it nevertheless remains one of the best shows on the air. Set in 1980s Los Angeles, the series debuted in 2017, the brainchild of Academy Award-winning director John Singleton, whose "Boyz n the Hood," "Poetic Justice," and "Higher Learning" were a clarion call for racial justice in the early '90s. 
Here, Singleton turns to a much darker story, set at the beginning of the country's crack epidemic, where he introduces us to a young drug dealer named Franklin Saint (Damson Idris) who attempts to make his fortune on the streets. At the same time, undercover CIA agent Teddy McDonald (Carter Hudson) is sent to Nicaragua to battle agents of communism at the height of the Cold War, while former Mexican wrestler Gustavo "El Oso" Zapata (Sergio Peris-Mencheta) takes a job as a thug for the Villanueva Cartel. As Franklin's business booms, he becomes more and more powerful, while also on a collision course with government agents trying to put an end to the war on drugs.
A gripping crime thriller, "Snowfall" has been praised for capturing the era of the '80s and for exploring the complex political issues that drove the decade. While Singleton sadly passed away in 2019, the show's sixth and final season is capping off a run that secures his legacy as one of the best storytellers of his era.
The Goldbergs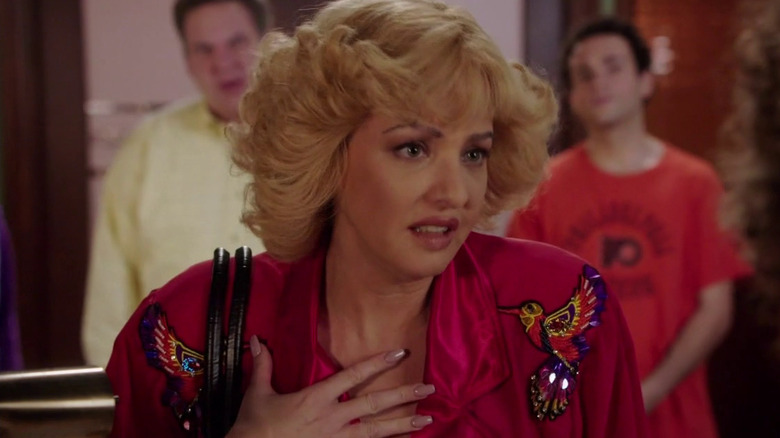 ABC
Hollywood's obsession with the '80s didn't start with "Stranger Things" — the trend may trace its origins back to the launch of "The Goldbergs" in 2013. A semi-biographical sitcom in the vein of "The Wonder Years" or "Brooklyn Bridge," the series was created by Adam F. Golberg and revolves around the lives of a suburban middle-class Jewish family in Jenkintown, Pennsylvania in the era of Atari and Garbage Pail Kids. Ostensibly a coming-of-age story, actor Sean Giambrone plays Adam Golberg, and the series chronicles his adolescence, as he struggles to get along with his fussy family.
This includes annoying brother Barry (Troy Gentile), outspoken sister Erica (Hayley Orrantia), jovial grandpa Pops (George Segal), and his crotchety father Murray (Jeff Garlin). He has a complicated relationship with his helicopter parent mother Beverly (Wendi McLendon-Covey), but the upbeat Adam always has her at his back — whether he wants it or not.
A classic, good-natured sitcom that itself is a throwback to a bygone era, "The Golbergs" has been lauded for its positive look at family life, and an endearing story of growing up. In 2023, it ends its 10-season run, which sees older sister Erica now married with her own children, and Adam starting college at the William Penn Academy and separated from his longtime girlfriend Brea (Sadie Stanley).
The Marvelous Mrs. Maisel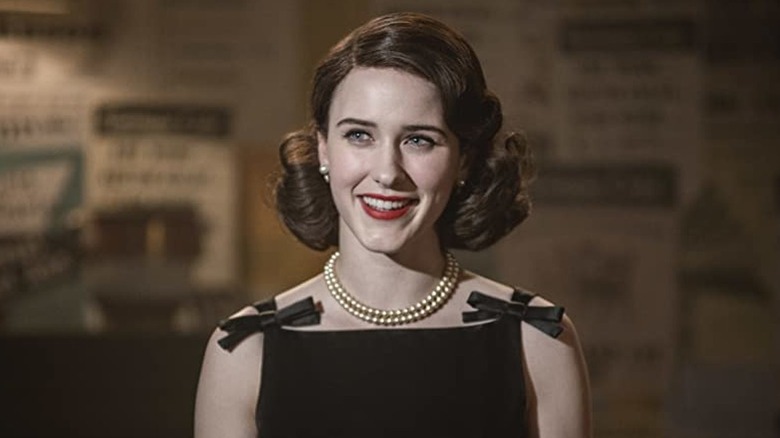 Amazon Studios
From the mind of "Gilmore Girls" creator Amy Sherman-Palladino came the story of a married woman and loving mother who has an unexpected life change when she discovers her talent for stand-up comedy. An Amazon original series that dropped its first episode in 2017, "The Marvelous Mrs. Maisel" stars Rachel Brosnahan as Midge Maisel, an upper-class Jewish housewife from New York City in the 1950s. Her life is turned upside down when her husband leaves her for another woman, but she soon finds a new passion when she impulsively gets on stage at a late-night comedy club.
Over the course of the show's run, Midge doesn't just find success as a stand-up comic: She discovers a new zest for life. With the help of her manager Susie (Alex Borstein), her career quickly takes off, much to the chagrin of her ex-husband Joel (Michael Zegen), whose own lifelong dream she now lives. The series' cast is filled out by a roster of stars including Tony Shalhoub, Jane Lynch, and Luke Kirby as real-life comedian Lenny Bruce. The series has amassed 20 Emmys during its first four years, including a number of trophies handed out to its stars.
In 2023, "The Marvelous Mrs. Maisel" closes out with its fifth season, where Midge has one last shot to make her goals of comic superstardom a reality.
Star Trek: Picard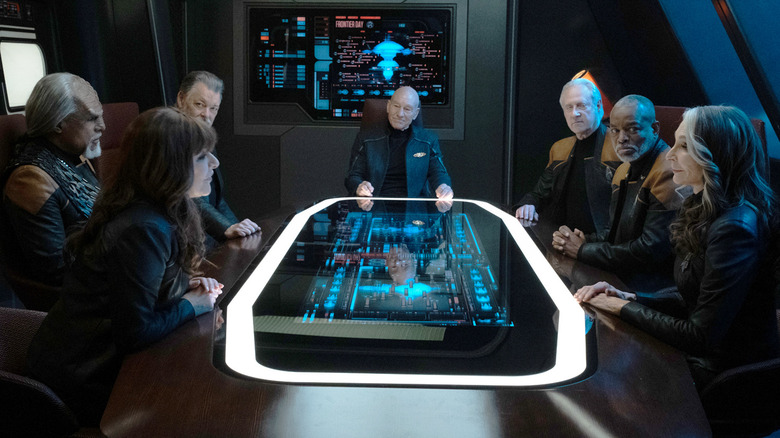 Paramount+
In 2020, Patrick Stewart returned to the role that made him a global icon when he put on the spacesuit to play Jean-Luc Picard in the legacy sequel, "Star Trek: Picard." Very different from his previous outings as the character, the once bold and commanding Picard is now a weary old man, and the first two seasons see him come out of retirement alongside an all-new crew of interstellar misfits. Jeri Ryan also returned to the franchise, co-starring as former Borg drone Seven of Nine, and Stewart's old co-star Brent Spiner returned to play the android Data alongside Alison Pill, Santiago Cabrera, Michelle Hurd, Isa Briones, and Evan Evagora.
In 2022, it was announced that the third and final year of the show would debut in 2023, bringing back the entire cast of "Star Trek: The Next Generation." Back for one more adventure, Admiral Picard and his former first officer William T. Riker embark on a mission to save former crewmate Dr. Beverly Crusher, only to uncover a diabolical plot by one of the Federation's most dangerous enemies.
For its final season, Todd Stashwick joins the cast as fan favorite Captain Shaw, and "Pulp Fiction" star Amanda Plummer fills the role of the revenge-driven villain Vadic. Though a spin-off has been teased by showrunner Terry Matalas, Season 3 is billed as the final mission for the crew of the Enterprise, and the last season of "Star Trek: Picard."
Endeavor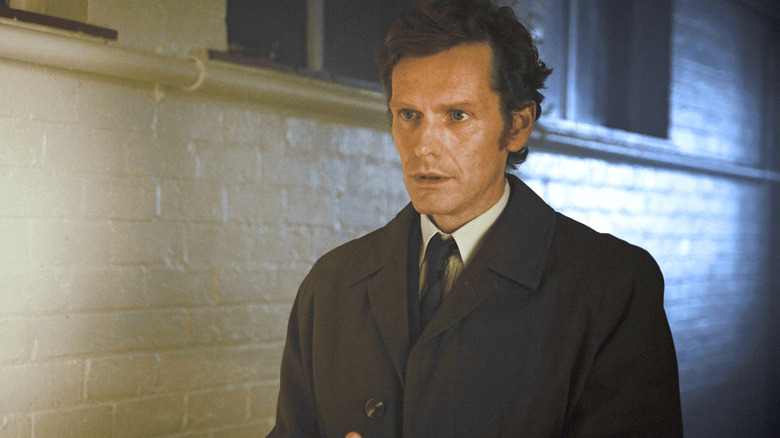 ITV
The beloved mystery series "Endeavour" ends its run in 2023 with its ninth season, a culmination of more than a decade of detective stories. A prequel to the seminal British police series "Inspector Morse" — which concluded with a final telefilm in 2000 — "Endeavour" stars Shaun Evans as a younger version of Endeavor Morse, who serves as a CID officer in the Oxford City Police department in 1965. He arrives in the aftermath of a grisly double murder and becomes a confidant and protege of older veteran detective, Inspector Thursday (Roger Allam).
More than just a gritty crime drama, critics and audiences have praised "Endeavour" for tackling real-world issues like immigration, class inequality, and racism, at a time when the country was undergoing radical social change. Like many British dramas, "Endeavour" has just a handful of episodes each year, but makes the most of its limited stories, with tightly woven detective tales and a unique period setting.
Over the course of the series, audiences have seen the young Morse slowly gain the wisdom and experience he became known for in his later years. As the series winds down in 2023, they'll watch Morse fulfill his destiny to become one of the greatest detectives that Great Britain has ever seen.
Doom Patrol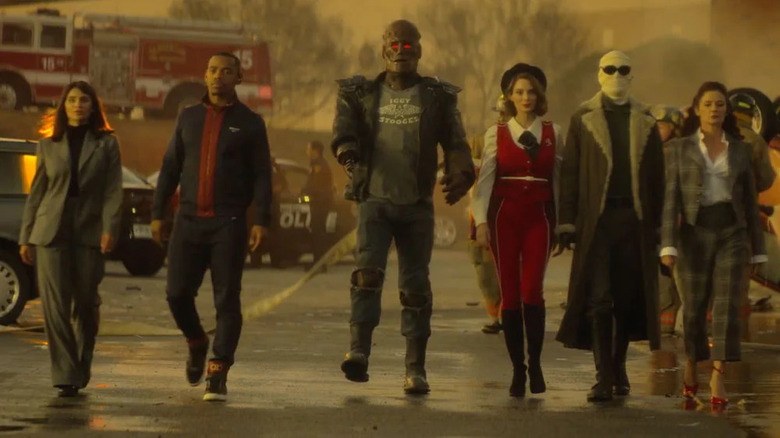 HBO Max
While the DCEU has struggled with some of its biggest superheroes on the big screen, they found themselves with an unexpected hit among fans and critics on television. Released in 2019, "Doom Patrol" was adapted from a comic book that can trace its origins back to the 1950s, but is largely based on an acclaimed run from the late '80s by legendary writer Grant Morrison.
"Doom Patrol" sees a cast of misfit heroes gather together under the leadership of scientist Niles Caulder (Timothy Dalton). This includes Elasti-Woman (April Bowlby), Crazy Jane (Diane Guerrero), Mr. Nobody (Alan Tudyk), Negative Man (Matt Bomer), Robotman (voiced by Brendan Fraser), and a new version of "Justice League" hero Cyborg (Joivan Wade). 
Garnering stellar reviews for its offbeat stories, "Doom Patrol" was a pleasant surprise for comic book diehards and wider audiences alike. Effortlessly endearing and endlessly weird, the series never gained the success of higher-profile superheroes, but became a cult favorite for doing things few comic book adaptations dared. Sadly, its fourth season — released in two parts, airing across 2022 and 2023 — was announced as its last.
Ted Lasso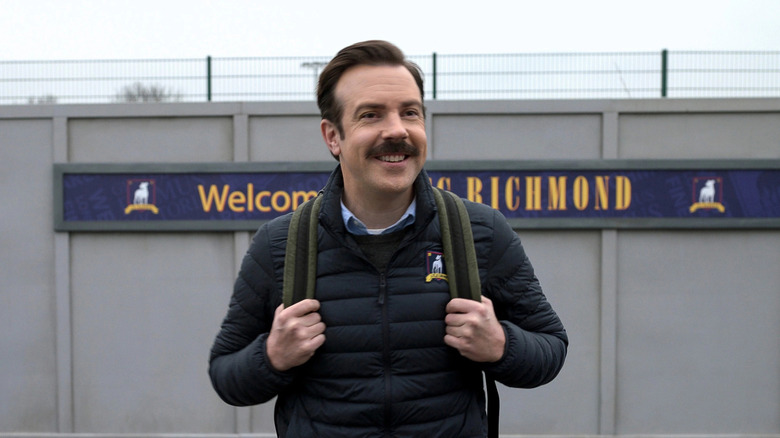 Apple TV+
An out-of-nowhere smash hit, "Ted Lasso" was born from one of the most unexpected places, based on a series of spoof commercials aired to promote NBC's coverage of the English Premier League in 2013. In 2019, Apple TV+ picked it up to be one of their first original series, created by "Saturday Night Live" alum Jason Sudeikis, who also stars as Ted Lasso.
Ted Lasso is an upbeat and naive American football manager who takes over a down-on-their-luck English soccer team. Hired by the team's conniving new owner Rebecca (Hannah Wadingham) as part of a personal revenge scheme against her ex-husband, Lasso spends the series spouting his own brand of wit and wisdom, while leading his team through the trials and tribulations of the season.
A surprise hit for Apple's new streaming service, "Ted Lasso" is a positive, optimistic sports sitcom with a feel-good message. In 2023, it airs its third season, which creator and star Sudeikis announced would be its last. Although he didn't rule out some kind of continuation, Season 3 of "Ted Lasso" is the end of the line for this version of the show.
Cobra Kai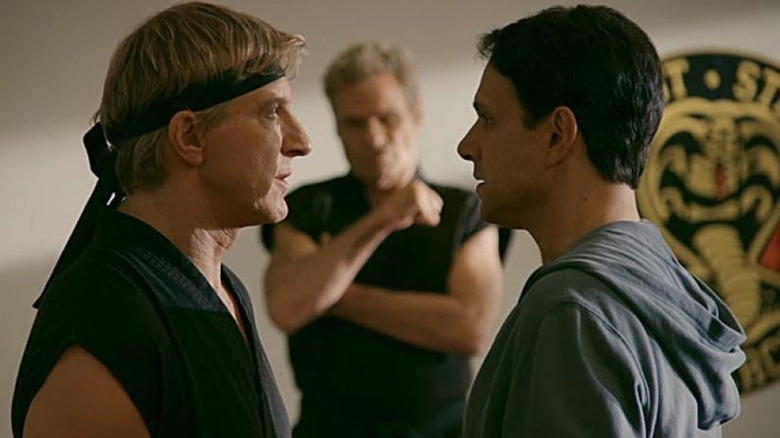 Netflix
Another legacy sequel, this one is an unexpected revival of the iconic '80s movie classic, "The Karate Kid." Though the film series received a remake in 2010 starring Jaden Smith and Jackie Chan, "Cobra Kai" chose to go back to where it all started, with original stars Ralph Macchio and William Zabka reprising their roles as martial artists Daniel LaRusso and Johnny Lawrence. This time, though, they're running competing training schools, with the reopening of the Cobra Kai dojo prompting world-weary Daniel to restart the Miyagi-Do after becoming concerned that Lawrence is raising a new school of twisted teenage fighters.
Flipping the script, "Cobra Kai" is rarely a rehash, instead offering a new look at friendship and loyalty. It even re-examines long-held beliefs fans may have had about the film's biggest villains, while adding depth to the relationship between LaRusso and Lawrence. The series released its first season in 2018 as part of YouTube's attempt to offer original dramas, but couldn't stay alive on the video social media network. Thanks to a strong reaction from fans and reviewers, the show was kept alive, moving to Netflix for its third season. 
Revisiting elements from the original "Karate Kid" films, "Cobra Kai" may be the best entry in the franchise. In late 2023, the series will come to an end with its sixth season and follow the dramatic Season 5 finale that saw villain Terry Silver outed for cheating at the All-Valley martial arts tournament.
The Blacklist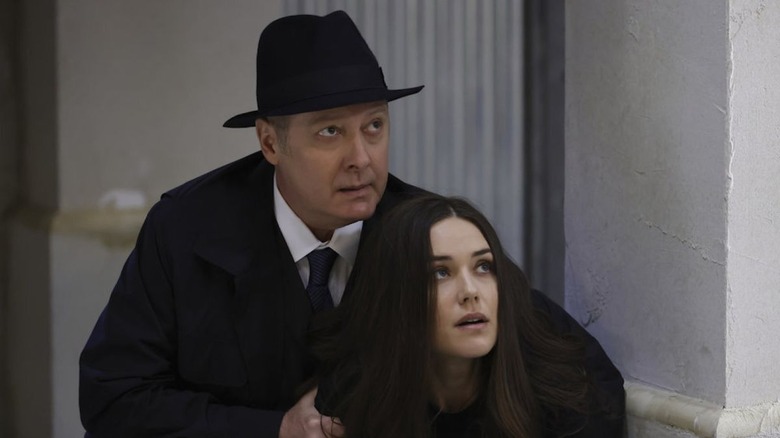 NBC
The 2010s saw a boom in television as prestige cable dramas began attracting serious A-List movie star talent, with Matthew McConaughey on "True Detective" and Cillian Murphy in "Peaky Blinders." But network TV got in on the action too, and in 2013 came "The Blacklist," a crime thriller procedural starring big-screen star James Spader. In the NBC series, he takes on the role of "Red" Reddington, a devious criminal mastermind and federal fugitive who makes a shocking deal: He'll turn himself over to the authorities in exchange for his personal 'blacklist' — information on other dangerous men just like him, which he's spent decades compiling.
Offered immunity for his crimes in exchange for the blacklist, Red's one condition for the deal is that he work with rookie FBI profiler Elizabeth Keen (Megan Boone) to track down the most dangerous criminals himself. A mix of police procedural and stylish thriller, "The Blacklist" has proven itself a riveting crime drama that puts a new twist on an old formula. Elevated by Spader's masterful performance as the charming and witty Reddington, the series even spawned a short-lived spin-off, "The Blacklist: Redemption."
After a decade on the air, "The Blacklist" comes to a triumphant conclusion in 2023 with its 10th season.
Riverdale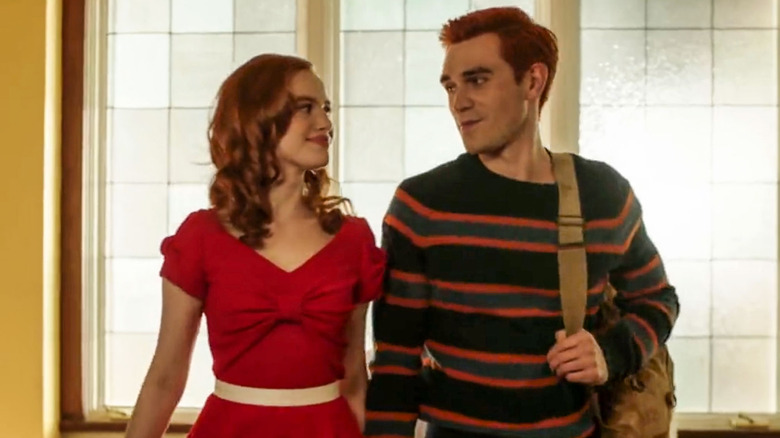 CW
Few probably saw this one coming, but "Riverdale," the CW series that adapts longtime kiddie comic "Archie," has become a critical darling. It's not just an engrossing coming-of-age drama, but a genuinely compelling mystery with a wild vibe and entertaining serialized stories. While the show started out in 2017 as an offbeat but otherwise conventional high school drama, it quickly switched genres, embracing gothic crime first and then becoming a borderline hard science fiction series. 
"Riverdale" stars K.J. Apa as Archie Andrews, Lili Reinhart as Betty Cooper, Camila Mendes as Veronica Lodge, and Cole Sprouse as Jughead. Other "Archie" universe characters like Josie (Ashleigh Murray) and Sabrina the Teenage Witch (Kiernan Shipka) also make memorable appearances. But after its humble beginnings and some early poor reviews, the show came into its own when it ventured into the supernatural, with stories involving alternate realities and time travel. Suddenly, "Riverdale" had become a bonafide cult sensation.
Fun and vibrant, "Riverdale" has dazzled audiences with jaw-dropping plot twists, teen angst, and retro cool. With plenty of homages to the comics, and a clever blend of romance, mystery, and sci-fi, it's enjoyed seven seasons on the air and will air its series finale in the latter half of 2023.
Barry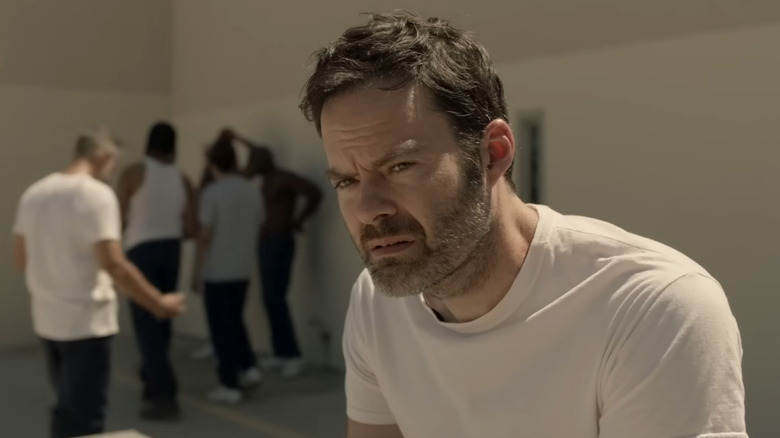 HBO
There's a long history of "Saturday Night Live" alum turning to serious drama, from Bill Murray in "Lost in Translation" to Adam Sandler in "Punch Drunk Love." In 2018, former "SNL" star Bill Hader did them one better, creating and starring in the black comedy "Barry" on HBO. Writing and directing many episodes himself, Hader took on the role of Barry Berkman, a former U.S. Marine who moonlights as a contract killer. 
Deeply troubled and feeling isolated, Barry finds an unlikely kinship with a group of aspiring actors, and decides to put his violent life behind him to join their acting class. Despite looking to turn over a new leaf, however, Barry finds that he can't completely escape his past. 
Inspired by the real anxiety and personal struggles he faced while a cast member on "Saturday Night Live," Hader's series explores serious issues like mental illness and trauma. In addition to Hader, "Barry" also stars Stephen Root, Henry Winkler, Sarah Goldberg, and Glenn Fleshler. On its way to a fourth season, which Hader declared will be its last, the series has collected a whopping 44 Emmy nominations and nine wins, with Hader snagging two trophies for his lead performance.
The Flash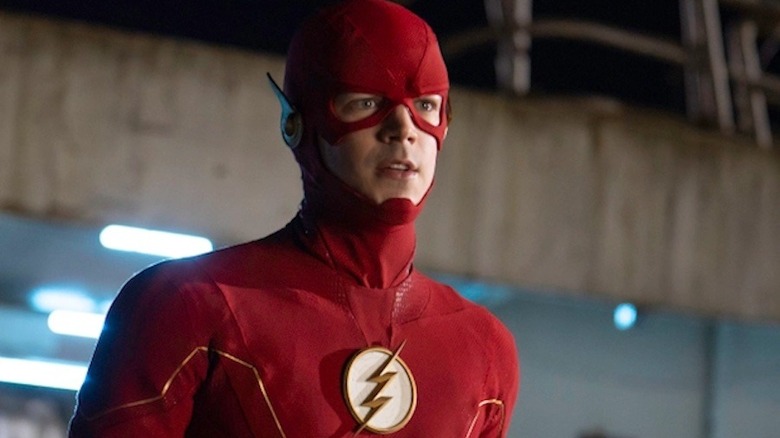 CW
When "Arrow" made its debut in 2012, it was the start of a sprawling, interconnected TV universe of superheroes. With the arrival of "The Flash" two years later, fans started to get a hint of what would eventually be known as the Arrowverse, which would encompass six different series. Spun out of a series of appearances in Season 2 of "Arrow," the series follows crime scene investigator Barry Allen after he receives superpowers and becomes a costumed crime fighter.
While the DC movies went with a grittier, grounded feel, "The Flash" embraces the outlandish nature of its source material. Barry fights weirder and more dangerous foes each week on the streets of Central City, alongside Team Flash: on-again/off-again love interest Iris West (Candice Patton), engineering prodigy Cisco (Carlos Valdes), and scientist Caitlin Snow (Danielle Panabaker), among others. Fans of the comics appreciate the show's willingness to dig deep into the character's rogues gallery, with appearances from the likes of Gorilla Grodd, Captain Boomerang, and Professor Zoom. 
During its run, "The Flash" took part in multi-series crossovers that adapted some of the most acclaimed stories in DC history, including "Armageddon" and "Crisis on Infinite Earths." In 2023, nearly a decade of stories will come to a head in an epic series finale featuring a return of the Green Arrow, plus a team-up of some of Barry's greatest foes.
Fear the Walking Dead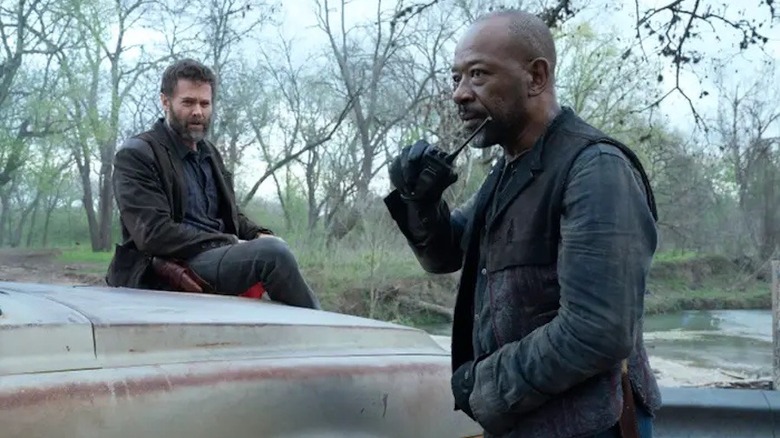 AMC
Another franchise spin-off, "Fear the Walking Dead" was born out of "The Walking Dead" after it had become one of the hottest shows on television. This time, however, we got an even more bleak drama, beginning in the days just before the outbreak of a deadly zombie plague that would wipe out much of Earth's population. As the virus spreads uncontrollably, society begins to break down. Amidst the chaos we meet teenage Nick (Frank Dillane), his sister Alicia (Alycia Debnam-Carey), his mother Madison (Kim Dickens), and her fiance Travis (Cliff Curtis) as they try to survive.
Eventually, they are forced to put their old lives behind them and adapt to a changing world. And be it a deadly, plague-infected walker or a desperate fellow survivor willing to kill, danger lurks around every corner. As the apocalypse unfolds, new characters are introduced, and later in the series, we meet a new group of survivors that include Morgan Jones (Lennie James), John Dorie (Garret Dillahunt), Althea (Maggie Grace), and June (Jenna Elfman). 
Though it didn't reach the same level of acclaim or popularity as "The Walking Dead," the spin-off "Fear the Walking Dead" has managed an impressive eight seasons with over 100 episodes. It draws to a close in 2023.
NCIS: Los Angeles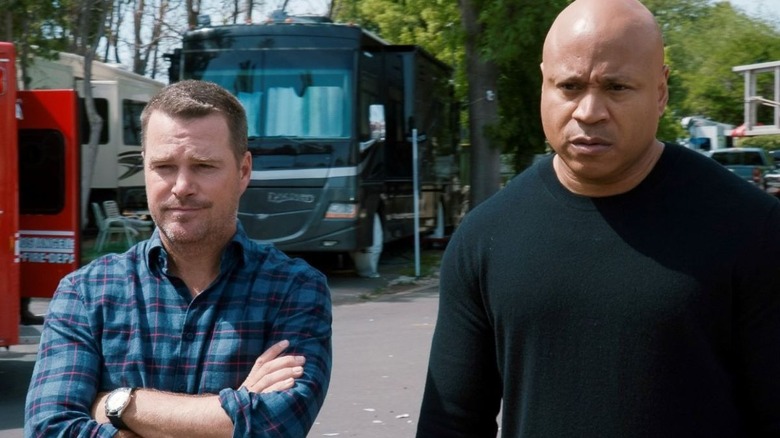 CBS
The longest-running series on this list, "NCIS: Los Angeles" has been going uninterrupted since 2009. It started as a backdoor pilot in the franchise predecessor "NCIS," which sent Agent Gibbs to the West Coast and introduced audiences to the agency's Los Angeles branch, led by NCIS Special Agents Grisha Callen (Chris O'Donnell) and Sam Hanna (LL Cool J). With a team of dedicated agents around them, Callen and Hanna work undercover operations and tackle the most dangerous cases that threaten national security.
While "NCIS: Los Angeles" might seem like a fairly by-the-numbers police procedural, it has distinguished itself for more than a decade due to its strong ensemble cast. That cast has included Linda Hunt as Operations Manager Hetty Lange, Miguel Ferrer as Assistant Director Owen Granger, Nia Long as Executive Assistant Director Shay Mosley, and, more recently, Gerald McRaney as Admiral Hollace Killbride. With clever cases and brisk storytelling, the series has kept audiences on the edge of their seat, but as it heads into its 14th season in 2023, it's finally ready for retirement.