Ali Wong's Beef Character Was Originally Inspired By Stanley Tucci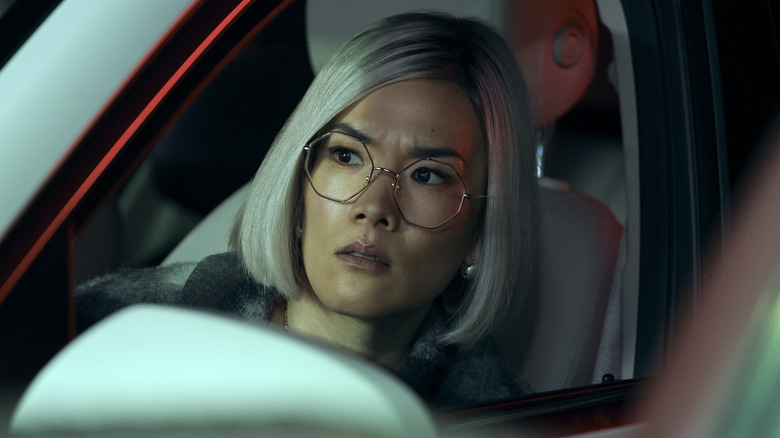 Andrew Cooper/Netflix
Starring Ali Wong and Steven Yeun as two people from opposite tax brackets who pursue a vendetta against one another after a road rage incident, "Beef" is the latest Netflix original to tear up the streamer's charts. In the wake of its success, two more seasons may be in the works. But it was originally supposed to be a very different show.
A collaboration between Netflix and too-cool-for-film-school production house A24 ("Everything Everywhere All at Once"), "Beef" may bill itself as a comedy, but it quickly expands into something darker and more unnerving. Both Wong and Yeun play characters on the verge of collapse, who each displace their anger at the banal humiliations of everyday life into a searing hatred of the other. Their grudge match becomes a sublime escape; both Wong and Yeun are at their most entertaining when gleefully spitting venom and invective at each other. Their chemistry is a revelation, to the point that it's hard to imagine the show would have worked with any other casting. Yet, that's exactly what was originally envisioned.
As documented by The Hollywood Reporter, showrunner Lee Sung Jin originally conceived of "Beef" after an incident of road rage involving himself and a white man, a dynamic he planned to keep intact by casting "a Stanley Tucci type" until a chance phone call from Wong changed his mind.
Beef originally mirrored Lee Sung Jin's road rage encounter with a white man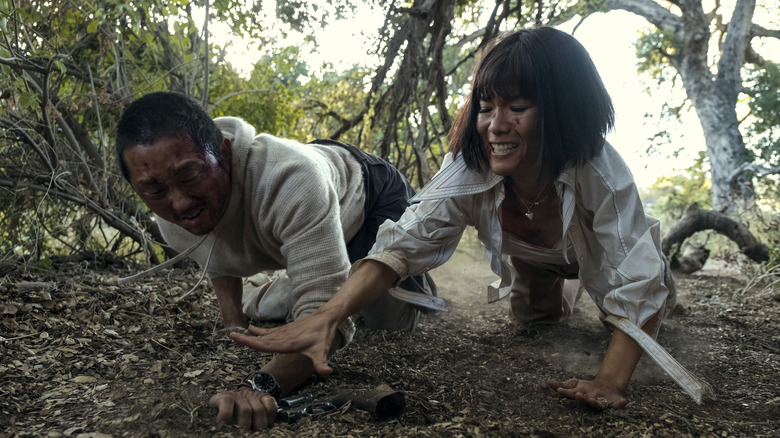 Andrew Cooper/Netflix
One of the most mesmeric elements of "Beef" comes from the fact that Wong and Yeun embody characters who are different enough to make them immediately resentful of one another while simultaneously being similar enough to engender a strange affection beneath the surface. Wong's Amy is a career-driven, upper-class girl boss — a "rich b**** from Calabasas" in the words of Yeun's Danny. It's easy to see why Amy would provoke that animosity from Danny, a down-but-not-quite-out handyman living in a run-down apartment with his freeloading brother. But Danny is not faultless, either. He's ready to blame everyone else for his failures despite being terrible at handy work, and he's dangerously under the sway of his criminally-minded cousin, Isaac (David Cho).
Adding another layer of depth to the series is the fact that both leads are Asian American, with much of the show's vibrancy echoing showrunner Lee Sung Jin's real-life experiences. However, Lee's original vision for the series had a white man in Wong's role. It would have been a different show entirely.
"Our heads went to a Stanley Tucci type," Lee told The Hollywood Reporter. But as he and Yeun were polishing off their pitch, Wong happened to phone Lee up, and by the end of their conversation, the showrunner knew he had to cast her. "It gave us an opportunity to catch up," Lee explained, "and she's so funny in the way she describes tougher things. She can be describing something that is emotionally painful and it's just cracking me up. So in that moment on the call I was like, 'Man, this is interesting.'"
With fans calling for Wong and Yeun to receive Emmys, that change paid off. "Beef" is streaming now on Netflix.