Beef Creator Lee Sung Jin Has Three Seasons Planned (& It Shouldn't Go Beyond That)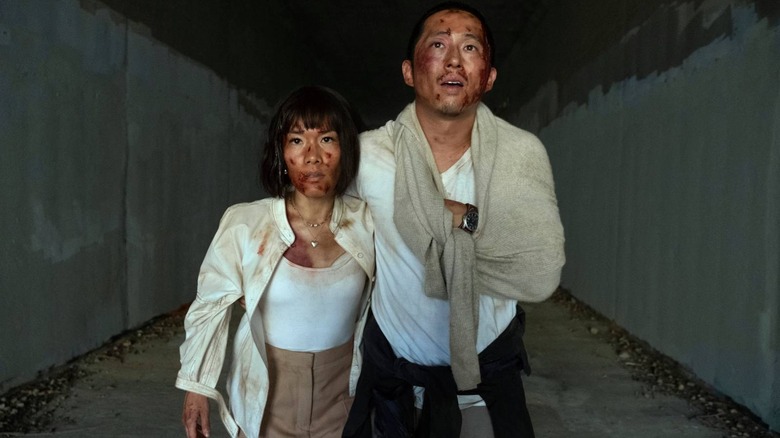 ANDREW COOPER/NETFLIX
The following article contains spoilers for "Beef" Season 1.
The latest Netflix obsession everyone's talking about on social media is "Beef." The 10-episode first season has made a real splash, with numerous people tuning in to see Amy (Ali Wong) and Danny (Steven Yeun) get their lives crossed after a road rage incident. Throughout the season, they try to get back at one another, ruining their own lives in the process. The season ends with a pretty high body count, and the final episode sees Amy and Danny bond in the woods as they try to get back to civilization. In the episode's final moments, Danny's shot by George (Joseph Lee), Amy's husband. He's placed on a ventilator in the hospital, with Amy there with him. 
The show could easily be a miniseries with the show ending there, but it also leaves the door open to see more of Amy and Danny's reconciliation. The show's creator Lee Sung Jin made that intentional, as he already has ideas for where more seasons could go. As he told Rolling Stone, "I wanted it to have a conclusive feel just in case, but there are a lot of ideas on my end to keep this story going. I think should we be blessed with a Season Two, there's a lot of ways for Danny and Amy to continue. I have one really big general idea that I can't really say yet, but I have three seasons mapped out in my head currently."
No doubt fans would love to see more of Danny and Amy's journey, and assuming the show gets picked up for another season, it would be wise to leave it at three seasons not to overdo a good thing.
Three seasons is enough for Beef
ANDREW COOPER/NETFLIX
"Beef" is a solid hit. In its premiere week, the show garnered 34.08 million hours of watch time, cracking into Netflix's Top 10. And it's a critical hit, earning a 99% critics' rating on Rotten Tomatoes, with plenty of casual viewers calling for Emmy nominations for both Ali Wong and Steven Yeun. Netflix would be crazy not to renew "Beef" for more episodes, especially if Lee Sung Jin already has an idea for three seasons total. Hopefully, audiences get to see his vision come to life, but unless he receives another epiphany, "Beef" would likely benefit from ending at three spectacular seasons.
While some shows seemingly go on forever, more series are starting to call it quits earlier in their runs. "The Good Place," "Succession," and "Barry" all called it a day at four seasons, which really helps in preventing any dip in quality. "Beef" Season 1 is so great because not a single moment is wasted, and it's not hard to see where a second and third season could go. There's still the fallout of the burglary at Jordan's (Maria Bello) house, which resulted in several people dying, including Jordan herself. Amy and Danny will have a lot to answer for, both to the law and the people they hold most dear. In addition to fixing what's broken, they can both also work to repair the trauma they've held onto for so many years. 
There are many other stories to tell in this series, but Netflix should be wary of stretching it too thin. Three seasons is the perfect length of time for these characters to grow and atone, and if Lee Sung Jin has that story in his mind, he should be allowed to tell it. He's currently rewriting Marvel's "Thunderbolts," but after a slight detour, Netflix should let him conclude "Beef" on his own terms.