Mary Elizabeth Winstead Wants You To Prioritize The Bad Batch Before You See Ahsoka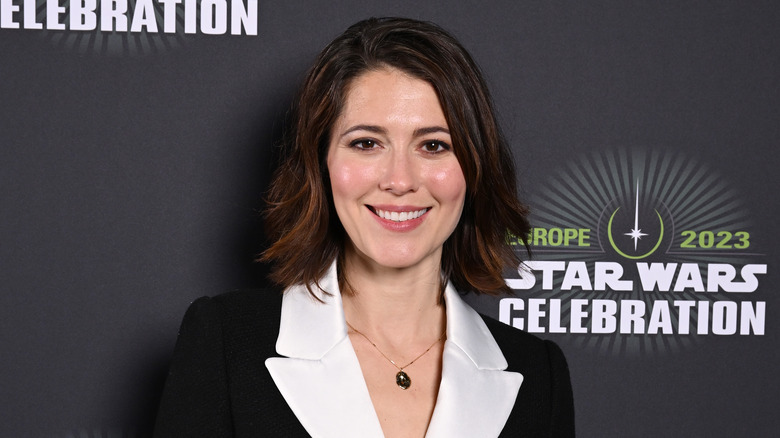 Jeff Spicer/Getty Images
Disney is finally ready to deliver a long-promised series to "Star Wars" fans, revealing a new teaser trailer for "Ahsoka" at the 2023 Star Wars Celebration. The upcoming live-action Disney+ series, which debuts in August 2023, follows Rosario Dawson as the titular Jedi Knight. Dawson first portrayed Ahsoka in Season 2 of "The Mandalorian," but her solo series promises to delve into plenty of fan-favorite "Star Wars" lore, including other characters from various animated series. Lars Mikkelsen will play the dreaded Grand Admiral Thrawn, and Mary Elizabeth Winstead will portray the Rebel pilot Hera Syndulla.
Syndulla is best known from the "Star Wars Rebels" and "Star Wars: The Bad Batch" series, where she was voiced by Vanessa Marshall. But the live-action version of the character played by Winstead is very much the same person, and the "Birds of Prey" actor hopes fans who want to understand Hera will watch "Star Wars: The Bad Batch" before tuning in for "Ahsoka."
Speaking to Collider at the annual Star Wars Celebration held this year in London, Winstead was asked what material fans should watch in preparation for seeing Hera in "Ahsoka." According to Winstead, studying Hera's character arc in "Star Wars: The Bad Batch" helped her better understand the role. "I would say going back to, not even on 'Rebels' but 'The Bad Batch.' Kind of starting with that," Winstead said. "I mean, that, for me, was so great to get to see her as a child because anytime, as an actor, if you could figure out what your character went through as a child, it's so instrumental in figuring out kind of who they are as a person."
The Bad Batch is an insight into Hera Syndulla's childhood, Winstead says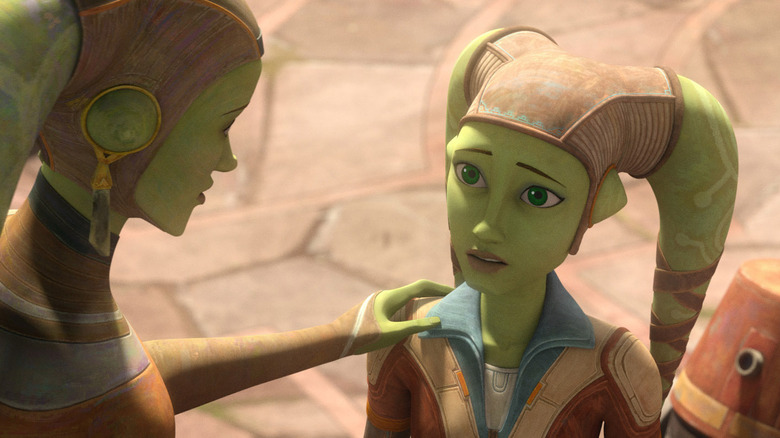 Lucasfilm Ltd. & TM
While "Ahsoka" will take place after the fall of the Empire in George Lucas's original "Star Wars" trilogy, "Star Wars Rebels" and "Star Wars: The Bad Batch" were both set many years before the original films. In "The Bad Batch," Hera Syndulla appears as a child, while by the time of "Rebels" she's become a fully-fledged freedom fighter and an ace pilot for the Rebel Alliance.
According to Mary Elizabeth Winstead, "The Bad Batch" provides the best insight into who Hera is, both as a person and a revolutionary. "That was really great for me to kind of get to see that childlike joy and her desire to be up in the air and all of that," Winstead explained.
But Winstead thinks Hera's arc on "Star Wars Rebels" also benefits from the added context of "Star Wars: The Bad Batch." "Then to get to see in 'Rebels' and so many episodes, when you get to see her really in her element fighting, flying a spaceship, and getting to do what she's been wanting to do since she was such a little girl, and kind of the joy that brings in her," the "Kate" star said.
How that background informs Winstead's take on Hera Syndulla is something fans will need to wait until this summer to experience. "Ahsoka" makes the hyperspace jump to Disney+ starting in August, though Disney has not yet confirmed a specific date.