Ahsoka: Fans Lose Their Minds Over First Look Of Mary Elizabeth Winstead As Hera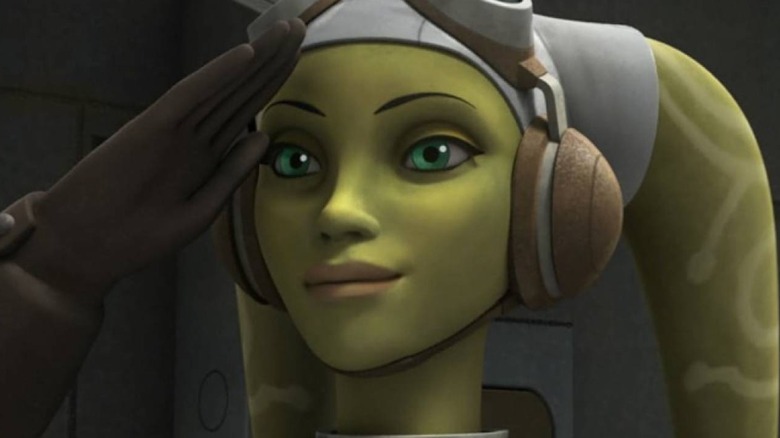 Lucasfilm
Courtesy of Star Wars Celebration, fans now have their first look at "Ahsoka" from Disney+. The long-time fan-favorite character first arrived in live-action form in "The Mandalorian," and now, she's spearheading her own series, and much to the delight of fans of "Star Wars Rebels," it appears a reunion of sorts is on the horizon.
Many characters first introduced in animation are getting the live-action treatment in "Ahsoka" based on the trailer, including Thrawn, Sabine, and Hera, the last of which will be portrayed by "10 Cloverfield Lane" star Mary Elizabeth Winstead. She looks pulled straight out of "Rebels," and fans are praising the casting decision with numerous comments pouring in under the YouTube embed. 
User Greg Hosack commented, "O. M. G. It's Rebels season 5! The gasp I gasped when Hera showed up looking perfect. Can. not. wait." It's nothing but unanimous praise on Twitter, too, as fans get hyped for another thrilling installment of the "Star Wars" mythos.
Fans agree Hera's casting is pitch perfect
Mary Elizabeth Winstead has definitely made a name for herself in genre pictures, especially in the action genre. She's recently appeared as a butt-kicking heroine in "Birds of Prey" and "Kate," so she's proven she has what it takes to land a punch. That's part of what appealed to her to appear in "Kate," as she told GQ, "To get the opportunity to be this cool action heroine and to look absolutely horrifying for a good portion of the film was exciting to me. It felt like a rare opportunity to get to be real and raw and bloody and messy, and not slick and pretty or sexy in any sort of traditional way."
This is undoubtedly a big reason why fans are excited to see her take on the role of Hera in "Ahsoka." Discussing Film posted another picture of Hera, and fans lost their minds underneath it. Many of the reactions were simple, with people posting things like "Omg" and "W" (standing for "Win"). From the look to the pedigree of Winstead, fans seem to believe this will be a truly faithful continuation of "Rebels," with @geekinoutethan writing, "She looks amazing like Sabine Wren!"
"Ahsoka" has instantly become many people's most anticipated show of 2023. And everyone will be able to see just how good Winstead is as Hera when "Ahsoka" premieres this August on Disney+.