Justified Executive Producer Explains What Made The Series So Successful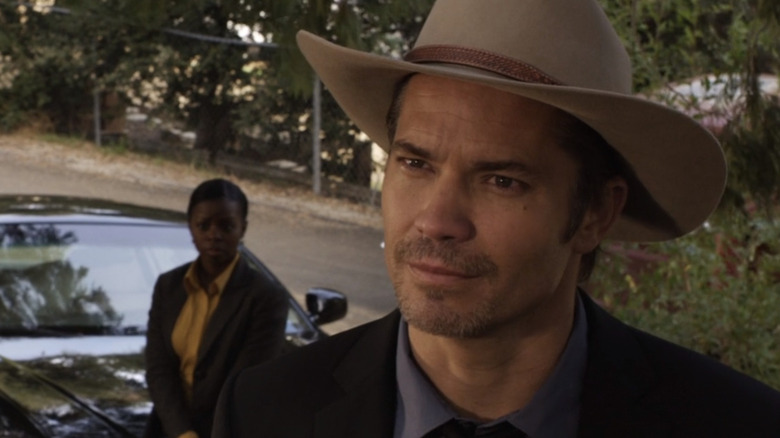 FX Networks
At the "Justified: City Primeval" TCA session, executive producer Sarah Timberman said the original series and the new revival are united by the same ethos, even when the new series is a grown-up version of the original.
"I feel like a hallmark of the original show is that you'd spin out into Margot Martindale and Kaitlyn Dever's world and live there and leave our regulars," Timberman said. The FX hit is especially thrilling and unconventional compared to other dramas for how much time it spends within the criminal underworld, as well as with U.S. Marshal Raylan Givens (Timothy Olyphant). 
"I think this show repeats what 'Justified' did so well," Timberman said, "which is create these really detailed universes, people who aren't good guys or bad guys, but grey guys." The series reinforced this with the dramatic storyline between Raylan Givens, Boyd Crowder (Walton Goggins), and Ava Crowder (Joely Carter). Both of their relationships with Raylan challenge the old-fashioned lawman's black and white view of crime and makes the show's storytelling stronger.
Justified tells a truly complex crime story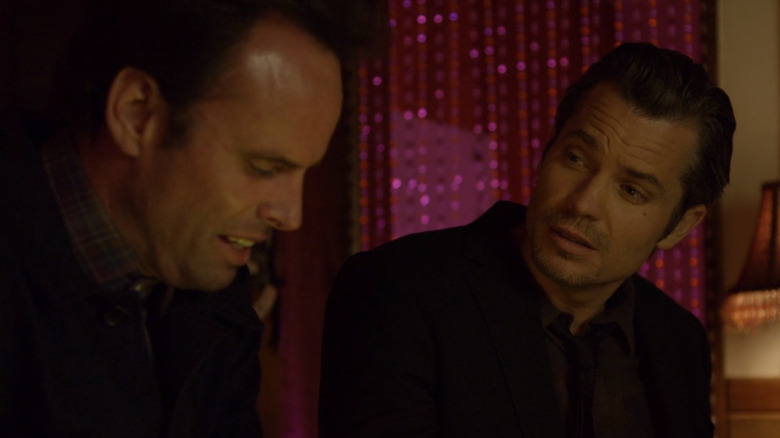 FX Networks
Raylan Givens on "Justified" is a complicated man — someone with a strong sense of justice who also loves messing with criminals. The events of the series, especially with Boyd and Ava Crowder, complicate things, however, for the Deputy Marshal, thus leading to the profound bond between Raylan and Boyd.
Raylan despises Boyd for being a murderous Harlan County outlaw, but he is also fond of him because they "dug coal together" as teenagers. Meanwhile, Raylan gets involved with Ava after she kills her husband, Bowman. When their relationship ends, she begins a star-crossed romance with Boyd and gets involved with his criminal business. 
Ultimately, the resolution of Raylan's conflict with both characters pays off. When he has the chance, the Marshal doesn't pull the trigger on Boyd and brings him into custody. Show developer Graham Yost said in 2015, "the scene also shows us Raylan's growth, in that he doesn't do it." Raylan later decides not to turn in Ava too, who is raising Boyd's son in hiding. It's an incredibly satisfying conclusion as Raylan sees that criminals are as complicated as anyone else.