Pearl Star Mia Goth Joins The Cast Of Marvel's Blade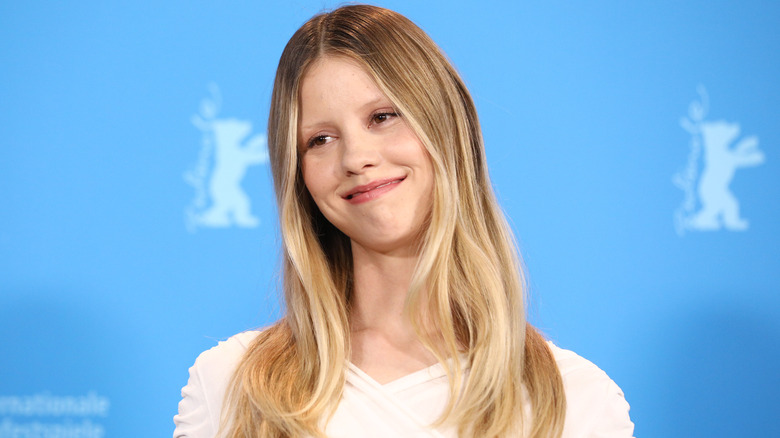 Sebastian Reuter/Getty Images
After slashing her way into the hearts of horror fans everywhere in 2022's "X" and "Pearl", Mia Goth has joined the cast of "Blade", according to a report from Deadline that was later confirmed by The Hollywood Reporter. Unfortunately, no other details, including those regarding Goth's character, were revealed at the time.
Written and directed by horror vet Ti West, "X" hit theaters in March 2022 to rave reviews and a hefty worldwide box office return of $15 million against its paltry budget of $1 million. Breaking through even further was Goth, who played the dual roles of Maxine Minx and an elderly woman named Pearl. Just a few months later, in September 2022, a prequel film entitled "Pearl" hit theaters, with Goth returning to the titular role and this time, as co-writer alongside West. Goth's turn as the younger version of Pearl earned plenty of critical acclaim and several award nominations and wins.
And it seems that "Blade" might be the perfect project for the new horror sweetheart giving her the opportunity to continue to become a force in the horror genre and crossing over to a mainstream comic book film.
Mia Goth has joined the cast of Marvel's Blade in an undisclosed role
Mia Goth's schedule is pretty packed now as she's about to go behind the camera for the third film in the "X" franchise, "MaXXXine," and head over to Atlanta to shoot "Blade" in June.
Starring Academy Award winner Mahershala Ali, Marvel's "Blade" will be the Daywalker's feature-length debut in the Marvel Cinematic Universe. Announced in 2019 at San Diego Comic-Con, it will be the first film to feature the vampire hunter since 2004's "Blade: Trinity," when the character was memorably played by Wesley Snipes.
In 2021, it was announced that "Blade" would be penned by Stacy Osei-Kuffour from HBO's "Watchmen" TV series and directed by Bassam Tariq. Unfortunately, the production would see several delays, giving the screenwriter additional time to perfect the script. Eventually, these shifts in schedule would result in the departure of Tariq in September 2022, causing the production to shut down while the studio searched for a new director. Thankfully, fans would rejoice as Yann Demange, known for HBO's "Lovecraft Country," would save the film and sign on as director in November 2022.
Marvel's "Blade" will begin production in May 2023 and will hit theaters on September 4, 2024.