The Mandalorian Fans Are Cracking Up At Grogu's Interactions With IG-12 In Ch 23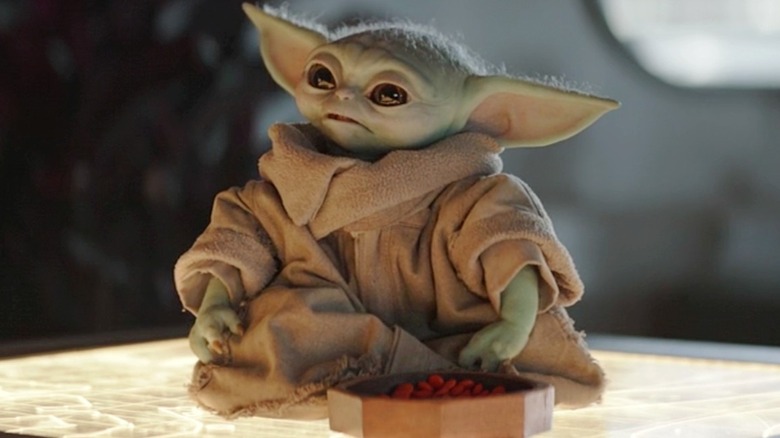 Disney+
Contains spoilers for "The Mandalorian" Season 3, Episode 7 ("Chapter 23")
Ever since "The Mandalorian" introduced us to The Child, Baby Yoda, or — as we would come to learn after an interaction with Ahsoka Tano (Rosario Dawson) — Grogu, we've been obsessed with the adorable, big-eared creature. Whether we're experiencing cuteness overload with Grogu and Babu Frik, or making excuses for Grogu when he eats Frog Lady's eggs, it's impossible not to dote over the little guy.
In Chapter 23, Greef Karga (Carl Weathers) has a surprise for Din Djarin (Pedro Pascal) in the form of IG-12. Formerly known as IG-11, the assassin droid that became Grogu's nanny in Season 1, it's been repurposed by the Anzellans. It can no longer move and compute on its own, but the Anzellans created a seat for Grogu to sit inside and operate it. Grogu's reaction to the new "vehicle" has fans cracking up. "I've never laughed so hard at Star Wars than during Grogu's test run in IG-12," u/andytheg wrote on a "The Mandalorian" subreddit. The surprise gift for him was exactly the sort of "awww" moment fans look forward to seeing, even if pseudo-dad Djarin wasn't feeling it.
Fans loved seeing a rebellious Grogu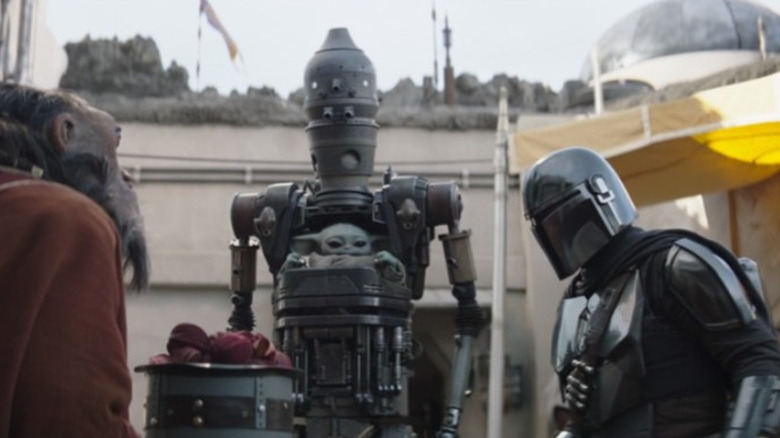 Disney+
"Grogu manning IG-12 and it comes with a yes and no audio response," @TytoGuardian76 tweeted, along with "rolling on the floor laughing" emojis. Not only did Grogu start controlling the IG-12 despite Djarin's clear and vocal disapproval, but his repeated hitting of the "yes" audio response to express his jubilance with his new ride was priceless. "Grogu piloting an IG unit around and harassing Din by saying yes all of the time is so cute and hilarious I love it," tweeted @StraderZane.
While much has been made of the fact that "The Mandalorian" has to have Grogu speak someday, this is a sly way for Grogu to 'speak' without committing to an actual voice or speech pattern. It also succeeds in showing that Grogu is still just a kid and is going to be mischievous and rebellious at times. Although Grogu gobbling up food and squeezing fruit until it bursts may be a bit more tame than other kids may do, seeing him walking next to Djarin, hitting the 'yes' button over and over, was reminiscent of a young kid asking 'why?' repeatedly. "Grogu using IG-11's body to walk around and to talk with Din Djarin being an annoyed father is one of the best things," tweeted @giselleb1234. It really is.