Renfield: Nicolas Cage On Bela Lugosi, Christopher Lee, & Other Dracula Influences - Exclusive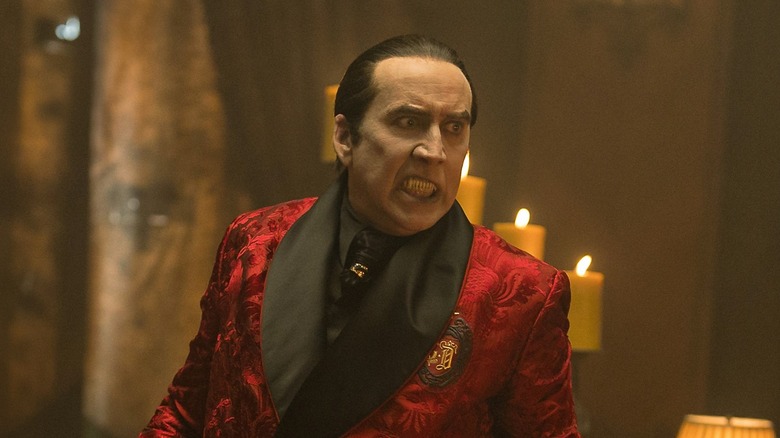 Michele K. Short/Universal Pictures
When photos started to leak from the set of the new horror-comedy "Renfield," it became immediately apparent that Nicolas Cage — who stars as Count Dracula opposite Nicholas Hoult's title character — was going with a look very familiar to fans of the Universal Monsters franchise. With slicked-back, jet-black hair, Cage's Dracula appeared to be very reminiscent of Bela Lugosi's visage from Universal's classic "Dracula" from 1931.
After Lugosi, the character came to life via London's famed Hammer Studios in the late 1950s, where the performance by a towering British actor infused new blood into the character — whom, as it turns out, Cage channeled along with Lugosi in his turn in "Renfield" as the Prince of Darkness. "I had a terrific team in the hair and makeup, wardrobe, [and] prop department[s]. All of them contributed so much," Cage told Looper in an exclusive interview for his recent Western "The Old Way." "The favorite for me was more personal. I favored Christopher Lee as Dracula in the Hammer films, but there's an opening sequence [in "Renfield"] which homages the original film with Bela Lugosi."
In "Renfield," which opens in theaters Friday, April 14, the film begins with the homage Cage alluded to, as director Chris McKay recreates Dracula and Renfield's legendary meeting at the vampire's castle in Transylvania as seen in the 1931 version of the film. After a tribute to a few other scenes from the black and white classic, where Dwight Frye played Renfield opposite Lugosi's Dracula, the action fast forwards 90 years into the present day, where the monster's longtime familiar is dealing with the effects of a toxic, co-dependent relationship with his boss.
It's in the modern-day scenes where fans will get to see more of the influence Lee had on Cage, as well as another classic screen vampire and a very unexpected inspiration.
Cage says he modeled part of his Dracula after his late father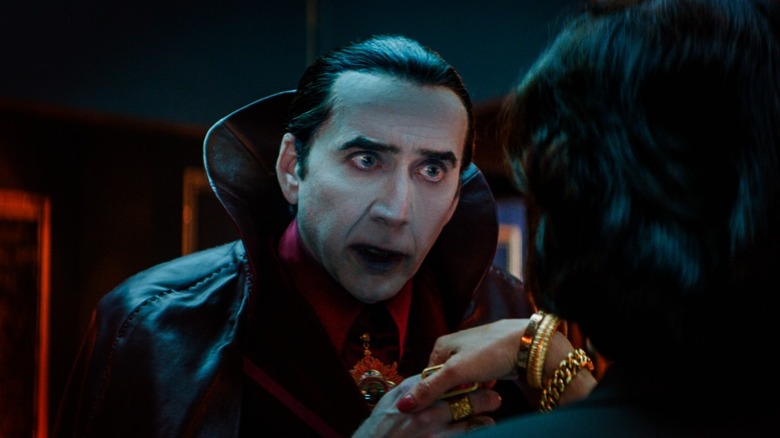 Michele K. Short/Universal Pictures
In a "Renfield" production video, Nicolas Cage noted that he was also influenced by Max Schreck's indelible performance of Count Orlok, the vampire in the 1922 silent movie horror classic "Nosferatu." In addition to that, Cage said his late father, August Coppola — who first showed him "Nosferatu" at age 5 — also found his way into his interpretation as Dracula in "Renfield" because he had a "strong presence" and was an "elegant man who spoke with a Mid-Atlantic accent." Ultimately, Cage's Dracula is a combination of professional and personal inspirations.
"I was trying to find other things to bring to the character, because it's been done a lot — it's been done well and it's been done not so well — and I had to figure out what I could contribute to the legacy of Dracula, especially [because] it's a Universal film," Cage told Looper.
Naturally, since Cage was introduced to monster movies at a very young age, he's a big fan of the genre. During his interview with Looper, the Oscar-winning actor took the time to show off some of his personal collection — a pair of vintage Aurora monster models of Frankenstein's monster and the Wolf Man. Cage admitted to Looper that oddly enough, he didn't have a model of the classic character Lugosi originated for Universal Pictures, but he came up with an inspired idea to change that. "I don't have the Dracula, so maybe Aurora will make my Dracula for their club," Cage enthused. "I'd love to be invited!"
"Renfield" opens in theaters Friday, April 14. Cage's Western, "The Old Way," is available on digital video and video on demand.