Nicolas Cage Details How He Saddled Up For His First Western, The Old Way - Exclusive Interview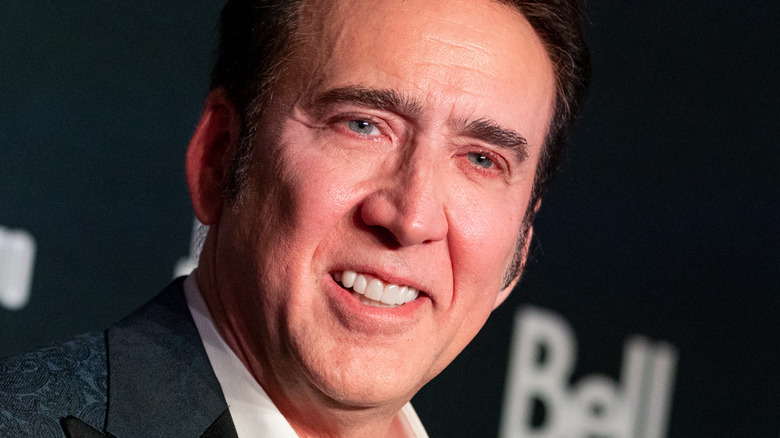 Emma Mcintyre/Getty Images
Even though Nicolas Cage has been in more than 100 films — playing in every creative space imaginable, including comedy ("Moonstruck"), drama ("Leaving Las Vegas"), action ("Con-Air" and "National Treasure"), superhero ("Ghost Rider"), sci-fi ("Face-Off"), and horror-comedy (the upcoming "Renfield") — there's always been one genre that's eluded the Oscar-winning actor.
Cage even entertained the masses by playing a heightened version of himself in 2022's "The Unbearable Weight of Massive Talent," yet no one has ever asked the prolific film star to saddle up for the Western genre; that is, until "The Old Way."
New in select theaters today, January 6, and premiering on premium video on demand and premium digital on January 13, "The Old Way" stars Cage as Colton Briggs, a once cold-blooded gunslinger who leaves the old life and finds meaning as a family man. The past comes back to haunt Colton 20 years later, however, when the vengeful son of his last victim and his posse track down the legendary gunman and inflict a terrible tragedy on his family.
As such, Colton has no choice but to return to his violent ways to track down the perpetrators, but he can do so only if he brings his sheltered 12-year-old daughter, Brooke (Ryan Kiera Armstrong), with him. The more time they spend together on the trail, the more Brooke learns about her father's dark past, and Colton discovers that Brooke is more like him than he thinks.
In an exclusive interview with Looper, Cage details his dream of acting in a Western and explains why "The Old Way" bears some resemblance to a classic Western film and its lauded remake yet establishes its own identity. Also, Cage gives a peek at his upcoming role as the classic character Dracula in "Renfield," revealing in the process how he's a massive fan of Universal movie monsters.
A classic Western sparked the flame for Cage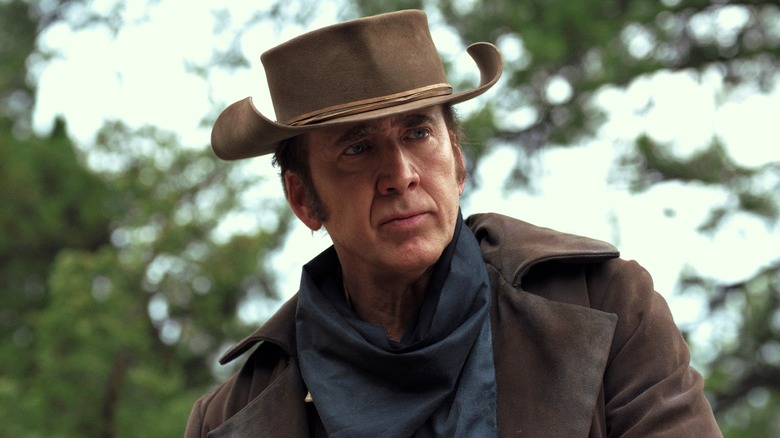 Saban Films
It's amazing to think that this is your first Western. How long have you wanted to make one? Does it go back to maybe even before your career in acting, with a John Wayne film or a Clint Eastwood film? Or was there a particular film that flipped the switch at some point and fueled your desire to do a Western?
Absolutely. My favorite Western, and probably my favorite movie, is "Once Upon a Time in the West" — in particular, Charles Bronson's performance as Harmonica. He did so much with so little, and there was a magnificent intensity bordering on the spooky, on the terrifying. [There was a] very enigmatic, mysterious quality to him in that performance.
It mystified me that it took this long for anyone to call me and say, "We want you to be in a Western," because it seemed like an easy match to me. Being from California, living in Nevada, I always felt like I had a bit of a Mojave drawl to my voice. I can understand someone maybe having second thoughts about casting me in a Shakespeare drama in medieval England, but not the West. I think I could put those boots on and the hat.
A unique Western that hones in on the family dynamic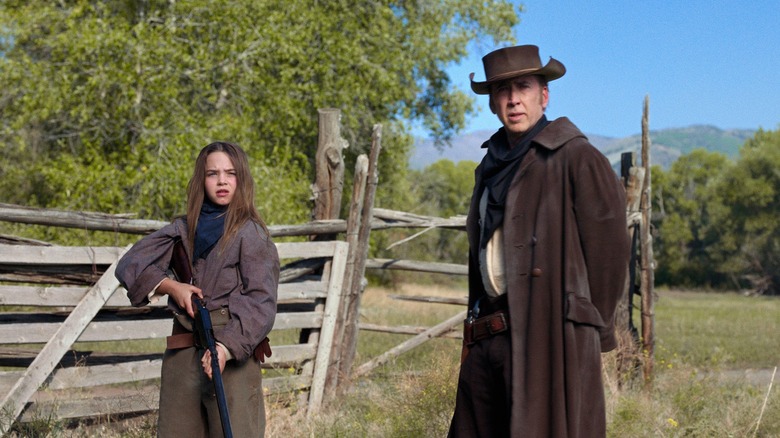 Saban Films
Times are very few and far between that Westerns get made in Hollywood, so the script for "The Old Way" had to be pretty special. What spoke to you in this script? Was it maybe that "True Grit" dynamic, because you have the characters of the 12-year-old girl and a legendary gunslinger?
I'm almost embarrassed to say this — I've never seen John Wayne's "True Grit" or Jeff Bridges' "True Grit," so I don't know those movies, which is remiss on my part. But that is exactly what compelled me to be in this movie, because yes, it's framed in the Old West, it's the same wardrobe, it's the same location, [and] it's the same time period.
But the heart of ["The Old Way"] for me was [that it was] more "Paper Moon" [the classic father-daughter caper starring Ryan O'Neal and Tatum O'Neal] with more family drama. You have these two social misfits in Colton and Brooke Briggs who are incapable of feeling love or need to act like they're laughing at people's jokes [and] act like they're crying at funerals. It's a condition that doesn't have a name in the movie — it's never explained — but it's also combined with a propensity towards violence.
So what was interesting and made it unique was, how do these two almost robots learn to love and love one another by the end of the movie? I thought Ryan [Kiera Armstrong] — in particular for her age — her ability, the depth, the complexity, [and] the nuance that she brought to that bit of a balancing act was remarkable, because you don't want to come off as a robot. You want the audience to feel for your character.
Cage is thrilled to raise the stakes for Dracula with Renfield
I'm stoked about "Renfield" after seeing the first trailer. I'm a lifelong monster-movie fan, and in fact, here's my Bela Lugosi action figure [holds up figure to camera].
Oh, hold on. Give me one second! [goes off-camera before returning] Got him right here because I'm in my office. Because you did that, I get to show you my Wolf Man action figure from Universal [holds up model to camera].
Well, let me try to one-up you, Nic, because I got the Wolf Man, Frankenstein, and Bela figures [holds up three figures to camera], so...
Okay, you win! You win!
But you got the Aurora model, so that's cool.
We do.
Regarding Bela Lugosi, it seems to me that your Dracula in "Renfield" is like an homage to Bela's makeup and hairstyle. Did you request that, or was that by sheer coincidence?
I had a terrific team in the hair and makeup, wardrobe, [and] prop department[s]. All of them contributed so much. The favorite for me was more personal. I favored Christopher Lee as Dracula in the Hammer films, but there's an opening sequence [in "Renfield"] which homages the original film with Bela Lugosi.
I was trying to find other things to bring to the character, because it's been done a lot — it's been done well and it's been done not so well — and I had to figure out what I could contribute to the legacy of Dracula, especially [because] it's a Universal film.
Well, thank you so much, Mr. Cage, and you know what? I think you win with the Aurora models. I got the Bela and monster figures, but you've got the Aurora models. We're both monster kids!
Yes!
So your Wolf Man model is far more valuable and has far more sentimental value.
Well, thank you. Thank you so much.
Great to talk with you, and I hope we talk again for ["Renfield"].
Wait — we have to end this with [my] Frankenstein; Frankenstein's right over there [motions and goes off-camera before returning]. Here it is. It's the Aurora Frankenstein.
I got that one, the original model, but I also got the action figure.
Yeah, well, I don't have the Dracula, so maybe Aurora will make my Dracula for their club. I'd love to be invited!
Directed by Brett Donowho, "The Old Way" is in theaters today, January 6, and premieres on premium video on demand and premium digital on Friday, January 13.
This interview has been edited for clarity.