Love Is Blind S4's Jackie Provides Insight Behind Her Breakdown In Mexico
Netflix
Contains spoilers for "Love is Blind" Season 4
Ever since it first graced Netflix, "Love is Blind" has thrilled audiences with a mix of genuinely compelling love stories and couples who fight, break up, angrily drain gold wine glasses, and instigate drama on camera. And one moment between Season 4 fiancés Jackie and Marshall stands out as a perfect blend of all those elements. 
In episode 4, "Playing with Fire," Jackie emotionally pushes Marshall away in Mexico, citing concerns about her family back home. It's both confusing and alarming, as the audience isn't given many details about exactly what caused the emotional moment. However, Jackie has now shed light on the moment while speaking with Entertainment Weekly. She explained, "My father ... He has cancer, so I have to take care of him when I go home every weekend. I make sure that my parents are good, the bill is paid — my dad can't work no more. I have a lot of family stuff that I have to tend to. Family always comes first. And also, my brother being released from prison, it's like I have another person to take care of."
Considering all of the pressure that Jackie was under back home, it makes sense that she would feel overwhelmed by the artificial fantasy world that "Love is Blind" has conjured for her and Marshall. 
Marshall and Jackie grow further apart after that moment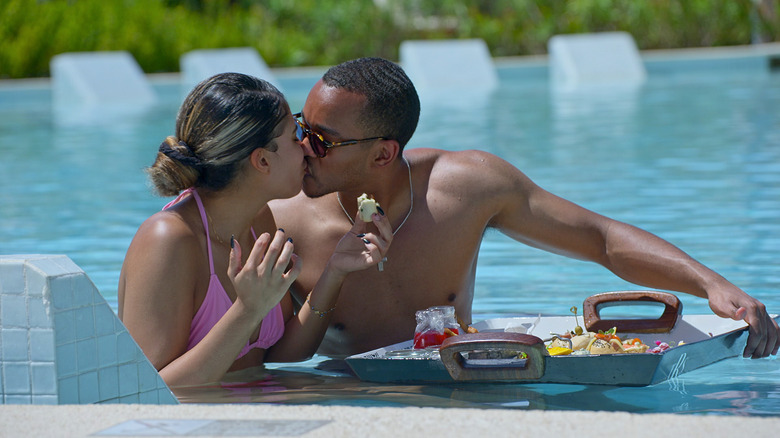 Netflix
While Marshall, to his credit, remains by Jackie's side throughout her emotional breakdown in Mexico, things ultimately don't work out for the pair. Though the two appear to move past their low moment, they soon reach another bump in the road: Josh. Jackie's other main suitor from the pods appears at a cast party and quickly confesses his feelings to Jackie, leaving viewers (and Marshall) blindsided.
Things only get worse for Marshall from there. Later in the season, Jackie appears to embark upon a new relationship with Josh even as Marshall attends a tux fitting for his upcoming wedding to Jackie. Of course, Jackie has since explained that it was the show's editing that made it look as if she was dating Josh while still engaged to Marshall. (A reality show misleading its viewers? Never!) Still, it was clear to viewers even before this point that Jackie and Marshall were pretty much donezo. 
While Jackie never drew a major connection between her drama back home and her eventual break-up with Marshall, it was apparent that her Mexico breakdown and subsequent icing out of Marshall was a harbinger of doom.