Here's Why Love Is Blind Uses Gold Wine Glasses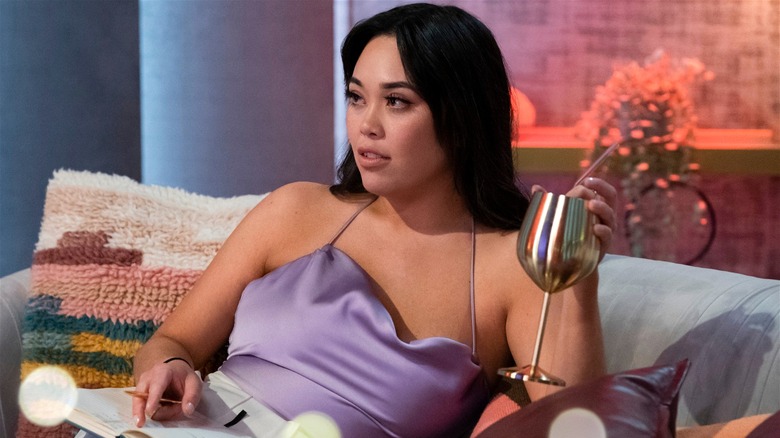 Monty Brinton/Netflix
"Love is Blind," the ultra-popular Netflix reality dating show, is back once again with its fourth season. Each episode of the show is certainly action-packed; there are always love triangles that arise in the pods or beyond, or there are petty arguments between the couples. The couples also may face drama when it comes to meeting the parents, or they find difficulties in living together. Plus, each season has its own villain — especially the most recent fourth season which has introduced viewers to mean girls Micah and Irina. Amongst all of the drama, one thing is always a given: the contestants will be seen drinking out of gold wine glasses.
As fans have very well noticed, the gold wine glasses have remained a constant for all four seasons, beginning with the contestants' time in the pods and into their time living together before the weddings. Naturally, fans have wondered from time to time why the gold wine glasses make so many appearances. Well, as it turns out, there's a very practical reason for them.
According to Season 3's Zanab Jaffrey, the gold wine glasses are used for continuity purposes.
Jaffrey explained the reasoning for the glasses to a fan on Instagram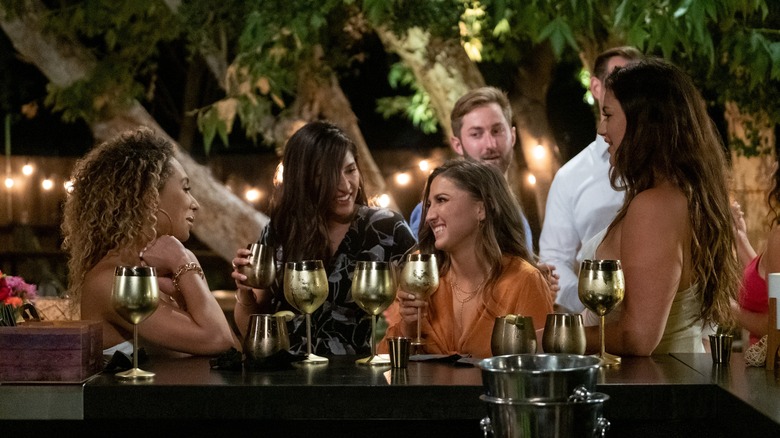 Patrick Wymore/Netflix
In early 2023, Zanab Jaffrey — whose ex-fiancé Cole Barnett faced some harsh criticism last season — posted a TikTok video from the cast's time filming "Love is Blind: After the Altar." In the video, Jaffrey and fellow Season 3 cast member Colleen Reed are drinking from the gold wine glasses. Jaffrey's caption even references the fact that the glasses are such a common sight in the show, as she wrote, "Drink every time: you see a gold goblet." Her caption only furthered fans' already existing curiosity, leading one fan to directly ask Jaffrey why the gold glasses show up so often on the show. Jaffrey responded, "Continuity babes."
Jaffrey then explained further: "If they want to cut and splice a scene, you don't see a glass go from full to empty to half full again."
This makes sense as the last thing that the producers want is fans wondering if the scenes they saw were shot out of order; rather, they want the fans to focus on the drama and the potential love matches.