Succession Just Scored A Series Record In Viewership (& It's No Surprise With That Big Twist)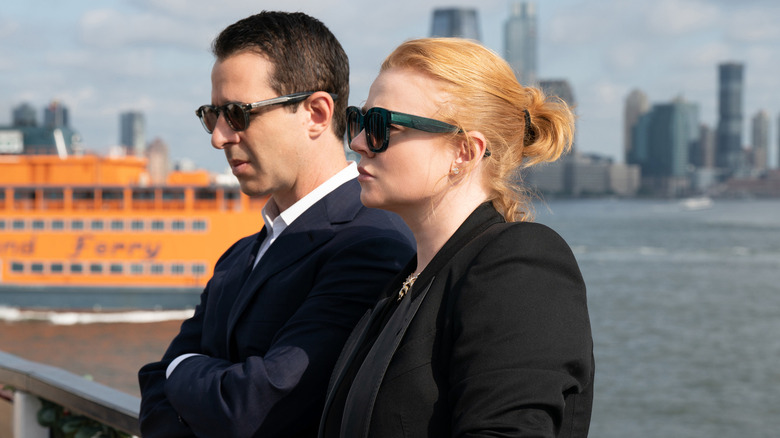 Macall B. Polay/HBO
The Roy family got delivered a major blow in the third episode of the fourth and final season for HBO's "Succession," but the good news is a record number of people were around to watch it. 
The third episode of the final chapter of "Succession," titled "Connor's Wedding," scored a series high 2.5 million viewers for HBO. The 2.5 million viewers represent viewers watching the episode live and others who caught up quickly enough on HBO Max. "Succession" already set a series record when it premiered its 4th season, with the premiere pulling in 2.3 million viewers. The finale marked a seven percent jump from the premiere. It was a much higher jump from Season 4, Episode 2, flying 22% above that episode's still-impressive 2 million viewers haul. 
It's fitting "Succession" hit a high for the "Connor's Wedding" episode as it marked a massive shift for the series with (spoiler warning) patriarch Logan Roy (Brian Cox) dying off. His family and media empire are both left more fractured than ever after Logan begins feeling chest compressions in the bathroom of a private jet and dies. It was a shocking death as Cox's fiery performance as Logan has been a staple of the series and the tense relationship between Logan and his children is the center of the show. To be fair, though, Logan Roy also nearly died of a stroke in the series premiere.
According to Cox, Logan Roy dying so early in the final season was actually a shock to him as well. 
Brian Cox thought Logan Roy would die later in the season
Macall B. Polay/HBO
In an interview with The New York Times about the demise of Logan Roy, Brian Cox revealed he knew his character would get the axe but he had no idea it would come so early. The actor was informed by "Succession" creator Jesse Armstrong by phone.
"He called me, and he said, 'Logan's going to die,' And I thought, 'Oh, that's fine.' I thought he would die in about Episode 7 or 8, but Episode 3, I thought ... 'Well that's a bit early,'" Cox said. He clarified, though, that he wasn't bothered by his character's early exit. 
Cox has long been vocal about too many shows going on far too long, even specifically calling out Showtime's "Billions," a show similarly covering the uber-rich, as an example of a series that did not know when to end. In a September 2022 interview with The Times of London, Cox said the series was past its sell-by date. That won't be a problem for "Succession," the actor suggested in his more recent chat with The New York Times.
"We don't want ['Succession'] to overstay its welcome, like 'Billions;' that's past its sell-by date. That will not happen with our show," Cox promised then. The veteran actor praised the writers for the difficult decision of ending Logan Roy's life, thus signifying the end is nigh for the series after just four seasons. 
"I've said it before, and I'll say it again, the problem with a lot of television, particularly American television, is it goes past its sell-by date. And the great thing about Jesse and the writers is they wouldn't do that. It was difficult for them because it wasn't easy to bring this to an end," Cox said.