Is Jeff Actually Becoming A Good Character On Yellowjackets?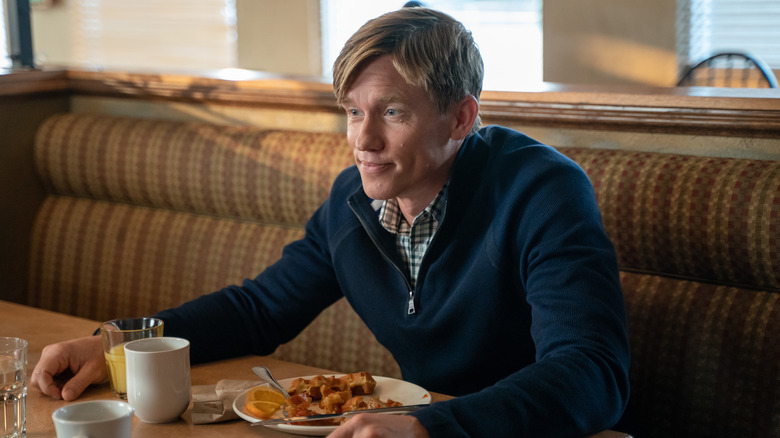 Colin Bentley/Showtime
One of the most impressive tricks a team of writers can perform on a character is to change the way viewers see them entirely. Whether it be Jaime Lannister (Nikolaj Coster-Waldau) on "Game of Thrones" or Reiner Braun (Yoshimasa Hosoya/Robert McCollum) on "Attack on Titan," getting audiences to come around on an unlikeable character is no mean feat.
All the same, "Yellowjackets" seems to be pulling off this very trick with Jeff Sadecki (Warren Kole/Jack DePew). While Jeff spent most of Season 1 as a dweeby salesman suspected of infidelity at best and a scheming criminal trying to blackmail Taissa Turner (Tawny Cypress/Jasmin Savoy Brown) at worst, Season 2 is allowing the character to grow considerably and even become a positive presence in the process.
True to form, Jeff maintained his goober disposition in the Season 2 premiere, with his most memorable moment being air drumming in his car while playing a Papa Roach song that was barely edgy 20 years ago. Since then, though, the character has seen some added depth and humility that show a whole new layer to him.
Jeff is the kind of grounded force Shauna needs right now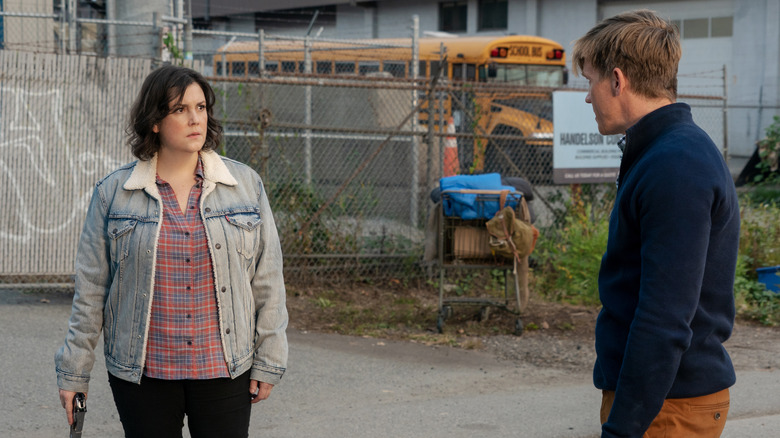 Colin Bentley/Showtime
In "Yellowjackets" Season 2, Episode 3 ("Digestif"), Jeff and Shauna (Melanie Lynskey/Sophie Nelisse) are car-jacked by a criminal posing as a wounded pedestrian. While Jeff immediately makes the choice to hand over their rusted-out minivan to the car thief, Shauna instead makes the rash decision to attack him and take his gun away. Not only that, but she attempts to shoot him in broad daylight as he drives off.
The only thing that stops Shauna from making this potentially life-ruining decision is Jeff, who wisely points the gun down before she can fire. Not only does Jeff's quick thinking put a stop to the dangerous amount of heat that this could have brought down on them (especially when the police are already circling Shauna), but it also makes him perhaps the coolest and most level-headed character in the modern timeline of "Yellowjackets."
However, it isn't just Jeff pulling Shauna back from the brink throughout Season 2 thus far that has improved the development of his character. He's also showing unwavering loyalty to Shauna, despite the fact that she was unfaithful to him and made him an accessory to murder.
Jeff is doubling down to try and save his marriage to Shauna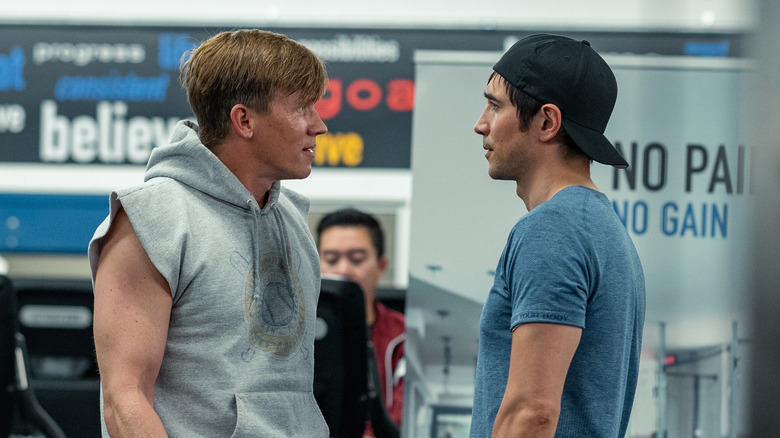 Kailey Schwerman/Showtime
Now, as mentioned above, Jeff was no saint himself in Season 1. Still, the fact that he's willing to stand by his partner after she killed an innocent man and cheated on him repeatedly says a lot about his devotion and how seriously he takes the commitment he made to Shauna. And Jeff is doing all of that and more in Season 2 of "Yellowjackets."
When Shauna and Jeff are at a diner having breakfast, Jeff willingly takes the brunt for Shauna's infidelity, blaming himself for not living up to what she needed from a partner. Not only that, but he listens calmly and attentively while Shauna describes what she was getting out of the affair. This doesn't just show an incredible amount of self-control on Jeff's part but how much empathy he has for Shauna and the trauma she's suffered.
Furthermore, Jeff steps directly into the line of fire for Shauna in Season 2 of "Yellowjackets" by confronting Kevyn Tan (Alex Wyndham) at the gym and trying to throw him off of Shauna's trail. He's also become a stable parental figure for their daughter, Callie (Sarah Desjardins), especially as Shauna has grown increasingly unstable over the course of the series.
While Jeff probably isn't going to come out on the top of any popularity polls as far as "Yellowjackets" characters are concerned, he's quickly becoming one of the most relatable characters on the show and someone viewers might unexpectedly find themselves rooting for in the future.