Yellowjackets: What's The Song During THAT Shauna And Jeff Scene?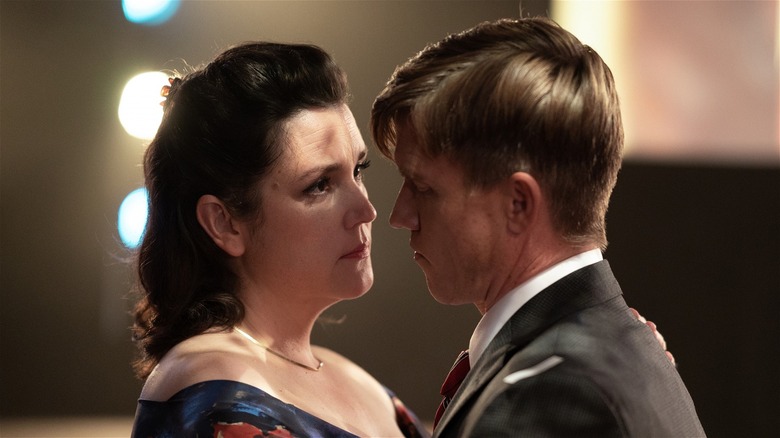 Kailey Schwerman/Showtime
Contains spoilers for "Yellowjackets" Season 2, Episode 1 — "Friends, Romans, Countrymen"
Needle drops are a necessary component of any period show, especially one set in the '90s. The shocking world of "Yellowjackets" has already situated viewers perfectly in 1996, the year the titular girls' soccer team crashed in the Canadian wilderness. Music is a universally unifying experience and that goes especially for Shauna (Melanie Lynskey) and Jeff's (Warren Kole) Season 2 premiere encounter, which takes it farther than we ever could have expected. So far, Jeff has been the most understanding husband ever. Not only has he started the path to healing over his wife's affair but is actively helping her cover up a murder. Marriage goals?
But in one intimate scene, it becomes clear that Jeff may need some more time to come to terms with Shauna's indiscretion. After she realizes that her dead lover, Adam (Peter Gadiot), had an art studio, Shauna's concern leads her and Jeff to investigate. They discover a locker full of impressive — and frankly, creepy — paintings exclusively of Shauna. Knowing this will be a huge red flag to law enforcement, they destroy the evidence. But not before getting fully intimate in the absolutely worst place possible. Garbage's song "#1 Crush" echoes ominously in the background as viewers watch the couple work out their marital issues cathartically. And carnally.
#1 Crush has a history appearing in unsettling love stories
#1 Crush is a song almost too fitting for "Yellowjackets." The Garbage song appeared in Baz Luhrmann's 1996 film "Romeo + Juliet," the same year of the plane crash in the show. Depending on when Nationals were, the team could have even been aware of the film. The crooning lyrics made its placement in the Shakespeare adaptation a no-brainer. "I would die for you/ I've been dying just to feel you by my side/ To know that you're mine." The lyrics evoke feelings of not exactly romantic love, but an unhealthy obsession. Love that inspires violence, presumably from a stalker's point of view. Luhrmann explained in a behind-the-scenes featurette that he toiled to fit the song into the film because it was so relevant. Romeo (Leonardo DiCaprio) and Juliet (Claire Danes) are not a picture-perfect couple. Quite the opposite. Two teenagers meeting at a party and then becoming so obsessed with each other that they die is, to say the least, toxic.
This echoes the romance Shauna has in "Yellowjackets." Her desire for romantic excitement in Season 1 is a trauma response. Once she pursues an affair with Adam, it ends bloody, even though he had no ill intentions toward her — or so it would seem. Looking at his studio, he has an unhealthy fixation with her. And the fact that she and Jeff consummate in the studio of her dead lover is just icing on the disturbing cake.