Disney+'s Ahsoka: Did Rosario Dawson Just Tease Lightsaber Action For Sabine?
Star Wars Celebration is in full swing right now, with Lucasfilm dropping tidbits all weekend long of what fans can expect to see from the franchise soon. Yesterday, they dropped the long-awaited trailer for "Ahsoka," and while there were plenty of small details you may have missed, it showcased many live-action "Star Wars Rebels" characters, including Hera (Mary Elizabeth Winstead) and Sabine (Natasha Liu Bordizzo). 
Lars Mikkelsen returning as Thrawn wasn't the only big reveal today when the "Ashoka" cast returned to the Celebration stage, as Rosario Dawson may have let slip that we'll see Sabine get into some lightsaber action in the Disney+ series. When asked about the lightsaber training during the interview, Dawson turned to Bordizzo with a knowing look, saying, "Did someone mention... lightsabers?" The Sabine actress replied, "Oh, I guess I can say that was pretty cool. Yeah, I can say that now." 
However, it seems like that information wasn't exactly ready for fans to hear. Dawson quickly recognizes that she may have jumped the gun, questioning whether that information was available to the public and wondering if showrunner Dave Filoni would be waiting for her backstage. She quickly changed the subject, but it may have been too late.
Sabine has wielded a notable saber before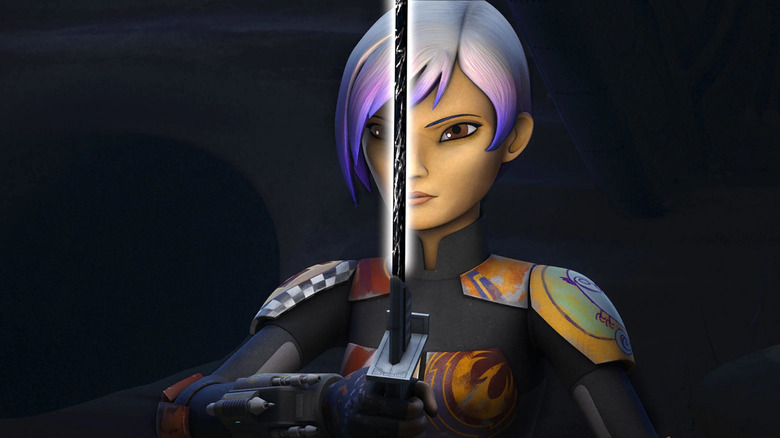 Lucsafilm/Disney+
While it looks like fans can expect to see Sabine partake in a lightsaber fight or two in "Ahsoka," many know that this won't be the first time she worked with a Jedi to perfect her saber-fighting techniques.
In "Star Wars Rebels," the young Mandalorian took the legendary Darksaber from Darth Maul's lair on Dathomir, hoping to unite the people of Mandalore with it. As fans have seen in "The Mandalorian," the blade isn't something one can just pick up and start swinging, so Sabine trained under the tutelage of Jedi Knight Kanan Jarrus. Although many Mandalorians questioned her claim to the Darksaber, Sabine proved herself the rightful wielder after defeating Viceroy Gar Saxon. However, she eventually offered the saber to Bo-Katan Kryze so she could lead the Mandalorians against the Empire.
Although it has canonically been years since Sabine used the Darksaber, it looks like "Ahsoka" will once again put a blade in her hands. While it won't be the weapon to rule over Mandalore, a lightsaber-wielding Mandalorian is enough of a reason for fans to get excited.
"Ahsoka" premieres on Disney+ in August 2023.