Ahsoka Trailer Debuts Live-Action Thrawn In Jaw-Dropping First Teaser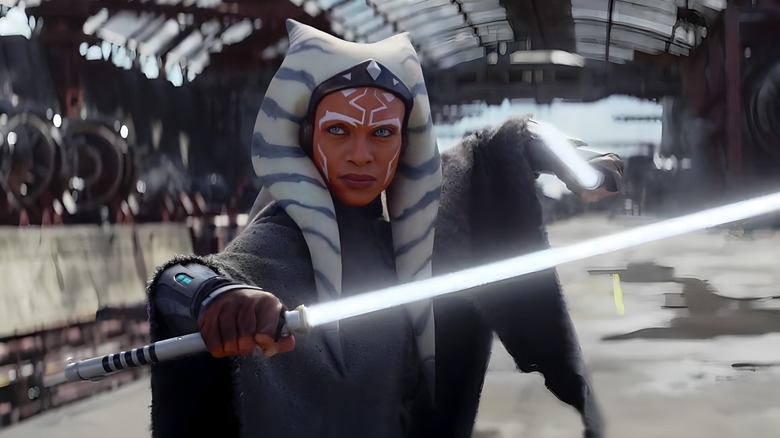 Disney+
The live-action "Star Wars" universe has had an Ahsoka Tano-shaped hole for quite a while now. The character (played by Rosario Dawson) made her live-action debut in "The Mandalorian" Season 1, but even though several other characters and concepts from the various animated series have since played a significant role in the Disney+ shows, Anakin Skywalker's (Hayden Christensen) old Padawan is yet to take the front and center role that befits her stature.
While it might seem strange to some that characters like Wookiee gladiator Krrsantan (Carey Jones) have had more appearances in the Disney+ shows than the fan-favorite Ahsoka — who, after all, has connections to most every character out there, including "The Mandalorian" mainstay Bo-Katan Kryze (Katee Sackhoff) – it's been known for a while that the situation is about to change. Now, Disney+ has given us the first taste of the upcoming "Ahsoka" show, and it looks like fans of the character won't be disappointed. The teaser debuted at Star Wars Celebration in London to much applause.
Ahsoka's story is finally told in live action
Warrior. Outcast. Rebel. Jedi.#Ahsoka arrives August 2023 on #DisneyPlus. pic.twitter.com/4T2PLgZDG2

— Disney+ (@DisneyPlus) April 7, 2023
Ahsoka Tano is arguably the most important Jedi-adjacent character who's yet to make a major live-action impact, her brief appearance in "The Mandalorian" notwithstanding. She's a focal point of multiple important "Star Wars" adventures, so "Ahsoka" stands a good chance of delivering some of the most fan-friendly franchise moments since Obi-Wan and Anakin (now in full Darth Vader form, naturally) had their rematch in "Obi-Wan Kenobi."  
Based on this new trailer, "Ahsoka" fully intends to deliver on the vast potential its main character brings to the table. Since Bo-Katan's live action arc has already implied that the Disney-era "Star Wars" seems to be treating the big beats of shows like "Star Wars: The Clone Wars" and "Star Wars Rebels" as canon, the sky's the limit to how many classic storylines the Disney+ "Ahsoka" series will choose to revisit and reference when it premieres.