Thrawn To Make His Live-Action Debut In The Mandalorian Season 3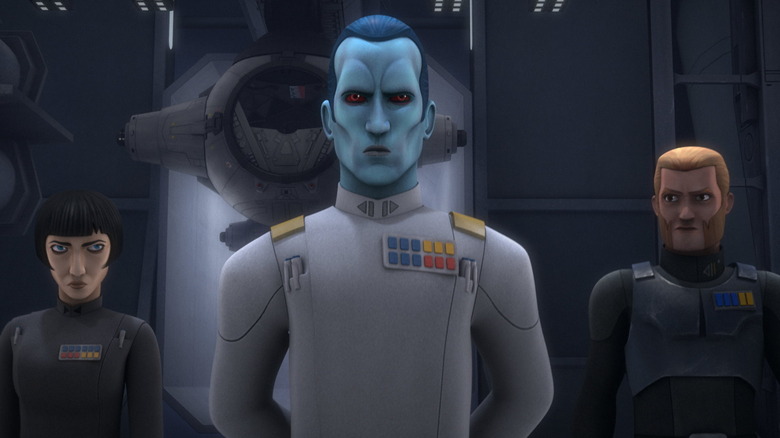 Lucasfilm/Disney+
"The Mandalorian" Season 3 has been teasing the arrival of the villainous Grand Admiral Thrawn for quite some time. The premiere features purgill sightings, which excited Ezra Bridger fans as the creatures probably signal his own imminent arrival to the live-action series. So, if Bridger is set to join the scene in the near future, that surely means Thrawn will get involved as well, right?
That appears to be the case. During a panel at today's "Star Wars" Celebration event in London, England, clips from an upcoming episode of the Disney+ series were shown, and Thrawn's name was dropped in one of them. Gilad Pellaeon's name was also mentioned, so Thrawn's second-in-command is bound to make an appearance as well. And if that isn't enough, Thrawn was also spotted in a teaser Disney+'s "Ahsoka" series that was shown at the event.
Of course, bringing Thrawn into the "Mandalorian" universe makes sense as he seems likely to play a major role on "Ahsoka." That said, one thing is for sure: whenever Thrawn enters the fray, that spells trouble for those who oppose the ruling forces of the Galactic Empire.
Thrawn will have a big part to play on Disney+'s Ahsoka series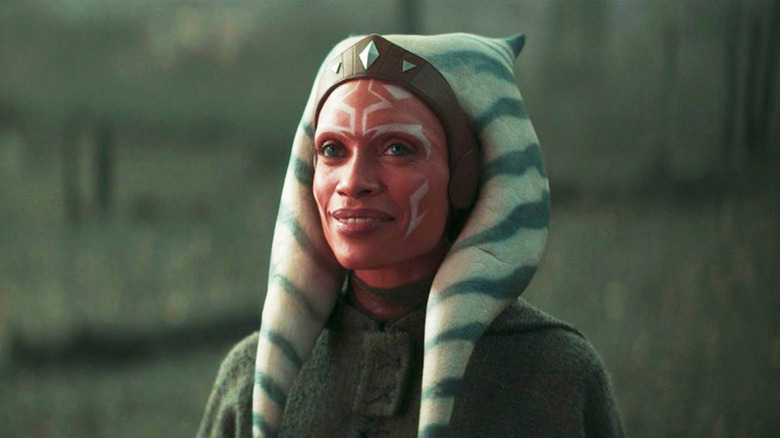 Lucasfilm/Disney+
When Ahsoka Tano (Rosario Dawson) first appeared on "The Mandalorian," she noted that she was on the hunt for Grand Admiral Thrawn. With his live-action debut essentially confirmed now, it's only a matter of time until the Force-sensitive Togruta comes into contact with him.
Eman Esfandi has already been cast as Ezra Bridger on "Ashsoka," and it's possible that he'll debut on "Mandalorian" alongside Thrawn and co. at some point — assuming that the aforementioned Season 3 purrgil sightings were meant to foreshadow the arrival of relevant characters down the line.
"Mandalorian" Season 3 is the natural segue into "Ahsoka," and it will be interesting to see if more members of the "Star Wars Rebels" series are brought into the fold in the near future. For now, though, it's exciting to know that Thrawn is set to return to a "Star Wars" series on Disney+.