The Addams Family Animated Movie Unveils First Look At The Creepy Crew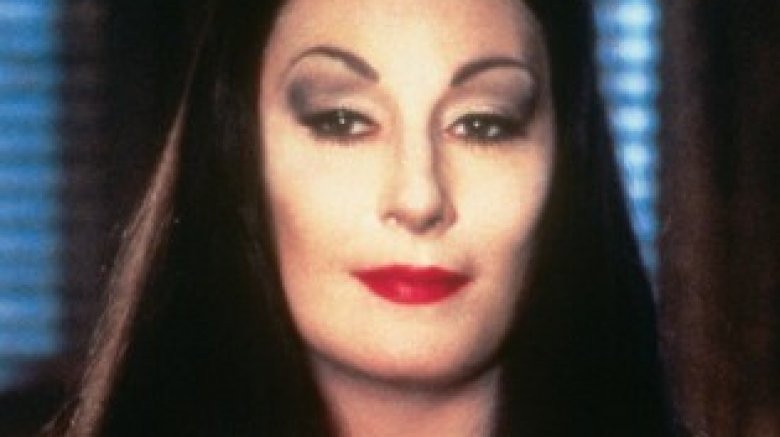 They're creepy, kooky, mysterious, and spooky, and now they're animated. 
By way of the Rotten Tomatoes Twitter account, studio MGM has gifted fans the world over with the first look at The Addams Family, the forthcoming animated film starring Oscar Isaac as the pencil-mustached patriarch of the famously creepy Addams clan. The photo depicts the whole Addams Family — from the stylish, black-clad Morticia to the portly and slightly psychopathic Pugsley — painted in a muted color palette that perfectly fits their collective gloomy aesthetic. 
Not only did we get a taste of the flick with this new snap, but we also got confirmation of the rest of voice cast for The Addams Family — and all the actors on board are brilliant matches for their parts. Charlize Theron voices Morticia, Chloë Grace Moretz is Wednesday, Stranger Things darling Finn Wolfhard lends his pipes to Pugsley, Nick Kroll is set to voice Uncle Fester, Bette Midler is the Addams fam's Grandmama, and Allison Janney, who took home an Oscar for her arresting performance as LaVona Golden in I, Tonya, voices the movie's villain Marguax Needler. (Anyone who caught I, Tonya for themselves knows how much power Janney packs in bringing an antagonist to life.)
Word of Isaac's involvement in The Addams Family first cropped up back in December 2017, when it was reported that the Star Wars saga standout was in talks to voice Gomez Addams, a role many a fan-caster have lobbied for him to play, seeing how much he looks like original Gomez actor Raul Julia and how well he sports a mustache. One such fan took their campaigning to the extreme, crafting a trailer for a fictional Addams Family Netflix series headlined by Isaac as Gomez and Eva Green as Morticia. Though dreams of Isaac slicking his hair back and dressing exclusively in black for a live-action performance as Gomez haven't yet come true, his voice work in The Addams Family is the next best thing. 
Directed by Sausage Party filmmakers Conrad Vernon and Greg Tiernan, the new Addams Family film draws from the original cartoons by Charles Addams, who introduced the family in single-panel illustrations published in The New Yorker. "Greg and I have always been a fan of the Addams Family in past versions, so when we set out to make this movie, we were excited to do something new. With that in mind, I drew from the brilliantly original Charles Addams New Yorker cartoons for the look of the film and decided to tell the story of how Gomez and Morticia meet, find their house, and start their family," Vernon said in a statement (via The Hollywood Reporter). "This unique approach is what drew me in to direct the film. The reimagining also extends to the stellar cast we've put together who will each bring their own spin to our film that will appeal to longtime fans of the Addams and introduce them to a new generation."
The film, which follows after the 1960s Addams Family series and the two Addams Family movies led by Anjelica Huston that were released in the '90s, sees the family facing off against the crafty reality TV host Marguax Needler while also preparing for their extended family to come into town for a major Addams-style celebration sure to include spooks, scares, and neo-Victorian party attire. 
With an animated style that honors the cartoons that started it all and a voice cast that couldn't get more perfect if it tried, it seems the new Addams Family has everything going for it. Fans can discover just how cool the film will be when it opens in theaters on October 11, 2019.