Todd Phillips Announces Wrap On Joker 2, Shares New Images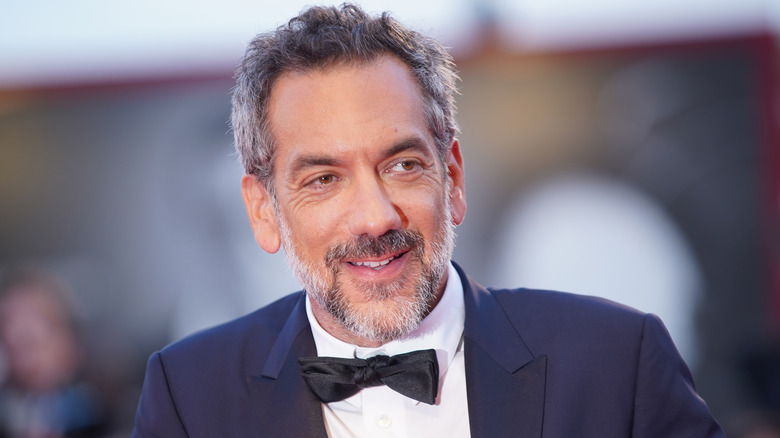 Denis Makarenko/Shutterstock
Todd Phillips is one step closer to completing the next installment in what is currently — hopefully, there's much more mayhem to come — his Joker duology. Recently, photos of both the film's titular star Joaquin Phoenix and the singing sensation Lady Gaga, who portrays the Clown Prince of Crime's main squeeze, Harley Quinn, were captured in New York City. And now the film's director has delivered even more excitement to the fans with a social media post that says "Joker: Folie à Deux" is ready for post-production.
"That's a wrap," Phillips posted on his Instagram account along with two brand new photographs. One is a picture of Gaga's Harley standing solemnly in front of some dilapidated wooden panels — perhaps the elevator in Joker's apartment building. Harley appears disheveled; her hair's a mess, and it looks like her makeup has run a bit.
The second photograph reveals Phoenix in full Joker regalia complete with his trademark purple jacket, a white shirt, and a teal tie. Batman's greatest villain appears to be contemplating something — perhaps the life or lover he's chosen — as he leans his head against the fencing of a prison vehicle. Let the speculation begin as Phillips starts the long, arduous process of cutting the film together.
Post-production begins on Joker: Folie à Deux
Filming has wrapped on "Joker: Folie à Deux." Todd Phillips made the announcement on his Instagram account, and in addition to whetting fans appetites with new pics of Joker (Phoenix) and Harley Quinn (Gaga), the director thanked his team of behind-the-scenes talents and actors. "Thanks to these two [Gaga and Phoenix] (+ the entire cast) and the BEST crew that the film industry has to offer," Phillips posted on Instagram. 
"From top to bottom. Gonna crawl into a cave now (edit room) and put it all together," Phillips continued. As the director readies himself to tackle post-production, the filmmaker first made sure he excited the fanbase and left them wanting even more with his social media announcement. And now the anticipation is really building for the film's October 2024 release. "Cannot wait," @michellevisage wrote in the announcement's comments.
"My question now is, 'How are we all going to wait 546 more days for the release?'" @ladygagafanstogether posted. And then there's @jenna.aaliyah, who is already proclaiming Phillips' sequel as the best film of 2024. "Oscar winner," another user, @motoxpapi, commented. 
The fans' excitement is palpable, and, hopefully, "Joker: Folie à Deux" lives up to the billion-dollar success the original film became.