Grey's Anatomy: Kelly McCreary Envisioned The Show Ending A Long Time Ago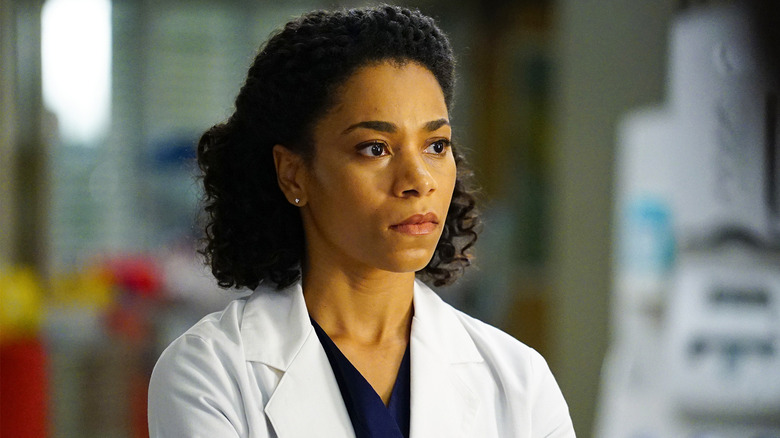 ABC
In the spring of 2023, "Grey's Anatomy" — which has been on since early 2005 — was renewed for a landmark 20th season, continuing its record as the longest-running medical series in television history. For some of the longer-running cast members, with the glaring exception of Ellen Pompeo, who left the series in February 2023, this is probably at once welcome and somewhat exhausting news.
As far as star Kelly McCreary — who's played Dr. Maggie Pierce as a series regular since Season 11 in 2014 — is concerned, she's surprised the show that pays her bills is still on the air. In fact, she's been surprised since 2020, when she did an interview with Access Hollywood about Meredith Grey's (Pompeo) fate, as she was dangerously sick from COVID-19 during that period of the series. 
Asked if she envisioned an ending to "Grey's," McCreary said, "I mean, it's so hard to predict, because I would have predicted that the show would have — what show goes 17 seasons?! Like, that's extremely rare. I would have predicted that it would have ended a long time ago." McCreary then attributed the show's continued success to its beloved characters like Meredith, Miranda Bailey (Chandra Wilson), and Richard Webber (James Pickens), as well as all the new cast members who have joined the series throughout the years.
Kelly McCreary, for her part, is leaving Grey's Anatomy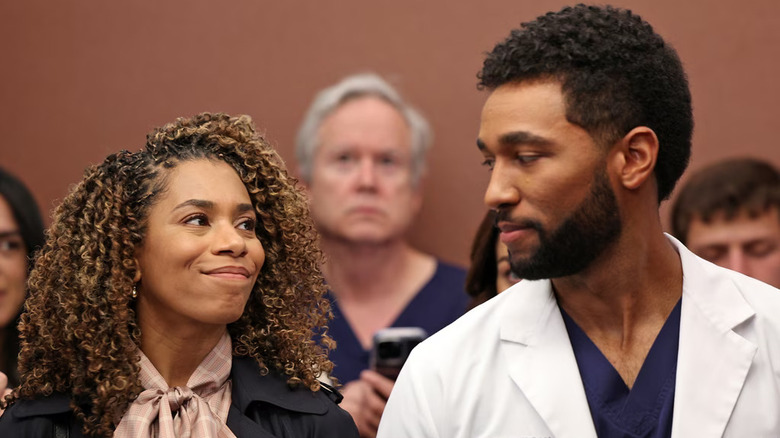 ABC
If 17 seasons seemed like a lot to KellyMcCreary, 20 may have seemed like too much, based on the news that Dr. Maggie Pierce is hanging up her stethoscope. In mid-March of 2023, McCreary announced that, in the wake of Ellen Pompeo's exit, she was also leaving "Grey's Anatomy."
In an Instagram post commemorating her exit, McCreary looked back on her time on the series, chronicling the ups and downs of Maggie's story. Her memories of the show were personal as well as professional, considering that she met her husband, director Pete Chatmon, on the show's set. In a statement obtained by Deadline, McCreary said, "After nine seasons, I am saying goodbye to Maggie Pierce and her Grey Sloan family. Playing Maggie Pierce has been one of the true joys of my life, and I leave with profound gratitude for every step of this journey. I am excited for this next chapter, and what the future holds."
McCreary's final appearance as Maggie Pierce will air on April 13, 2023, and it's sure to be emotional after nearly a decade playing the character. At the very least, Maggie's arc will probably be satisfying when all is said and done, as she and her husband, Anthony Hill's Winston Ndugu, will hopefully get their happy ending.
Should Grey's Anatomy still keep going?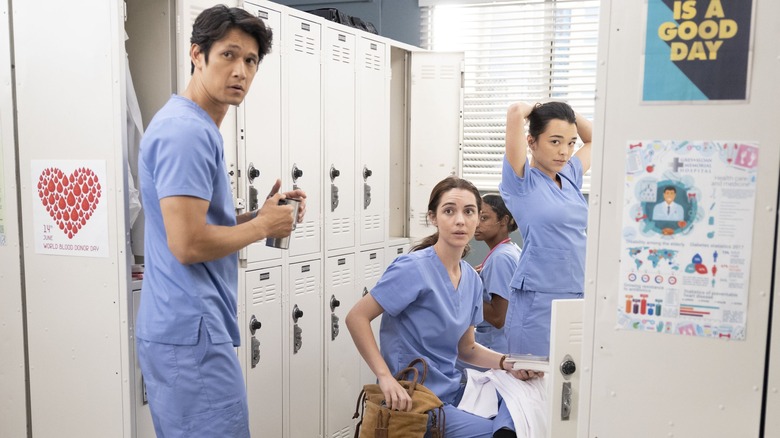 ABC
So, does Kelly McCreary have a point, even though she had a positive spin about the series running for this long? Nineteen seasons is a long time for a network drama to continue, and considering that the titular Grey of "Grey's Anatomy" saw fit to jump ship, it seems like maybe the show should just... consider calling it quits.
That said, longtime fans of the show seem to be sticking with it, and the show has doubled down on its commitment to its new interns and their messy, drama-filled lives. Simone Griffith (Alexis Floyd, who also appeared on "Inventing Anna"), Lucas Adams (Niko Terho), Mika Yasuda (Midori Francis), Jules Millin (Adelaide Kane), and Daniel "Blue" Kwan (Harry Shum Jr.) make up the new group of interns, and ultimately, they're keeping audiences invested.
At this point, it seems like three things in life are certain: death, taxes, and "Grey's Anatomy" staying on the air. Let's just hope they avoid any more Disney sing-a-longs in these later seasons.
"Grey's Anatomy," currently in its 19th season, airs on Thursday nights at 9 p.m. EST on ABC.