Barbie Teaser: Will Ferrell Creates Buzz About His Human Cameos In Toy Films
A new teaser trailer for the upcoming "Barbie" movie dropped, and if producers were hoping to generate buzz, then they've succeeded. Pictures of Margot Robbie as the iconic doll and Ryan Gosling as Ken have already sent the social media spheres abuzz, as did last December's tongue-in-cheek first "Barbie" trailer, which paid homage to Stanley Kubrick's "2001: A Space Odyssey." 
As for this new trailer, there's a lot to see, including a first look at Will Ferrell's character. It was confirmed in November 2022 that Ferrell would be playing a Mattel CEO, and some fans are pointing out that this isn't the first time that Ferrell has played someone from the "real world" in a toy movie. 
"If I had a penny for every time Will Ferrell played a human in a toy universe, I'd have two pennies," @daylightgigii posted on Twitter. "It's weird that it's happened twice." The other movie Ferrell has played a role like this in is "The Lego Movie."
From the Man Upstairs to Mattel CEO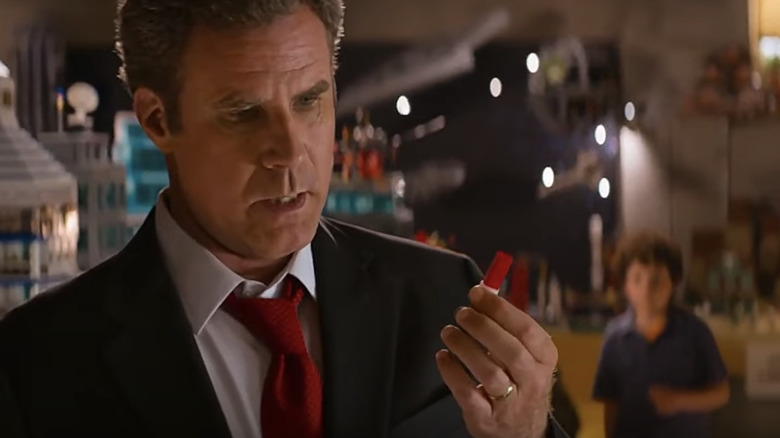 Warner Bros.
Will Ferrell played two roles in 2014's "The Lego Movie." First, he voiced the villain Lord Business, the tyrant of Bricksburg. He also briefly appeared in the flesh as someone referred to as "the man upstairs." It is later revealed that he is the father of Finn (Jason Sand), the boy whose imagination sets the events of "The Lego Movie" in motion. 
For fans, there is an affinity between this role and that of the Mattel CEO in "Barbie." While the latter seems to be rooted more in the same universe as all of the Kens and Barbies, he is still something of an avatar for viewers who are not yet fully immersed in the world of "Barbie." 
Like the dad in "The Lego Movie," it's his job to essentially acknowledge that despite the absurdity of the situation, these toys and their world are legitimate and something fans will find endlessly fascinating and fun. In fact, many fans are already having fun with Ferrell's character.
"Will [Ferrell]'s really carving out a niche for himself as the business guy in all these toy-to-film adaptations," u/Prax150 wrote on the r/movies subreddit. Other comments agreed with them. 
"Exactly what I was thinking," u/Knyfe-Wrench wrote. "Will Ferrell as President Business the sequel." How the two characters compare will likely become more clear after the release of "Barbie" on July 21.