Thor Was Never Going To Be In James Gunn's Guardians Of The Galaxy Volume 3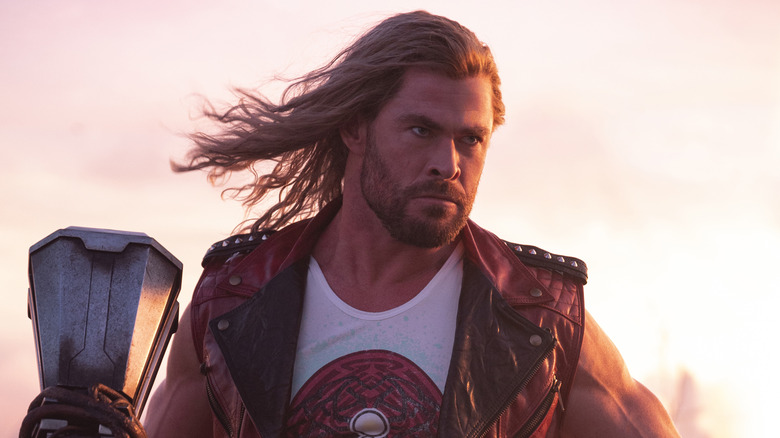 Disney/Marvel Studios
Working in the Marvel Cinematic Universe means no matter how much ownership one has over a franchise, one will always be at the mercy of the larger world. Case in point for this phenomenon is James Gunn. The auteur wrote and directed three "Guardians of the Galaxy" movies (plus a Disney+ holiday special), a rarity for Marvel where many directors depart a franchise after one outing. 
Gunn's name may be forever entwined with the Guardians of the Galaxy franchise, but even he gets thrown some curveballs when the characters he introduced on film are used. In 2019's "Avengers: Endgame," for instance, Thor (Chris Hemsworth) ends the movie teamed up with Star-Lord (Chris Pratt) and the rest of the Guardians. According to Gunn, who is now helping to oversee DC's cinematic universe, this was something he didn't expect, and it threw him for a loop as he didn't plan on using Thor in his "Guardians of the Galaxy Vol. 3," which is set for release on May 5, 2023. 
"They chose to have that ending in editing, and I didn't think it was gonna be in there. 'Endgame' came out right after I decided to do 'Guardians' again. So I didn't have much say in what was in 'Endgame,' and then it came out and then I was like, 'What the f**k am I gonna do?'" Gunn told Rolling Stone. 
The director further explained that it was fellow Marvel director Taika Waititi that got him out of his pickle. 
Taika Waititi took a bullet for James Gunn with Thor
James Gunn told Rolling Stone that Taika Waititi deciding to use the Guardians of the Galaxy in "Thor: Love and Thunder" meant Gunn could stick with his original draft of "Guardians of the Galaxy Vol. 3," which did not include Chris Hemsworth's God of Thunder and focused instead on the origin of one specific Guardians member, Rocket Raccoon (Bradley Cooper). 
"That's when [Marvel Studios president] Kevin [Feige] told me Taika's gonna do Thor, and we'll have the Guardians in it. I said, 'Thank God!'... To be completely honest, Thor was never going to be in this movie. Taika took a bullet for me. Because I was not going to have him in. I was just gonna start up and there's no Thor," Gunn said. 
It's a good thing Gunn was able to keep closer to his vision for his trilogy topper as he confirmed to fans at the 2022 San Diego Comic-Con that it would be a sendoff for him from the franchise and Marvel, according to a Deadline report at the time. 
"This is the end of that story. I'm sorry. Some stories have an end. It doesn't mean everybody dies," the director told fans.