Actors You Never Realized Played The Same Characters In Different Movies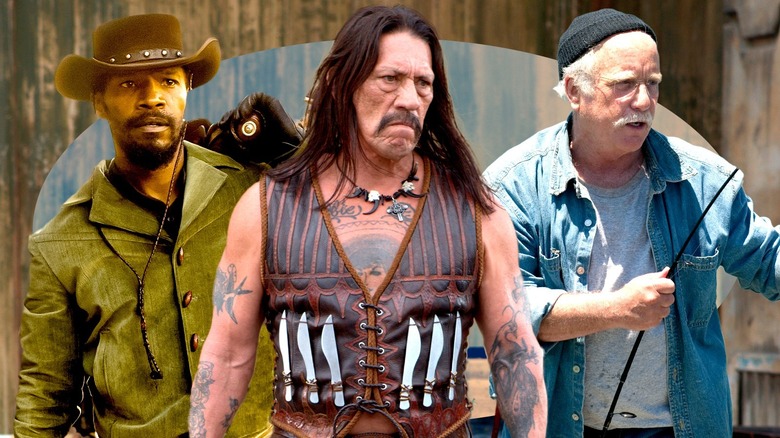 Static Media
With the advent of multimedia franchises such as the MCU and the "Star Wars" universe, it isn't surprising to see characters appear in multiple films. The popularity of crossovers means that you are more likely than ever to spot familiar faces showing up in related projects. Yet that hasn't always been the case, and not too long ago it was much rarer for any movie character to appear in another release in an official capacity.
But just because it's rare doesn't mean that it hasn't happened at all. There are some notable cases where an actor has played exactly the same character across more than one film. In many cases, you might not even have realized that the performer is portraying the same individual. Sometimes long before the likes of Samuel L. Jackson and Robert Downey Jr. were doing it in the early Marvel films, we bet you never realized these actors were reprising their characters across different movies.
Peter O'Toole (Henry II)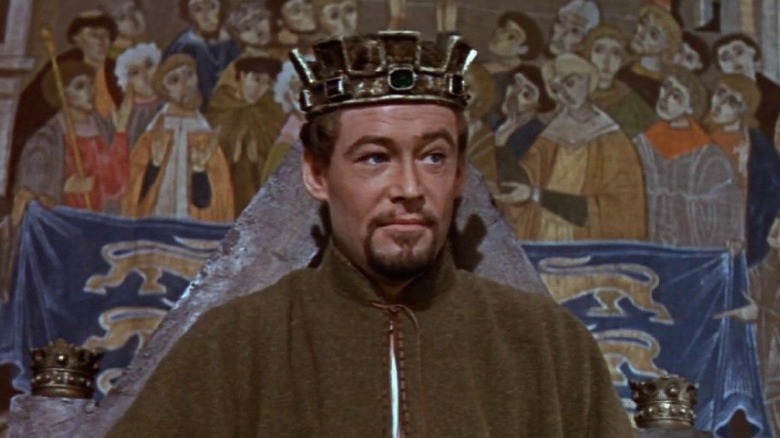 Paramount Pictures
Legendary actor Peter O'Toole will not only go down in history as one of the most respected leading men of all time, but also as one of the industry's most decorated performers. Having started his career on stage in his native country of Great Britain, he found international fame for his role in "Lawrence of Arabia" and followed that up with a number of other acclaimed roles in the likes of "Becket" and "The Lion in Winter," performances that earned him Academy Award nominations for best actor — although he failed to win these or any of the eight total Oscars he was nominated for.
In both of these films, O'Toole portrayed King Henry II, the English monarch who controlled large parts of the rest of the United Kingdom and France. The first time he played him was in the 1964 film "Becket," alongside Richard Burton, who plays the titular Archbishop of Canterbury. The two form a close bond, but their relationship sours as Becket becomes more powerful and influential.
Four years later, O'Toole again took on the role of Henry II in a film that stars Katharine Hepburn, Anthony Hopkins, and Timothy Dalton. The story charts the machinations of the king's various sons as they plan to succeed him. Like "Becket," this movie is also based on an earlier play, although it takes place several years later.
Michael Parks (Earl McGraw)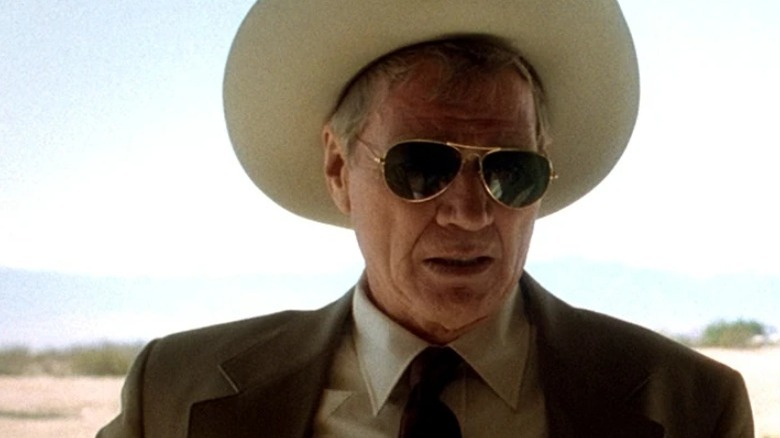 Miramax Films
Singer and actor Michael Parks had a long career in the entertainment industry but is probably best known for his close associations with several famous directors. For example, he appeared in several of Kevin Smith's movies, including "Red State" and "Tusk," before his death in 2017. He also collaborated frequently with both Quentin Tarantino and Robert Rodriguez. While he has appeared in many of those two filmmakers' projects, he also has a recurring part as Texas Ranger Earl McGraw across both their filmographies.
The character first makes an appearance in the 1996 film "From Dusk Till Dawn," which was written by Tarantino and directed by Robert Rodriguez. He went on to reprise the part in "Kill Bill," "Planet Terror," and "Death Proof." Meanwhile, his real-life son played Edgar McGraw — the character's fictional son — in several movies alongside Parks. Speaking to Far Out Magazine, Tarantino explained how he created the character with Parks in mind. He said: "I wrote that Texas Ranger role just for Michael Parks, for his lazy Texas drawl. He's always been one of my favorite actors in the world."
Martin Starr (Mr. Harrington)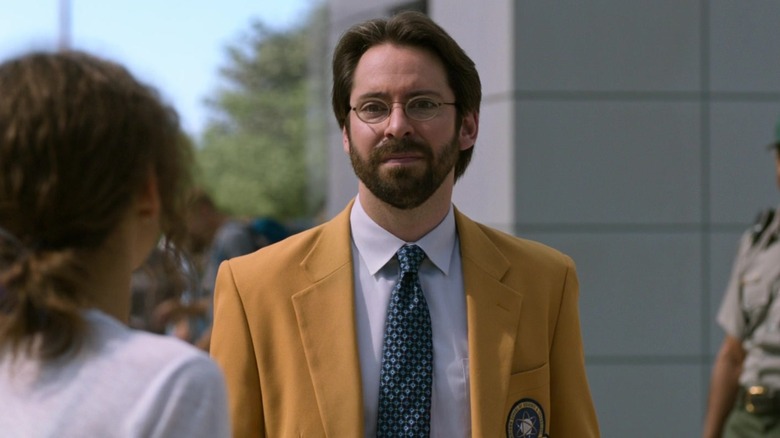 Columbia Pictures
Martin Starr is an actor and comedian who has starred in television series such as "Freaks and Geeks" and "Silicon Valley" as well as movies such as "Knocked Up." However, he has also been part of the Marvel Cinematic Universe, making his first appearance in the franchise in the 2008 release "The Incredible Hulk." Officially credited as Computer Nerd, Starr played a student at Culver University who encounters Bruce Banner and allows him to use the school's computers when the superhero gives him free pizza.
The actor later appears in "Spider-Man: Far From Home" in 2019 as Mr. Harrington, a teacher at Midtown School of Science and Technology in New York City. Harrington knows both MJ (Zendaya) and Peter Parker (Tom Holland) relatively well, as he runs the academic decathlon team that they are both members of. It wasn't until recently that it became clear that Mr. Harrington and Computer Nerd are not two distinct characters but rather one individual. In an AMA on Reddit, Marvel Studios President Kevin Feige confirmed that both characters are actually the same person.
Sung Kang (Han Lue)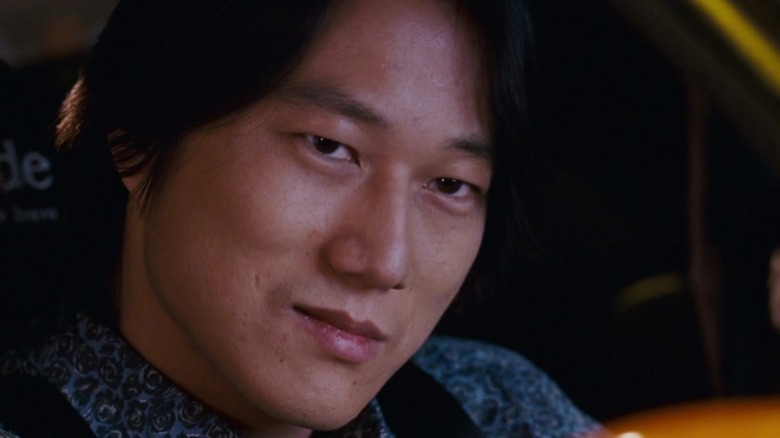 Universal Pictures
Most filmgoers will know Han from the "Fast & Furious" series. He's a Korean racer who first appears in "The Fast and the Furious: Tokyo Drift." A rich and successful associate of Takashi (Brian Tee), he operates his own garage and has an impressive collection of vehicles. When viewers initially encounter the character, Han works closely with Sean Boswell (Lucas Black) but apparently dies near the end of that movie after being caught up in an explosion. However, the popularity of Han saw filmmakers bring him back for future entries in the series, including "Fast & Furious" in 2009 and "Furious 7" in 2015. More recently, Han appeared in the 2021 film "F9," which takes place after the events of "The Fast and the Furious: Tokyo Drift."
The one constant in all of Han's appearances in the film series is that many of them are directed by Justin Lin. The director had previously worked on a film called "Better Luck Tomorrow," which features another figure called Han. He is part of a group of teenagers who begin to commit crimes until things quickly get out of hand with disastrous consequences. Not only are both characters portrayed by Sung Kang, but Lin confirmed the earlier film shows the origin of Han and how he became a criminal in the first place.
Thomas Lennon (Doctor)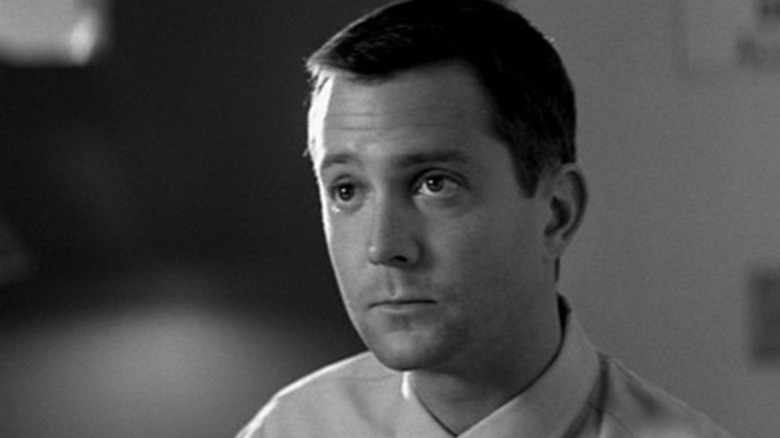 Newmarket Films
Actor and writer Thomas Lennon might be best known for his role in "Reno 911!" as Lt. Jim Dangle, but he has also had roles in two Christopher Nolan movies. He first portrayed a doctor in the 2000 thriller "Memento." In the film, he tests Sammy Jankis (Stephen Tobolowsky) to determine just how bad his amnesia is and whether he has any hope of being treated. Later, he appears as another doctor, this time in Nolan's "The Dark Knight Rises," and examines Bruce Wayne when he injures his knee.
Although Nolan has never confirmed that the two doctors are the same character, the actor is convinced they are. Speaking to HuffPost, he said: "Basically, I guess — I [kinda] think it's the same character from 'Memento.' The doctor who's testing Sammy Jankis in that movie. I like to think I'm exactly the same doctor and it's all happening inside Guy Pearce's mind. Whether or not that's true is probably for Nolan to say. I'd like to think that's happening."
Ian Holm (Napoleon)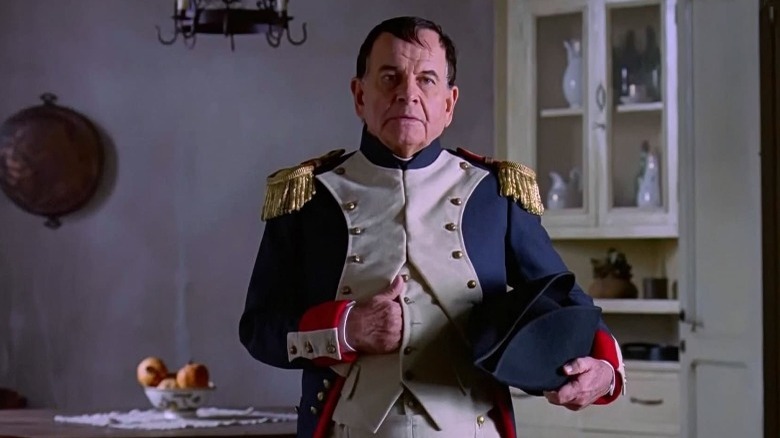 Senator Film
For many people, Ian Holm is the actor who first brought Bilbo Baggins to life on screen in Peter Jackson's "The Lord of the Rings" trilogy. But while that role brought him to the attention of modern audiences, the actor has a distinguished career that goes back to the 1960s. Having won numerous high-profile awards and starred in the likes of "Brazil," "The Last of the Blonde Bombshells," and "Chariots of Fire," he was a prolific and well-respected actor before his death in 2020.
Among the many roles he has taken on is that of Napoleon Bonaparte, the French emperor and military commander. Holm first portrayed Napoleon in the 1974 television series "Napoleon and Love" on ITV. Charting the rise and fall of the French leader, it largely focuses on his relationships with his wives and mistresses. The series ran for nine episodes.
The actor next took up the role of Napoleon in the 1981 fantasy adventure film "Time Bandits." Written by Monty Python stars Terry Gilliam and Michael Palin, it also stars their former colleague John Cleese and other screen legends like Sean Connery, Kenny Baker, Shelley Duvall, and Jim Broadbent. The film follows a young boy (Craig Warnock) who magically travels through time, encountering various historical figures. Finally, Holm brought Napoleon to life one more time in the 2001 film "The Emperor's New Clothes," which tells a fictional story of the figure escaping exile from Saint Helena and returning to France.
Angela Bassett (Betty Shabazz)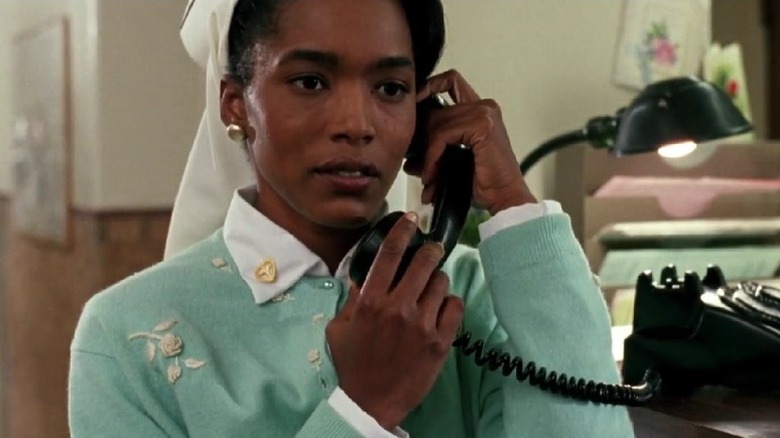 Warner Bros.
Angela Bassett first rose to prominence following her performance in "What's Love Got to Do with It," where she plays the singer Tina Turner. Throughout her illustrious career, she has been nominated for two Academy Awards and won many other accolades for her roles in projects such as "Boyz n the Hood" and "Black Panther: Wakanda Forever." However, one of her biggest roles came in 1992 when she portrayed Betty Shabazz in the film "Malcolm X."
Betty Shabazz was a civil rights activist who was married to Malcolm X and spent much of her life campaigning and working in higher education. She died in 1997 when her grandson, who was just 12 years old at the time, set fire to her apartment. The event left Shabazz with severe injuries, and she died just a few weeks later.
In "Malcolm X," Bassett stars alongside Denzel Washington, who plays the titular civil rights leader, and she's a key figure in the story. She reprises the role of Shabazz three years later for "Panther," an adaptation of Melvin Van Peebles' novel of the same name. Telling the story of the founding of the Black Panther group, this film sees her take on a smaller role. Strangely, the actor also appears in another film that featured Shabazz, "Betty and Coretta," although this time, Mary J. Blige takes on the role while Bassett portrays Coretta Scott King.
Jamie Foxx (Django Freeman)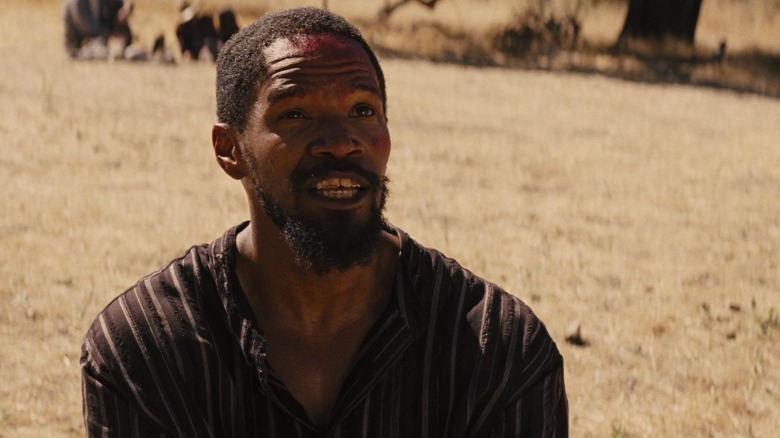 Sony Pictures Releasing
In 2012, acclaimed filmmaker Quentin Tarantino scored his biggest box office hit ever with the release of "Django Unchained." As well as receiving plenty of plaudits from critics, the film grossed more than $400 million worldwide. Like most of Tarantino's movies, it features an ensemble cast, this time featuring Christoph Waltz, Leonardo DiCaprio, Samuel L. Jackson, and Kerry Washington alongside the film's hero, Jamie Foxx.
The spaghetti western tribute takes inspiration from the original "Django" and sees Foxx's character becoming a bounty hunter after being freed by Dr. King Schultz (Waltz) and teaming up to try and rescue his enslaved wife (Washington). Working with his mentor, he eventually tracks down and frees her but is forced into using extreme violence to defeat the evil Calvin J. Candie (DiCaprio).
While fans have long been asking for a sequel to "Django Unchained," the character does show up in another movie. Seth MacFarlane created his own western with "A Million Ways to Die in the West," which contains dozens of references and Easter eggs to other films in the genre. One of these comes during an end credits scene when a character that very much resembles Django, portrayed by Foxx, appears. He has the same hat, costume, and quick draw, all but confirming that this is actually Tarantino's iconic bounty hunter.
Jason Statham (Frank Martin)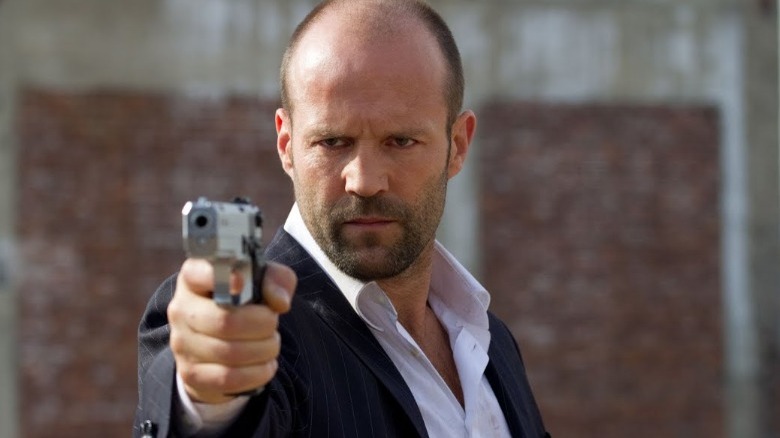 20th Century Fox
Jason Statham, the British actor and former international diver has had many high-profile roles over the years. He first came to the public's attention as an actor in 1998 when he landed a role in the Guy Ritchie film "Lock, Stock and Two Smoking Barrels." He returned for the director's next project, "Snatch," in 2000 before going on to star in the "Transporter" series as Frank Martin.
Frank is a respected and highly skilled operative and driver who has developed a reputation for being able to transport any package to its destination. Once a member of a special forces team who had operated in a variety of combat zones, he is highly skilled with weapons and hand-to-hand combat. Statham returned to play the character a total of three times with "Transporter 2" in 2005 and then "Transporter 3" in 2008.
This wasn't the last time that the actor took on the role of Frank though. Officially credited as Airport Man, Statham has a brief cameo appearance in 2004's "Collateral." In the very first scene, he bumps into Tom Cruise's character and exchanges a knowing glance. Speaking to Collider, "Collateral" screenwriter Stuart Beattie confirmed what "Transporter" director Louis Letterier said in the past: that it is the same character in the "Transporter" movies who appears in "Collateral."
Michael Keaton (Ray Nicolette)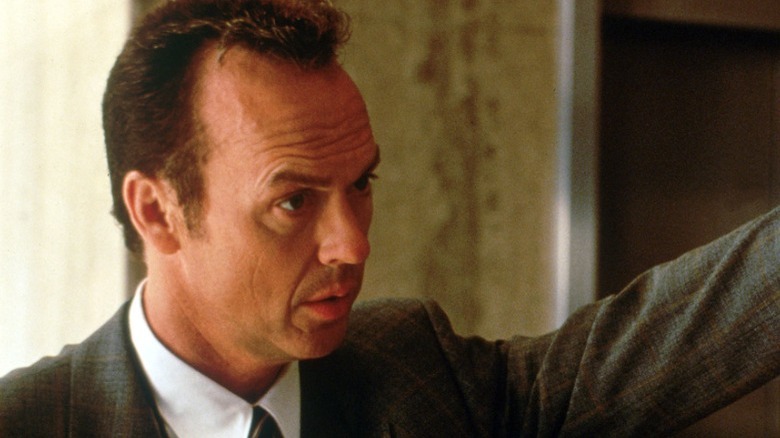 Miramax Films
Out of all the actors featured in this article, Michael Keaton has arguably had the most varied career. He played Batman, appeared in the MCU as a Spider-Man villain, won critical acclaim for his role in "Birdman," and found fame with his work in comedies such as "Mr. Mom" and "Night Shift." Recognized by numerous award bodies for his achievements, one of his most impressive performances came in 1997 when he played the part of Ray Nicolette in Quentin Tarantino's "Jackie Brown."
Based on a novel by Elmore Leonard, the film has an ensemble cast made up of Pam Grier, Robert Forster, Samuel L. Jackson, and Robert De Niro. It follows the story of a flight attendant caught up in a smuggling ring who manages to turn the tables against criminals and law enforcement officials. In the movie, Keaton plays ATF agent Nicolette as he tries to bring down drug lord Ordell (Jackson).
Not long after the release of "Jackie Brown," another Leonard adaptation came to cinemas in the form of Steven Soderbergh's 1998 release "Out of Sight." Keaton reprises his role in an uncredited cameo as a love interest for the protagonist (Jennifer Lopez).
Ralph Bellamy and Don Ameche (Randolph and Mortimer Duke)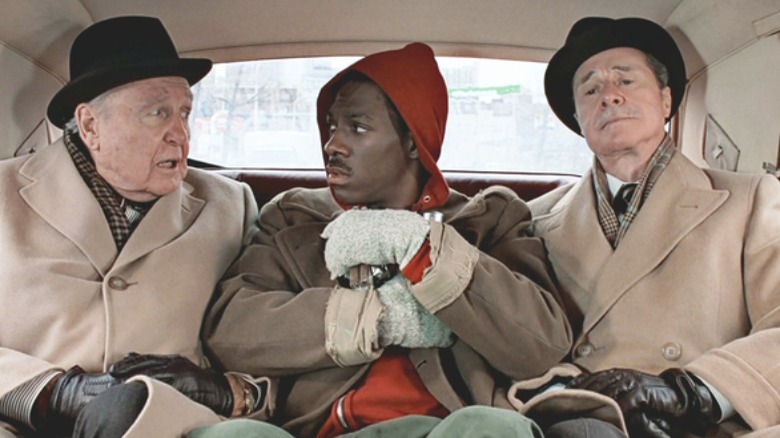 Paramount Pictures
Randolph and Mortimer Duke, played by Ralph Bellamy and Don Ameche, are two characters who appear in John Landis' comedy "Trading Places" alongside Eddie Murphy and Dan Aykroyd. The plot follows two men who have their lives swapped around due to outside meddling that they are initially unaware of. The brothers act as the main antagonists of "Trading Places," and the events of the film largely take place because of a bet they place about manipulating the fortunes of the two protagonists. Greedy and coldhearted, the brothers are willing to do anything to increase their fortune or amuse themselves.
They later appear in another Eddie Murphy comedy, reprising their roles in the 1988 film "Coming to America." Here the two former businessmen can be seen begging on the street and are given a large sum of money by crown prince Akeem Joffer (Murphy), allowing them to restart their company. By the time of "Coming 2 America," the company is still in operation and is being run by their descendants.
Danny Trejo (Machete)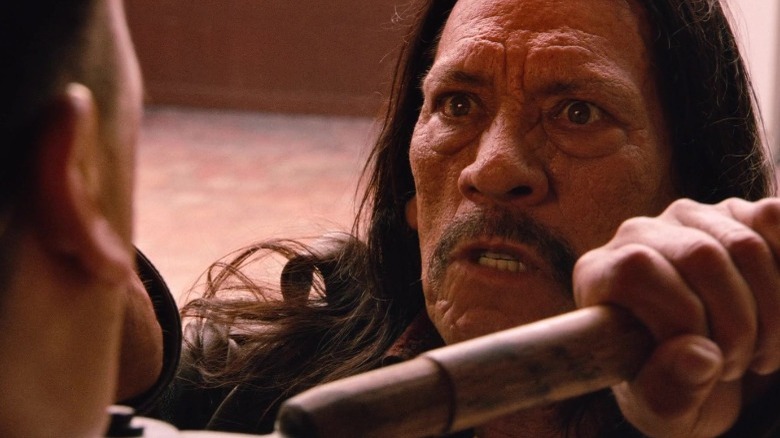 Twentieth Century Fox
Officially known as Isador Cortez, Machete is a character played by Danny Trejo who first appears in "Spy Kids" as the uncle of Juni and Carmen. A former Mexican police officer, he supplies gadgets to the other characters and acts as something of a mentor to the youngsters. Named for his aptitude with a certain bladed weapon, Machete is a skilled fighter and proficient with technology. He has a significant role in the first "Spy Kids" film and goes on to make more minor appearances in "Spy Kids 2: The Island of Lost Dreams," "Spy Kids 3-D: Game Over," and "Spy Kids: All the Time in the World."
The same character also helms two "Machete" films. These far less family-friendly films first see the figure attempting to escape assassins trying to kill him as part of a political plot in Texas. In "Machete Kills," he stars alongside Mel Gibson and Charlie Sheen as well as his "Spy Kids" co-star, Antonio Banderas, as Machete works with the U.S. government to thwart a plot for world domination.
Speaking to IGN in 2007, the director and creator of the character, Robert Rodriguez, explained that he intended for the character to be "Mexican Jean-Claude Van Damme or Charles Bronson." Meanwhile, Trejo has confirmed that the Machete in both series is the same character.
Richard Dreyfuss (Matt Hooper)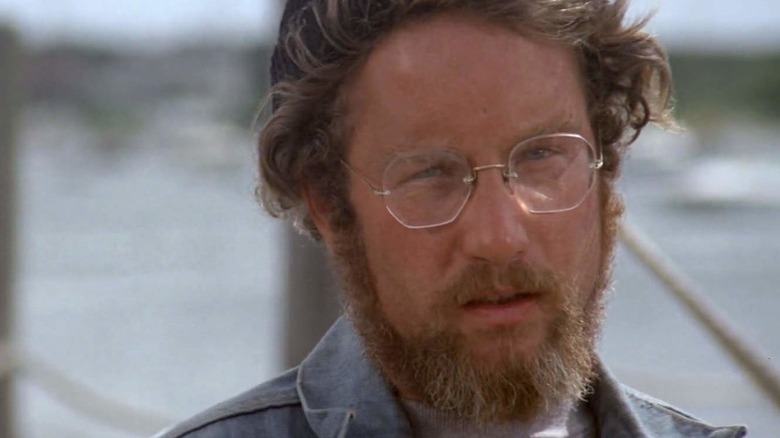 Universal Pictures
Richard Dreyfuss found world fame in 1975 when he appeared as one of the main characters in Steven Spielberg's thriller "Jaws." In the film, he portrays the character Matt Hooper, a marine biologist who specializes in sharks. Along with Martin Brody (Roy Scheider) and Quint (Robert Shaw), he is part of the crew of the Orca that goes out to try and kill the giant great white shark that is terrorizing Amity. Although the shark hunter Quint dies during the events of the movie, Hooper and Brody both survive, although the character is not seen in any of the sequels and is only briefly mentioned.
In the film "Piranha 3D" from 2010, the actor plays a character credited as Matt Boyd. He appears at the very beginning of the movie in what is obviously meant to be an homage to "Jaws." The character shares the same first name, sings "Show Me the Way to Go Home" as he did in Spielberg's original film, and drinks alcohol known as Amity Beer. Matt is then seen being killed by a large number of piranha when an earthquake causes him to fall overboard.