The Ending Of Party Down Season 3 Explained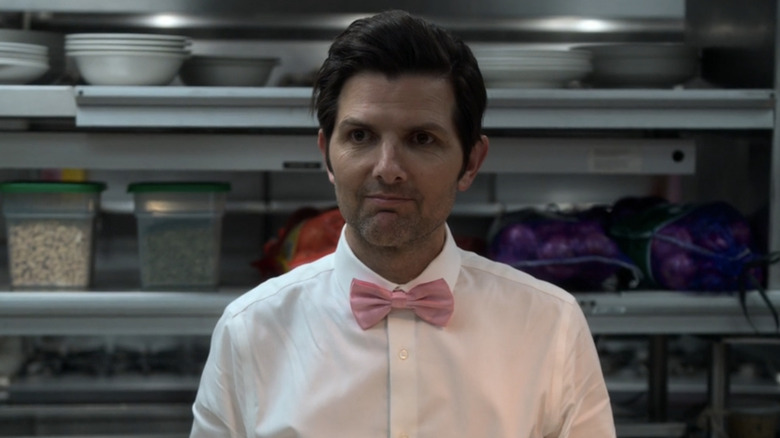 Starz
The old saying about "snatching defeat from the jaws of victory" could've been tailor-made for the lovable losers of "Party Down," the Starz comedy that recently wrapped its long-awaited Season 3. Picking up more than a decade after the end of Season 2 in 2009, Season 3 finds the original cast older but not necessarily wiser. Flop sweat-soaked Ron (Ken Marino) is still desperately trying to keep the eponymous catering service afloat; Roman (Martin Starr) is still plugging away at his "hard sci-fi" opus; Kyle (Ryan Hansen) has a starring role in a superhero movie all lined up until an old video of his former band gets him canceled; Constance (Jane Lynch) has used her dead husband's wealth to flower fully into the new age kook she was always meant to be; Lydia (Megan Mullally) manages her daughter's film career full-time, and former actor Henry (Adam Scott) is a happily married school teacher until a divorce and a global pandemic put him back in the old pink bowtie.
The six-episode season puts each of the characters on the road to happiness, only to snatch their dreams away at the last minute like a plate of poisoned hors d'oeuvres meant for Nazis. Some of them are undone by the cruel whims of fate and an ever-changing media landscape, or by the fact that they can't be anyone else but their messy, imperfect selves. Others come to realize that the thing they always wanted isn't what they need anymore. The final episode finds nearly everyone happy with their modest successes and (mostly) at peace with their failures — maybe they are wiser after all. Let's take a look at the ending of "Party Down" Season 3.
'Tis Pity She's a Whore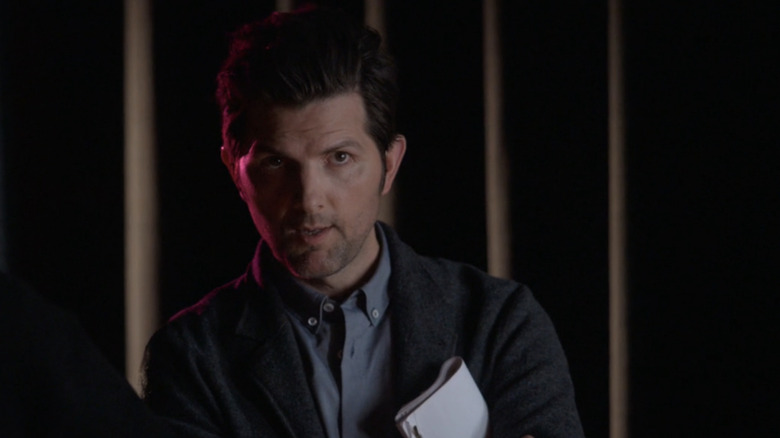 Starz
"'Tis Pity She's a Whore" is quite a choice for a high school play. The Jacobean tragedy by 17th century English playwright John Ford concerns a young Italian nobleman who returns home from college and develops a romantic obsession with his sister, eventually wooing and impregnating her, which leads to tragic consequences for all involved. In Episode 3's "First Annual PI2A Symposium," Henry tells Kyle that the play was not his choice; rather, it was forced upon him when the school's rabble-rousing hippie drama teacher died. But as we see in the final episode, Henry takes this directing challenge with aplomb — he is clearly beloved by his students, and the adults in the audience seem duly impressed even if none of them (including Henry's film producer girlfriend Evie, played by Jennifer Garner) realize that the play's lovers were brother and sister.
Ford's play was controversial in its day due to its unwillingness to condemn the incestuous romance at the center, and largely disappeared from the British stage until 20th century critics and audiences became more receptive to its conflicted and disturbing morality. In the last century it has been restaged and adapted numerous times and has an influence that extends beyond the stage — works such as Peter Greenaway's 1989 film "The Cook, the Thief, His Wife & Her Lover" and David Bowie's final album "Blackstar" reference the play and grapple with its themes. And while never so controversial, "Party Down" itself shares a slight similarity to Ford's play, in that they are both works whose power and quality were only properly recognized years later.
The fall of Smydgyn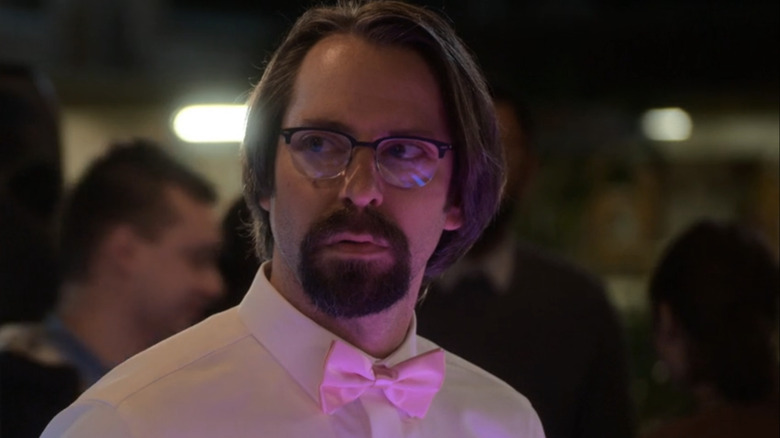 Starz
For as much as Roman identifies above all as a writer of hard sci-fi, the series has shown us very little of his work, and what little we have seen — notably in the classic Season 2 episode "Steve Guttenberg's Birthday" — is pretty terrible. Roman begins "Party Down" Season 3 resigned to the fact the opus he has been writing for the past decade will never be seen or appreciated until after his death, but that all changes in Episode 5 when what he initially thinks is a romantic connection with an attractive woman (Taylor Ortega) turns out to be something better — a creative connection that leads to a development deal. Roman sells the rights to his opus to a new streaming app named Smydgyn, only for the app to completely flame out a month later, taking his life's work along with it.
The Smydgyn subplot is a bald parody of Quibi, the Jeffrey Katzenberg-backed streamer whose lineup of big budget, bite-sized shows promised to revolutionize the television landscape back in the hazy days of 2020. Quibi was designed to be watched on smartphones and in intervals of 10 minutes or less, a prospect that lost much of its appeal when a global pandemic put humanity on lockdown — in their homes, with loads of time to watch full-length movies and shows on their living room television sets — for the better part of a year. Quibi fared better than Smydgyn, but only slightly — Quibi went belly-up before the end of the calendar year, and its programming was sold off to streaming provider Roku.
Time is a sphere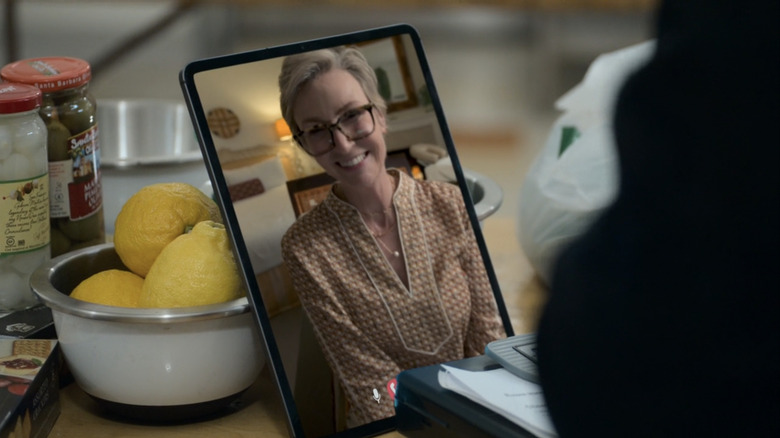 Starz
One of the reasons it took so long to get a Season 3 of "Party Down" is that in the 13 years since Season 2, most of the cast has remained extremely busy and-slash-or become monstrously famous. When Season 1 premiered in 2009, Jane Lynch was already the most well-known member of the cast thanks to her roles in Christopher Guest comedies and appearances in films like "The Fugitive," but later that year she ascended to an entirely new plane of fame as villainous cheer coach Sue Sylvester on the Fox megahit "Glee." Her new job kept her out of the last two episodes of Season 1 and all but the final episode of Season 2, in which Constance marries and is immediately widowed by a wealthy film producer (Alex Rocco).
In the years since, Lynch has remained a beloved television personality, game show host, spokesperson for her home state of Illinois, and more. She appears with the rest of the cast in just two episodes of Season 3, with the rest of her role performed remotely, as she was in New York rehearsing "Funny Girl" on Broadway at the time of filming. The gimmick of Constance chiming in from a tablet works not just as an illustration of the show's post-pandemic timeline, but of her character in general — she has become spaced out in both mind and body. In the final episode, as Ron goes into hysterics because his terrible lawyer somehow made Constance's business manager the company's majority stakeholder, she cheerfully explains the situation with some ayahuasca-fueled clarity: "Time is a sphere! It doesn't really exist!"
The Star Saga Extended Universe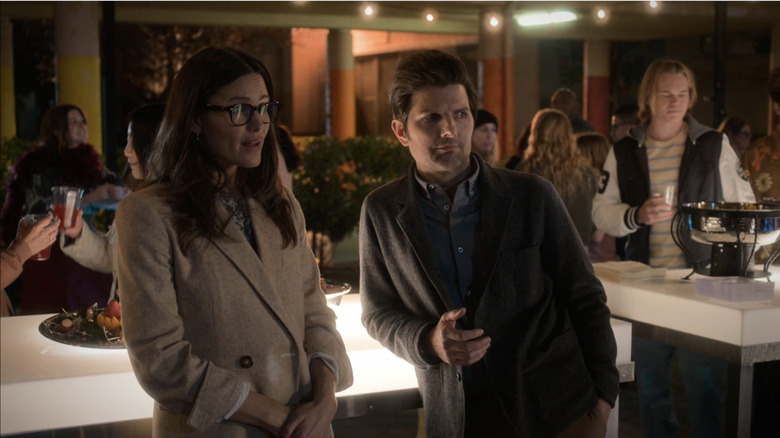 Starz
The first two seasons of "Party Down" aired in the early days of the Marvel Cinematic Universe and in the dormant decade between the "Star Wars" prequels and sequels, which means endless superhero movies and decades-long franchises were not yet ripe for comedic takedown. In Season 3, however, they are all anyone talks about — well, sort of. In typical "Party Down" fashion, the stranglehold that the Marvel and "Star Wars" franchises have on pop culture is represented by silly but familiar-sounding projects like "Nitromancer," which was Kyle's ticket to stardom for about half a second, and "Star Saga," a deathless sci-fi series currently being overseen by Henry's producer girlfriend Evie (Jennifer Garner).
The series never comes out and says it, but the fact that Evie works on both the MCU-like "Mancer" series (which includes "Ecomancer" and a spin-off called "Manputer") and the "Star Wars"-biting "Star Saga" suggests that she works for the "Party Down" world's analogue to Disney (possibly the "Bisno Studios" seen in the finale's end-credits scene). Evie is a new character for this season, but she blends easily into the ensemble. That's partially because of Garner's sparkling chemistry with Scott, and because Evie is just like all the rest of the gang — she's someone whose life has not turned out the way she once hoped. Producing blockbuster films for Bisno is not exactly the same as cutting limes for a living, but Henry and Evie share a similar dissatisfaction with where they have ended up.
The Lost Boys reboot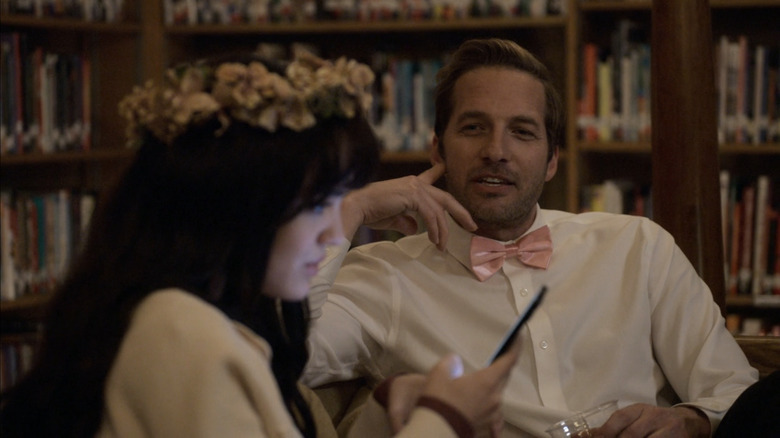 Starz
The season is a roller coaster ride for nearly every character, but none more so than Kyle. Ryan Hansen's mostly well-intended dimwit begins Episode 1 as the newest cast member of the world's biggest superhero movie franchise, only to lose it all just a few hours later when footage of his old band (from the Season 2 finale, naturally) gets him canceled for their song's (unintentionally) white supremacist lyrics. The rest of the season is an uphill climb for the still-handsome empty-headed actor, as he strives for the lead role in what is apparently a TV adaptation of Joel Schumacher's 1987 teen vampire flick "The Lost Boys."
From the beginning, the joke on Kyle has always been how his high level of self-confidence is completely at odds with his very limited amounts of talent and ability. But now, 13 years later, there is a new layer to his denial — the passage of time. In the years since Season 2, Kyle's biggest roles have come from teen revivals like a "Hardy Boys" series and a sequel to "The O.C.," so it makes a certain amount of sense that he would be in the running to play a sexy young vampire. At least, that's what Kyle thinks, as he sits around the cast party for "'Tis Pity She's a Whore," hitting on a teenager (Galilea La Salvia) just as he did in the very first episode of the series, only to have his entire world crash around him when she points out that he is not the head teen vampire, but rather the head teen vampire's father.
The Covid cure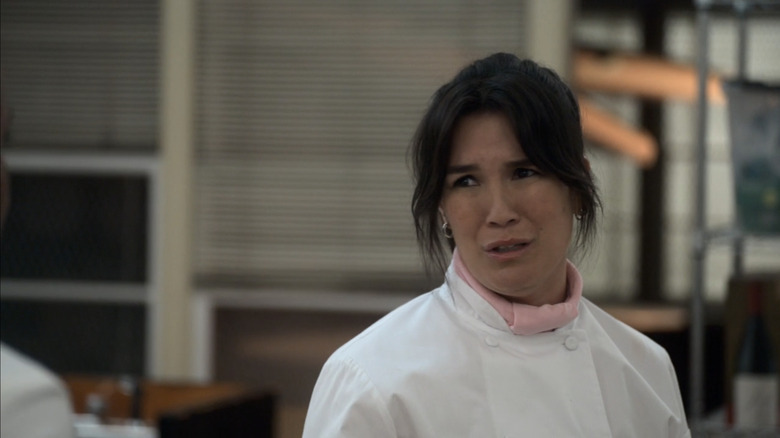 Starz
Not everyone at Party Down, however, is a Hollywood hopeful. Zoe Chao's temperamental chef Lucy is one of the very few caterers to not crave big-screen stardom, but that doesn't mean she is free of ambition or of disappointment. Her attempts to elevate the company's food to the level of poetry — from her birthday cake bites filled with pungent cheese to represent decay and death, to an hors d'oeuvre made of paper, to gourmet finger foods whose subtleties are only appreciated by an avowed Nazi (Nick Offerman) — are met with resistance and disgust. But like Henry with "Star Saga" and Kyle with "The Lost Boys," Lucy begins the season finale with a ticket to the big time — a single morsel made from $2,000 worth of saffron strands, crafted as an audition piece for an ultra-exclusive Hollywood eatery.
And like Henry with "Star Saga" and Kyle with "The Lost Boys," Lucy's dream of culinary stardom goes up in flames — or rather, down the stoned gullet of Ron, who to her horror pops the morsel in his mouth without even asking what it is. Ron's thoughtless actions may have shattered Lucy's dream, but the bite proves to be not just delicious, but healing — its intense flavor apparently brings back Ron's sense of taste and smell, which had been decimated by multiple bouts of Covid-19. Like Roman, Lucy finds herself having to start over at square one, but with the validation that at least one person values her work.
Henry is good at his job(s)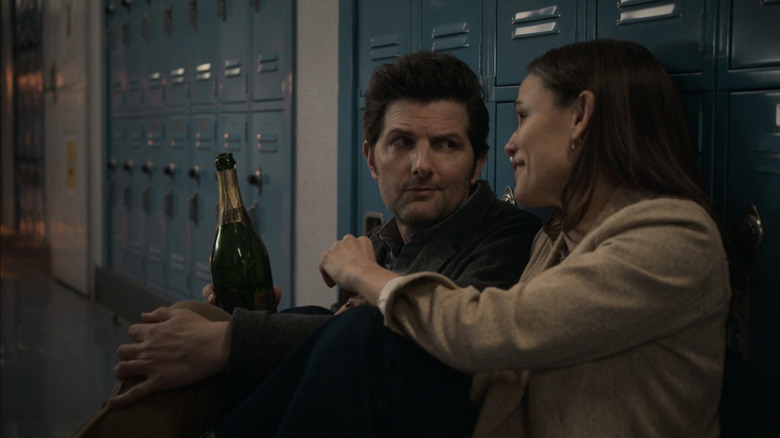 Starz
"Party Down" can be a very silly and broad show, and often is, but it has its subtle moments as well. One of the series' more understated running jokes is that Henry, despite the fact that his on-screen career washed out and he seems to care next to nothing for catering, is actually very good at his job. We see his acting prowess on display in Season 2's "Steve Guttenberg's Birthday" when he acts out a scene from Roman's sci-fi script, and again in Season 3 when he delivers a heartbreaking monologue to a neo-Nazi (Calum Worthy) in order to get him to pay his catering bill. In both instances, he is performing for an audience — Casey and the other caterers, Evie and his drama students — who have never seen him act before and are genuinely surprised and impressed.
We know Henry is a good actor, but it's rarely noted that he's a good bartender as well. In Episode 5, party planning maven Sloan (Lyric Lewis) is duly impressed by his consistent dirty martinis. And even though he seems put out by having to direct "'Tis Pity She's a Whore," he's pretty good at that too, and by the end of the night has the support not just of his students, but of his hardass vice principal (Dan Bakkedahl). "Party Down" characters are often their own worst enemies, and we have seen Henry shoot himself in the foot before, but his decision to not join the "Star Saga" universe with Evie feels like perhaps the first time he's making the right decision, and not just the easiest.
Getting hurt on purpose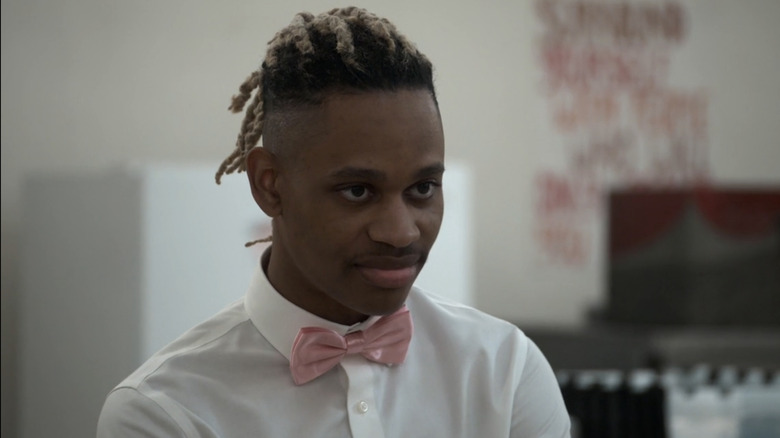 Starz
As Henry sits with Evie in the high school hallway, drinking champagne from the bottle, he remembers his own high school drama club days with fondness. In that moment, being a teenage actor (and by extension, the teacher of a teenage actor) was a moment of pure craft, separate from all the headaches and heartaches that come with trying to be a professional. Though he doesn't decide to turn down Evie's "Star Saga" role until the end of the episode, the seeds of that decision are planted here.
"Party Down" has always presented the entertainment industry as a parade of constant humiliation that its characters are nonetheless desperate to be a part of. That ambivalence finds arguably its most direct expression in newcomer Sackson, played by Tyrel Jackson Williams. While Henry and Casey and Roman were striving to make it in the well-established artforms of acting and comedy and writing, Sackson is plying his trade in the relatively untested waters of social media dance trends and aspirational posts — so much so that even fellow young person Lucy doesn't quite understand what he does or how he hopes to make a career of it. It turns out that Sackson doesn't really know, either. When a video of his prone body going up an escalator (after knocking himself unconscious during a dance-off with Kyle) outperforms all of his other posts by exponential amounts, he is faced with the prospect of continuing to hurt himself on camera in the hopes of turning that into something, anything, of note.
The Food Service Union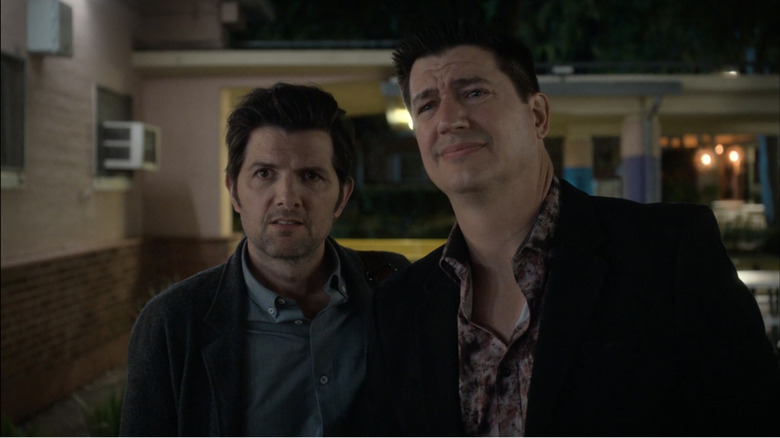 Starz
When Henry's vice principal arrives to shut down the "'Tis Pity" cast party, one of his many objections to the well-intentioned but ill-advised catered affair is that serving food on school grounds puts them in conflict with the Food Service Union. Later on, Ron acknowledges, in no uncertain terms, that their fear of the union is justified. And like a well-laid trap, those quick references lay the groundwork for the sight of two roughneck lunch ladies laying into the Party Down van with baseball bats to punish Ron nosing into their territory.
The joke is not just a good sight gag, or a stellar example of the way "Party Down" structures each episode for maximum comic efficiency. It also provides another layer of the brutal, almost "John Wick"-ian hierarchy of Los Angeles food service companies with their own rules, customs, and strictures. There's the mythical Soup 'R Crackers franchise that Ron lusts after in "Party Down" Season 1, the uber-professional Valhalla Catering run by the imperious Uda Bengt (Kristen Bell), the unauthorized events that Ron worked during lockdown in defiance of the Events Guild, and Lyric Lewis' kingmaker Sloan whose approval puts the company on the path to "Party Down 2.0" in the final scene. Party Down might be first in our hearts, but they are but one tiny star in a cutthroat culinary galaxy.
Casey returns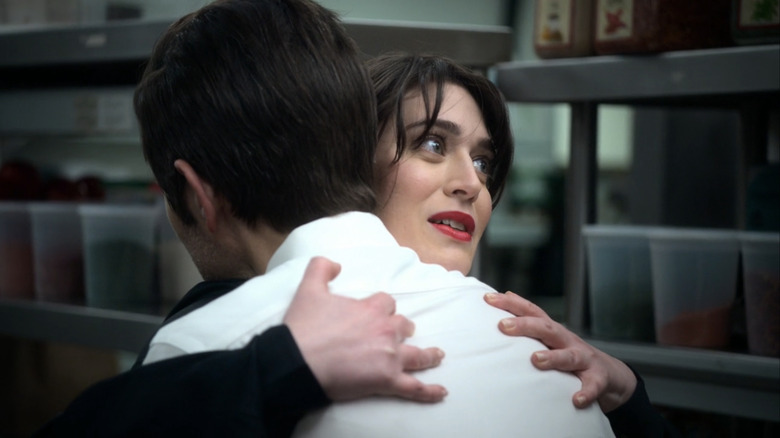 Starz
The end credits scene of the finale takes place four months after the cast party, as Henry cuts limes for a high-status Hollywood press junket and Ron tries and fails to get everyone to use the company's new wireless headsets. Alone in the venue's kitchen, Henry notices a woman stealing a bottle of Grey Goose; she turns around and he (and we) are shocked to see that it is Casey Klein (Lizzy Caplan), erstwhile Party Down-er and Henry's former paramour. In the season premiere, we see that Casey's made it big in the years since Season 2. But now, standing in front of Henry for the first time perhaps in a decade, she looks to be in pretty bad shape, stuck doing press for a show that he hates and barred from drinking at the event because she got drunk and called a producer a "sex pest" the last time. She seems as relieved to see him as he is stunned to see her.
Henry isn't the only one blindsided by Casey's return — as far as fans have been told in the months leading up to the Season 3 premiere, Caplan was not a member of the returning cast due to her commitments to the FX miniseries "Fleishman Is in Trouble." And that was true, for the most part. As much as Caplan hated to not be a part of Season 3, travel prohibitions due to Covid-19 made it impossible for her to travel back and forth between the coasts to film both series. Luckily, co-creator John Enbom came up with a solution: If Caplan could not come to "Party Down," then "Party Down" would come to her and film in New York with just Scott and Marino.
Party Down Season 4?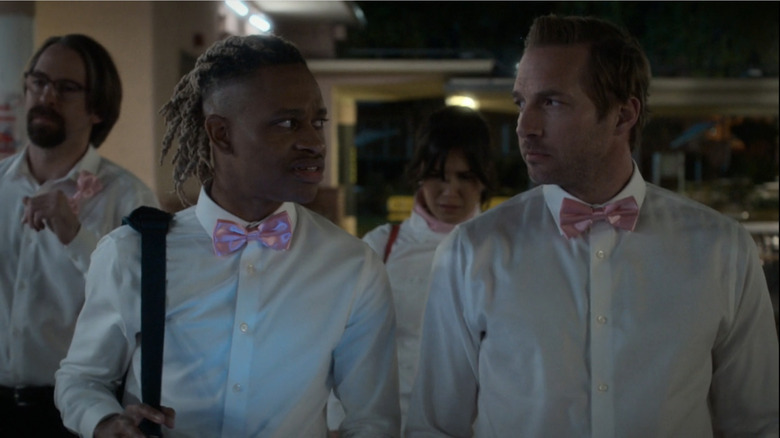 Starz
After embracing Henry, Casey quietly promises-slash-threatens to see much more of him soon because she plans to quit her terrible television job and move back to Los Angeles. Henry, still struck dumb by her sudden reappearance and currently estranged from Evie who is overseeing "Star Saga" in Tunisia, seems just a tiny bit excited by the prospect. He and Casey's off-and-on relationship in the first two seasons was a fan favorite, not just for the audience but for the other characters, as seen when Constance and Lydia wax romantic about the pair in the season premiere (much to Roman's chagrin).
Casey's return would make for a very exciting Season 4, but whether or not that happens is still up in the air. As of April 2023, Starz has not announced another revival season, but if it happens, Enbom has said that it would prominently feature the reunion of Casey and Henry. Caplan, for one, is very supportive of a Season 4, even if she is unsure of the new season's popularity or whether Starz would bring everyone back again. As she recently told The Hollywood Reporter, "I would be shocked if it didn't come back, but 'Party Down' is nothing if not an underdog."