What The Cast Of Party Down Has Been Doing Since The Last Season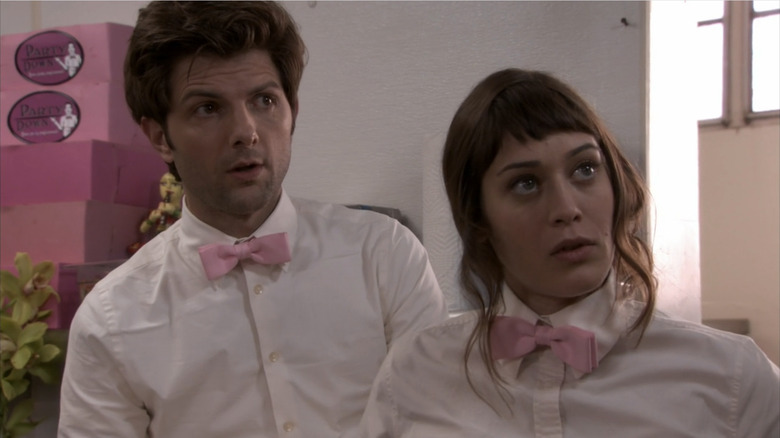 Starz/Hulu
Cast your memory back, if you can, to the year 2010. Barack Obama was still in his first presidential term, the hot new tech item of the year was the iPhone 4, and the cult workplace sitcom "Party Down" was finishing its second and presumably final season on the Starz Network. Co-created by Paul Rudd, the show's portrait of a group of wannabe actors and writers working for a soul-sucking catering company was little-seen but much-beloved. Over the years, the makers of the show have been hounded by critics and fans about whether a third season (or perhaps a movie) would ever happen, especially as the stars of the show became increasingly famous.
Finally, after 13 years, Starz has answered the prayers of this small-but-feverish cult; on February 24, a six-episode Season 3 of "Party Down" will premiere. Most of the original cast has returned to one extent or another, while Tyrel Jackson Williams and Zoë Chao (as a would-be TikTok influencer and temperamental chef, respectively) are on hand as the new generation of caterers prepare to have their big dreams crushed. Fans of the first two seasons will be happy to know that time has not dulled the series' comedic edge at all, even as episodes tackle such 2020s concerns as neo-Nazis, Covid-19, and sprawling superhero franchises. But while the characters may be stuck in the same dead-end jobs they started more than a decade ago, the actors who play them have all had great success. Let's take a look at what the cast of "Party Down" has been doing since the last season.
Lizzy Caplan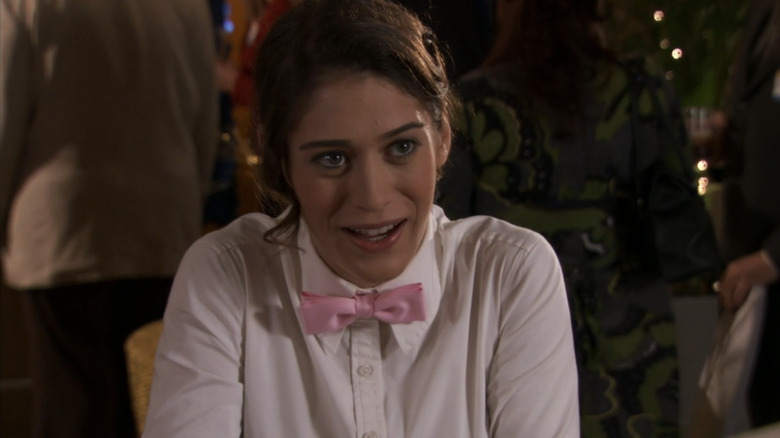 Starz/Hulu
As aspiring comedian Casey Klein, Lizzy Caplan serves as a romantic foil for Henry Pollard (Adam Scott) in the first two seasons, though their actual romance is short-lived. Introduced in the midst of a crumbling marriage, Casey seeks a fresh start, and she and Henry's attraction simmers for the bulk of Season 1 before finally boiling over in Episode 9, "James Rolf High School Twentieth Reunion." But alas, career matters come between them as Henry, formerly her partner in not caring about the job, takes over the catering team, leading her to quit after the disastrous wedding reception that ends the season. And though Casey returns in Season 2, her relationship with Henry is never quite the same.
Before "Party Down," Caplan was best known for playing high schoolers in Judd Apatow's beloved coming of age series "Freaks and Geeks" and in Tina Fey's '00s teen classic "Mean Girls." While she has regularly bounced back and forth between film and television projects, her most acclaimed roles have been on the small screen. In 2013, she co-starred as sex researcher Virginia Johnson alongside Michael Sheen as William Masters in the fact-based drama "Masters of Sex," which ran for four seasons on Showtime. Caplan then joined the cast of the Stephen King extended universe series "Castle Rock," starring in Season 2 as obsessive nurse Annie Wilkes (previously played by Kathy Bates in "Misery"). In 2022, she co-starred in the Hulu adaptation of Taffy Brodesser-Akner's novel "Fleishman is in Trouble," mining the dissatisfaction of a Xennial who left her New York dreams behind for a quiet life in the suburbs. Unfortunately, her "Fleishman" schedule conflicted with the production of "Party Down" Season 3, so Casey will not be returning.
Jennifer Coolidge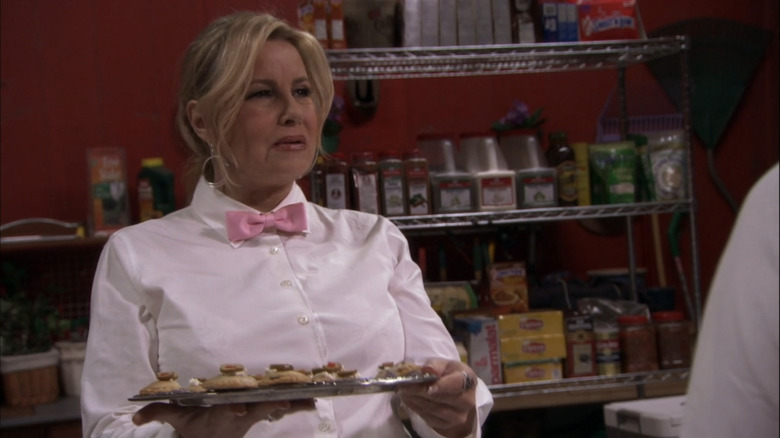 Starz/Hulu
Jennifer Coolidge's time as Party Down caterer Bobbie St. Brown, roommate of Jane Lynch's Constance, is short but sweet, taking up just the last two episodes of Season 1 after Lynch's departure. But while Bobbie is ultimately a temporary employee, she makes her brief time in the pink bowtie count, whether she's trying to inspire Henry to return to acting, taking 'shrooms before an event, or accidentally arranging hors d'oeuvres in the shape of a swastika.
Coolidge was already a comedy legend in the making when she guested on "Party Down," having made her mark in the films of Christopher Guest, the "Legally Blonde" series, and by being the woman for whom the term "MILF" was coined. Since then, she co-starred for years on the CBS sitcom "2 Broke Girls," lent her voice to animated projects like "Gravity Falls," the Netflix series "I Heart Arlo," and "The Loud House," and has even given the occasional dramatic performance — for instance, her turn in Emerald Fennell's "Promising Young Woman." But her biggest role in the years since "Party Down," and possibly of her entire career, was undoubtedly in Mike White's one-percenter-skewering HBO anthology series "The White Lotus." Coolidge won an Emmy in 2022 and a Golden Globe in 2023 for her performance as oblivious American heiress Tanya and appears poised to possibly pick up another Emmy nod, if not a repeat win, later in 2023.
Ryan Hansen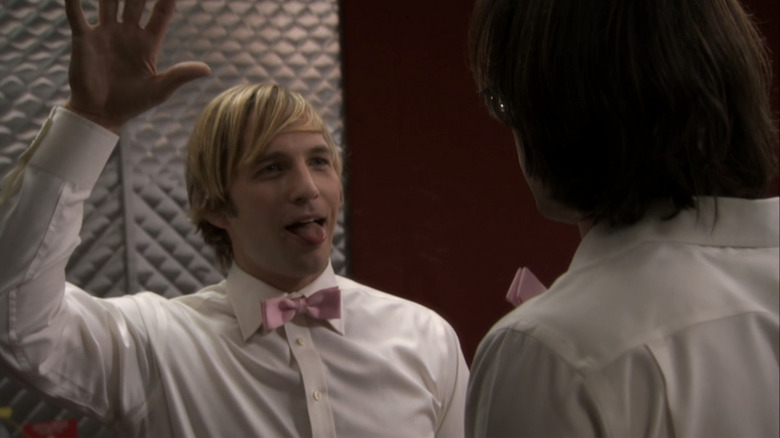 Starz/Hulu
An actor, model, and frontman of the rock band Karma Rocket, Kyle Bradway (Ryan Hansen) is in "the handsome business," as Henry puts it in the first episode. With his dopey grin and slicked-down blonde California '00s hair, the guileless Kyle is the exact opposite of moody writer Roman (Martin Starr) but perfectly simpatico with fellow daffy blonde actor Constance. Hansen's biggest laughs often come when paired up with these two, whether grinning in response to Roman's utter contempt or buzzing with Constance on the same self-absorbed gonzo frequency.
Beyond Kyle Bradway, Hansen's most recognizable role is semi-villainous party hound Dick Casablancas on the teen detective series "Veronica Mars." That show's creator, Rob Thomas, was also one of the creative minds behind "Party Down." After playing Dick on the show's original pre-"Party Down" run, he returned to the role in 2014 for the Kickstarter-powered "Veronica Mars" movie and again in the 2019 revival season. In 2012 he reunited with co-stars Ken Marino and Adam Scott for the "Bachelor" parody series "Burning Love," and a few years later lampooned his own himbo image on the YouTube Red series "Ryan Hansen Solves Crimes on Television." On film he's been seen in the 2016 sequel "Bad Santa 2" and the 2020 horror adaptation of the '70s series "Fantasy Island," among many other projects.
Jane Lynch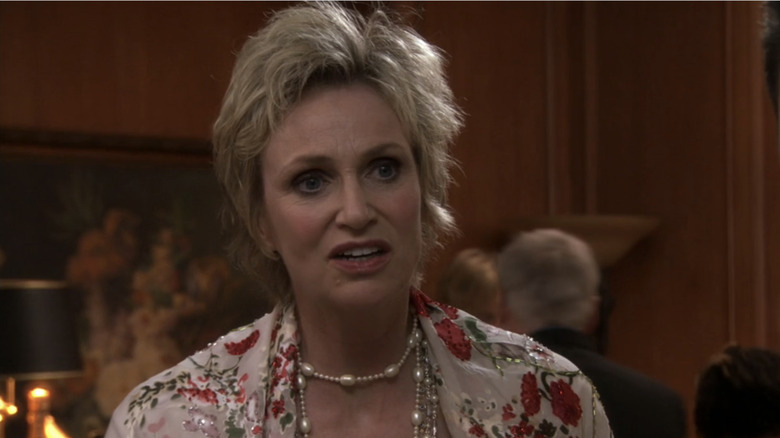 Starz/Hulu
A longtime extra on 1980s shows like "Manimal" and the survivor of numerous horrifying casting couch stories, Constance Carmell watches over her younger Party Down co-workers, especially aspiring actor Kyle, like the world's worst mama bird. Constance goes AWOL for the last two episodes of Season 1, having run off with an Eastern European producer who promised to make her famous in a country whose name her roommate Bobbie St. Brown can't remember, only to show up again in the Season 2 finale engaged to an entirely different rich and elderly movie producer.
Constance is played by Jane Lynch, who left the show before the end of the first season for the role that would make her a household name — fearsome cheer coach Sue Sylvester on the Fox high school musical series "Glee." In the years since, Lynch has been a fixture on our television screens, whether as a guest star on shows like the "Will & Grace" revival, "Space Force," and "Only Murders in the Building," voicing characters on dozens of cartoons including "The Proud Family," "The Simpsons," and "Harriet the Spy," and even hosting awards shows and game shows like "Hollywood Game Night" and the U.S. revival of "Weakest Link." Despite missing out on most of the second season, Lynch has returned for "Party Down" Season 3.
Ken Marino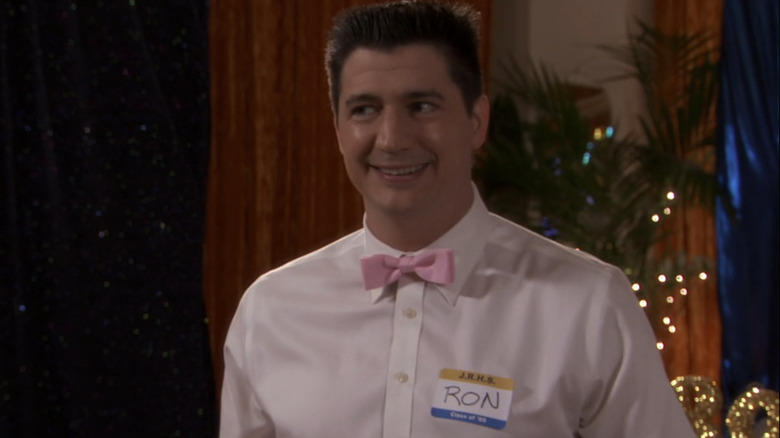 Starz/Hulu
Ron Donald is a wreck of a man. The Party Down team leader has goals and ambitions — running a Soup R' Crackers franchise, or perhaps getting promoted to Party Down operations manager — but it seems to require every ounce of strength for him just to function on a daily basis. Everything from his job to his sobriety to his very sanity seems to hang by a thread; a thread that more often than not snaps by the end of any given episode, either due to his terrible staff, horrible clients, or the aching insecurity at the core of his being.
Ken Marino is a master of this kind of flop sweat-drenched middle manager energy, having honed his comedy chops as a member of Gen-X sketch comedy troupe The State. Marino joined his State comrades David Wain, Michael Ian Black, and Joe Lo Truglio for the 2001 cult classic "Wet Hot American Summer," which was revived for a prequel series in 2015 and then a sequel series in 2017, both on Netflix. Marino directed every episode of the reality show spoof "Burning Love" and starred as hunky firefighter Mark Orlando opposite many of his "Party Down" and "Wet Hot" co-stars. Elsewhere, he has brought his essential Ron Donald-ness to shows like the showbiz comedy "The Other Two," the ABC Marvel spin-off series, "Agent Carter," and the 2017 horror-comedy "The Babysitter."
Megan Mullally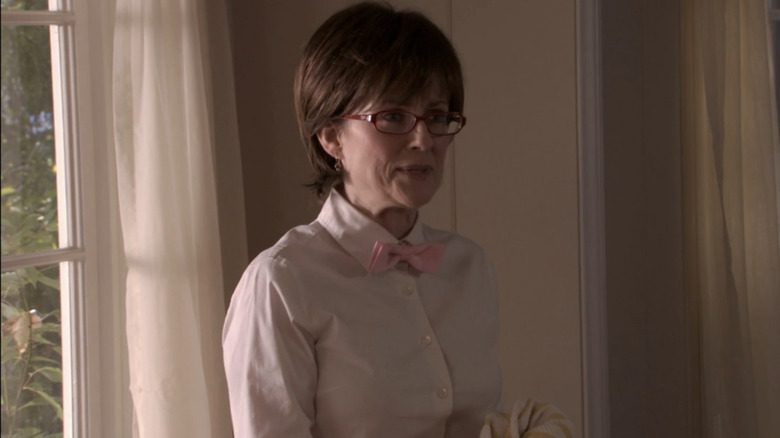 Starz/Hulu
Like Jane Lynch and Jennifer Coolidge before her, Megan Mullally joined the "Party Down" team as a ringer, having already achieved stardom on the hit NBC sitcom "Will & Grace." As new team member Lydia Dunfree, she fills Lynch's role as an older but terrible mentor to the younger cater-waiters; her valuable life experience is limited to a by-all-accounts terrible marriage to a bigot named Ed and a young daughter named Escapade whom she hopes to turn into a child star.
After years of mainstream sitcom success, Mullally could have opted for similar roles in safe, audience-friendly projects, but to her credit, she has spent the last two decades getting real weird with it. Her journey into the bizarre has entailed reenacting the "Simon & Simon" opening credits with Adam Scott and Jon Hamm, parodying Laura Innes' character from "ER" for seven seasons on the Adult Swim absurdist comedy "Childrens Hospital," and voicing Linda Belcher's cat sphincter-obsessed sister Gayle on "Bob's Burgers." 
She even went on the road in 2017 with husband Nick Offerman with a live show about their sex life. On film she's been seen in the James Franco-Bryan Cranston in-law comedy "Why Him?," the indie comedy curiosity "Lemon," and the 2022 Hulu teen romance "Crush." Mullally has returned for a few episodes of "Party Down" Season 3 and brought her husband along with her — Offerman guest stars in one episode as a white supremacist with a gourmet palate.
Adam Scott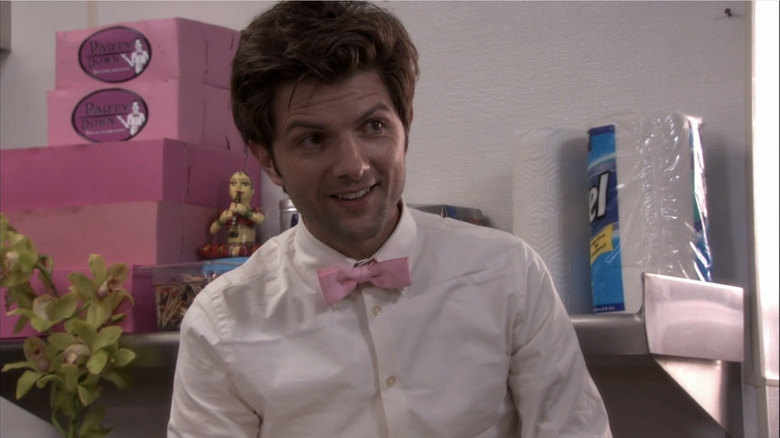 Starz/Hulu
At the start of the series, Henry Pollard (Adam Scott) returns to Party Down — a job he thought he left behind once and for all eight years prior. An aspiring actor, his one big role in a beer commercial left him instantly recognizable as the "Are we having fun yet?" guy without leading to any subsequent work. Party Down is of course populated almost entirely by wannabes, has-beens, and never-weres, but the frustrating thing in Henry's case is that he is actually a very good actor. In the Season 2 episode "Steve Guttenberg's Birthday," the catering crew gets a chance to stage a reading of Roman's sci-fi script at the home of the eponymous '80s movie star (as himself), and Henry impresses with his skill.
After the series ended (for the time being) in 2010, Scott decamped to NBC and joined the cast of "Parks and Recreation" full-time as nerdy government auditor Ben Wyatt. Over the years, though, he has remained close with his "Party Down" collaborators, appearing on "Burning Love," "Wet Hot American Summer: Ten Years Later" (as Bradley Cooper's character, post-reconstructive surgery), and the romantic comedy spoof "They Came Together." In recent years Scott has impressed with his dramatic work in the HBO series "Big Little Lies" and especially in the Apple TV+ sci-fi mindbender "Severance," for which he received both an Emmy and Golden Globe nomination.
Martin Starr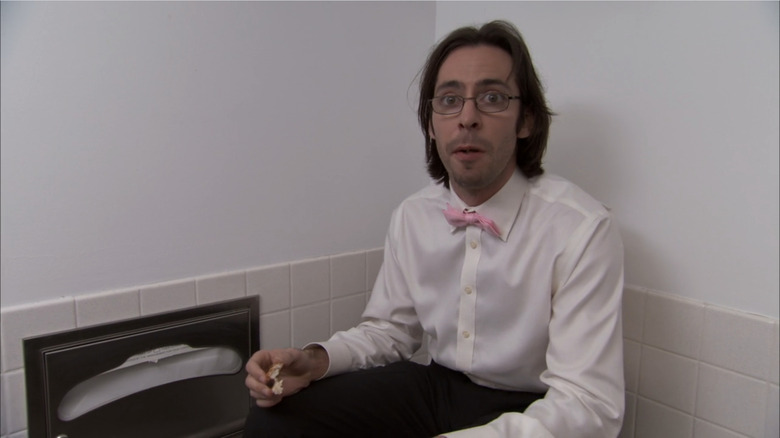 Starz/Hulu
While the Steve Guttenberg episode shows that Henry is a good actor, the jury is still out on whether Roman DeBeers, played by Martin Starr, is a good writer. The misanthropic, egotistical Roman will tell anyone who listens that he writes "hard sci-fi," but all that we get to see or hear comes across as an impenetrable slog. And more than any of the other Party Down cater-waiters, he seems content in his current position, where he can look down on his co-workers and think of himself as an unsung genius without opening himself up to any scrutiny that might prove him wrong.
Starr played a nearly identical pseudo-intellectual wasting away at a menial service job two years before "Party Down" in Greg Mottola's coming of age dramedy "Adventureland." Like Lizzy Caplan, though, his first big splash was in the ensemble of "Freaks and Geeks" as a sweet nerd who used comedy to distract from his lonely home life. Nearly two decades later, Starr entered the Marvel Cinematic Universe as one of Peter Parker's high school teachers in "Spider-Man: Homecoming," co-written by his former "Freaks" castmate John Francis Daley. His resume is appealingly eclectic, from the HBO tech comedy "Silicon Valley," to several episodes of the "Hawaii Five-O" reboot, to the 2022 Sylvester Stallone superhero flop "Samaritan." Part of the thrill of being a Martin Starr fan is that you never know where he might pop up next.