Young Sheldon: Mandy's New Baby Isn't The First To Crash A TBBT Character's Big Day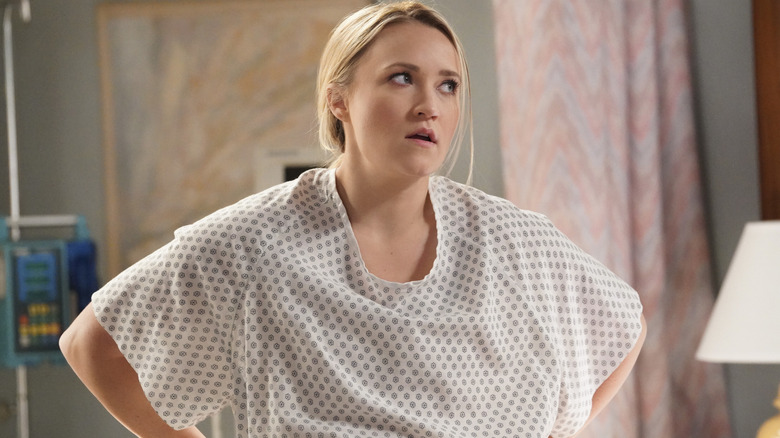 Bill Inoshita/CBS
"Young Sheldon" fans finally got the episode they'd eagerly been waiting for with Season 6, Episode 14, "A Launch Party and a Whole Human Being." Mandy (Emily Osment) and Georgie (Montana Jordan) welcome their newborn baby girl, who receives a heartwarming name to honor a beloved family member. Meanwhile, Sheldon (Iain Armitage) excitedly launches his meticulous and hard-fought database to potential subscribers. However, the baby rains on his parade, which is extremely similar to another time a baby crashed someone's big day on "The Big Bang Theory." 
The prequel to "The Big Bang Theory" often references its original source material, like in the season premiere, which included an unexpected callback. In "A Launch Party and a Whole Human Being," Sheldon gets stuck at the hospital with Mandy and nearly misses the live debut of the database he's worked so tirelessly on. True to Sheldon's character, he makes the situation entirely about him, resulting in several well-earned eye rolls. This is reminiscent of the time another character had the spotlight stolen from them, though they definitely acted more empathetically than Sheldon.
As "Young Sheldon" authentically demonstrated, you can prepare all you want, but a baby is still going to come at the most unexpected and inconvenient time. Georgie and Mandy's baby kept Sheldon from something he desperately wanted like Amy Farrah Fowler (Mayim Bialik) in her special birthday episode, which featured an early guest and unwelcome interruption. 
Howard and Bernadette's first baby crashed Amy's big birthday plans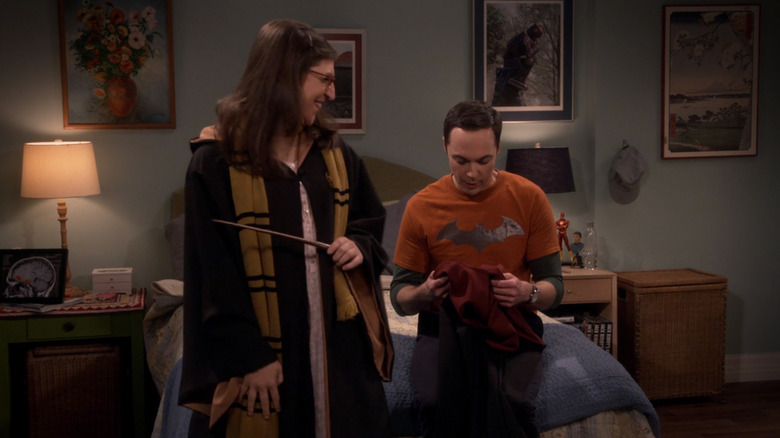 CBS
In "The Big Bang Theory" Season 10, Episode 11, titled "The Birthday Synchronicity," Amy is noticeably excited and giddy for her annual birthday ritual with Sheldon (Jim Parsons). With the contractual blessing of Sheldon's relationship agreement, the two are physically intimate with each other once a year as an unforgettable birthday gift to Amy. This year, she puts a fun twist on it with a secret trip to The Wizarding World of Harry Potter and some sexy souvenirs. 
Unfortunately, Amy's dreams are squashed by Bernadette's (Melissa Rauch) premature labor scare, which gets the whole group of friends up and out to the hospital. This sentimental and touching moment is quickly deflated when Bernadette is sent home early for not being ready to deliver yet. This frustrates Amy even more as she tries to salvage what's left of her birthday night with Sheldon. It's wash, rinse, repeat from here until Bernadette finally has baby Halley, with Amy getting more annoyed every time.
This parallels Sheldon's situation at the hospital with Mandy with him being stuck between a rock and a hard place. He can't find a ride to his database launch and he can't use his big brain to make the baby come faster, putting a sharp pin in his pressing plans.