What Emily Osment Really Thought Of Miley Cyrus On Hannah Montana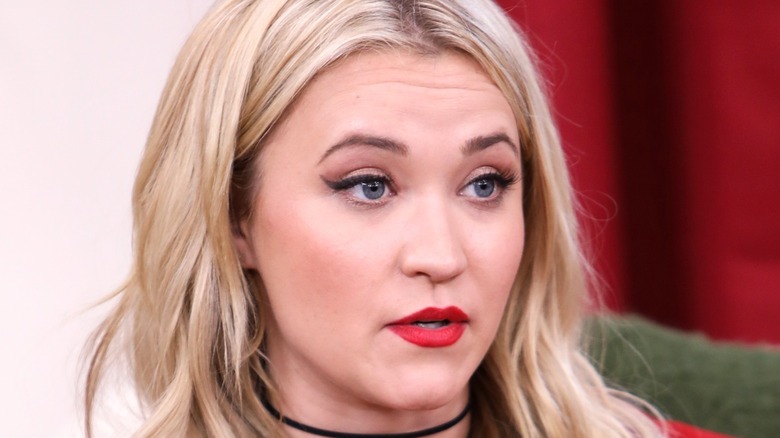 Paul Archuleta/Getty
On Disney Channel's "Hannah Montana," which had tween viewers singing "The Best of Both Worlds" from 2006 to 2011, Miley Cyrus and Emily Osment played BFFs who navigate high school, teen idol-style stardom, and other coming-of-age milestones together. Cyrus plays Miley Stewart, a budding pop star who invents an alter ego so she can live a normal life while skyrocketing to the top of the music charts. Osment plays Lily Truscott, a blonde skater girl who, once she uncovers Miley's secret, becomes her confidante and partner-in-crime.
Both actresses have matured beyond their Disney days. Following "Hannah Montana," Cyrus found fame with hit songs "Can't Be Tamed," "Wrecking Ball," and "Malibu." She also starred on shows like "The Voice," where she briefly served as a coach, "Black Mirror," and even "Guardians of the Galaxy Vol. 2" (via IMDb).
Osment has also been very present in the entertainment world, albeit with less press and less controversy. The "Hannah Montana" alum has focused on acting rather than music. Although she, too, put out bangers like "Let's Be Friends," she's most well known at this point for her leading roles in "Young and Hungry" and the recent Netflix release "Pretty Smart."
On screen, Cyrus and Osment's characters were as close as sisters. Lily even moved into the Stewart home during the last season, "Hannah Montana Forever," and the very last episode focused on their friendship. So, it's only natural to wonder if they were similarly close in real life. What did Osment really think of her "Hannah Montana" co-star?
Cyrus has said the two did not get along during the first two seasons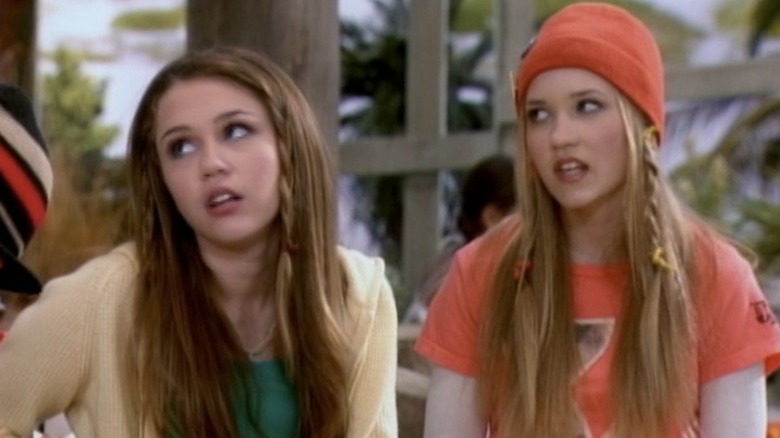 Disney Channel
It sounds like, especially in those early years, Emily Osment and Miley Cyrus had a complicated relationship. In a 2008 Seventeen interview, Cyrus said the two became "really, really close" immediately and compared Osment to a more responsible "older sister." More recently, while appearing on an October episode of the "Chicks in the Office" podcast, Osment alluded to early social outings before "Hannah Montana" blew up. She said, "Miley used to come with me to my school dances and nobody would know who she was and immediately everything changed and that was very strange."
But in "Miles to Go," the autobiography Cyrus published in 2009 (via Goodreads), she said that the two struggled to get along during the first two seasons of the show. She noted that she was intimidated by Osment's prior acting experience, and the co-stars didn't always agree. Cyrus also called Osment "reserved" but also said Osment was "beautiful and athletic" in the book (as reported by Insider). She wrote, "There was competition between us — girls struggle with that, and we were no exception. I didn't do much to fix it. I mean, I wanted to, but I had no idea how to go about fixing it. I never got along with girls as well as I did with guys."
She also said the two "tried to be friends, we really did, but it always ended in a fight." In fact, these fights were witnessed by the cast and crew, and once their families had to step in. Still, something changed between them after the third season. "I think somewhere in the course of trying to keep the peace and act like friends, it sort of became true. It felt natural," Cyrus said.
The two seem friendly now that the show is over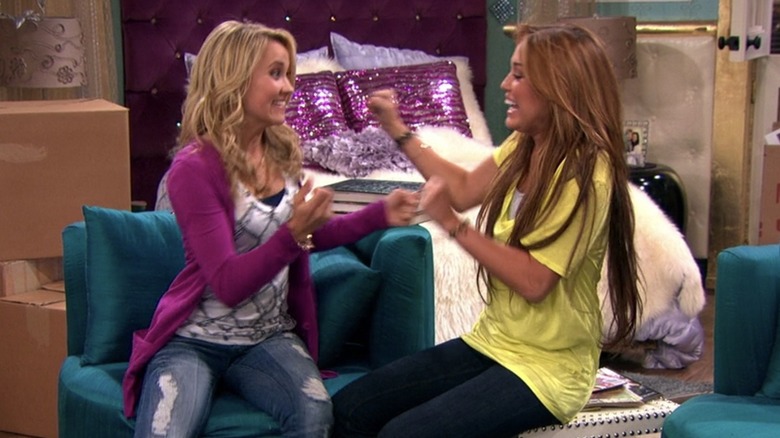 Disney Channel
Once the show ended, Emily Osment and Miley Cyrus seem to have an amicable relationship, though they may not be particularly close. In 2013, Osment tweeted at her former co-star, saying, "Need you back in my life, bro," to which Cyrus replied, "Miss u. Hit me on DM" (via CheatSheet). In 2018, Cyrus missed a "Hannah Montana" reunion, and Osment posted, "We grew up together in the strangest possible circumstance and still made it out alive all still fully in love with each other. Now that's something. Missing our girl! Love you, Miles!"
In March 2020, the two finally reunited (on-screen, anyway) on Cyrus' COVID-19 pandemic Instagram Live project, the talk show "Bright Minded: Live With Miley." In the intro, she said about Osment, "I'm honored to call her my on- and off-screen badass friend that, whether it's for Hannah, or Miley, is always right there when I need her" (via Entertainment Tonight's YouTube). Later, she pointed out that it was Osment's idea to spotlight animal care and noted, "I think the best way to draw attention to man's best friend is to bring in the best friend duo that always encourages people to do what's best, do what's right," Cyrus said.
While Osment hasn't actually spoken about her relationship with Cyrus in a reflective way, she did get philosophical when talking about getting along with the various casts she's worked with while on the "Chicks in the Office" podcast in October. Around an hour and 45 minutes into the episode, she shared, "There is always something to gain from every cast that you work with, and working with an ensemble teaches you how to play well with others, and it's important."