Chicago Fire: Cindy's Scan Results Send A Wave Of Relief Over Fans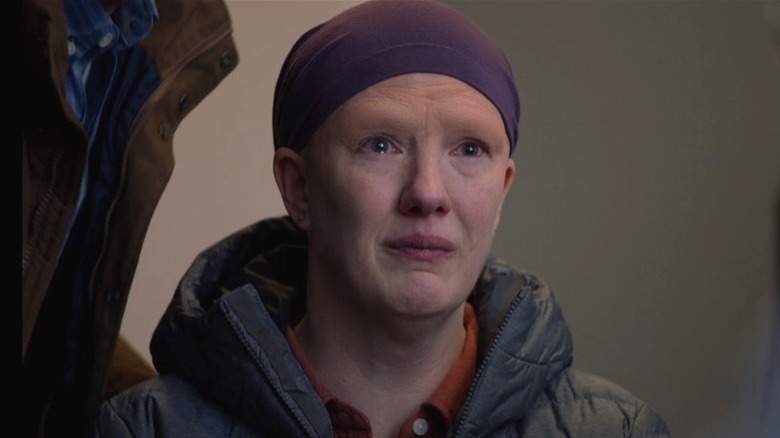 NBC
Contains spoilers for "Chicago Fire" Season 11, Episode 17
Firefighter Christopher Herrmann (David Eigenberg) has long been one of fans' favorite "Chicago Fire" characters, thanks to his reliability, blunt honesty, and loyalty to those he cares about. Herrmann is one of the show's original characters and is often considered one of the characters chronically overlooked and underappreciated on the show. Regardless, his character is always there for everyone. Herrmann also regularly crosses over to other One Chicago shows since his bar, Molly's, is a place where everyone comes to commiserate or relax.
Herrmann's wife, Cindy (Robyn Coffin), isn't a regular on the show, but shows up when the need arises. Cindy, the mother of the couple's five kids, generated a lot of excitement when her return in Season 11 was teased, but a lung cancer diagnosis wasn't what we had in mind. Fans were heartbroken for Herrmann when a visit to the doctor in Season 11, Episode 11 resulted in a lung cancer diagnosis. Luckily, in Episode 17 Cindy finally got the results of her scan after completing chemotherapy: the cancer is completely gone. 
"Happy tears. Finally," tweeted @WolfEnt. "Who else shed a few happy tears when she got the good news? I know I did," @grannysue1996 replied. It's obvious that fans couldn't be more relieved.
Fans were worried Cindy would be killed off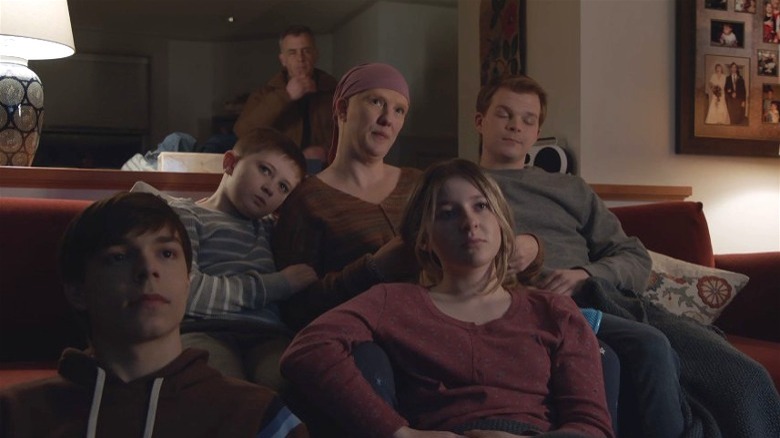 NBC
"I was going into this episode so anxious, but now I'm crying happy tears for Cindy," u/JaiTheVikingEngineer wrote on a "Chicago Fire" subreddit, echoing what most viewers were feeling watching Season 11, Episode 17 ("The First Symptom"). When the episode begins, we see a frantic Cindy angrily storming around the house, and we soon learn why. Today she's supposed to find out if the chemo worked, or if she still has cancer. However, the doctor has had an emergency, and her appointment has been rescheduled for four days later. Cindy is furious, telling her husband, "We've barely been sleeping waiting for this appointment, but what does Dr. Bishop care?"
Waiting to find out if she's going to live or die has been all Cindy and Herrmann have been able to think about, and it was easy to relate to the stress the couple was feeling. Robyn Coffin was also phenomenal with her performance, which was key to fans feeling the same wave of relief as the characters when they finally found out the result was good news. "Their episode was great! I'm so glad Cindy is cancer free! I really thought they would kill her off," wrote u/LoveChicagoMed.
There's always a risk that a 'the cancer came back' storyline could occur in the future, but for now, we'll revel in the great news that Cindy isn't going anywhere anytime soon.