Young Sheldon's Raegan Revord Seems To Be Headed Towards A Writing Career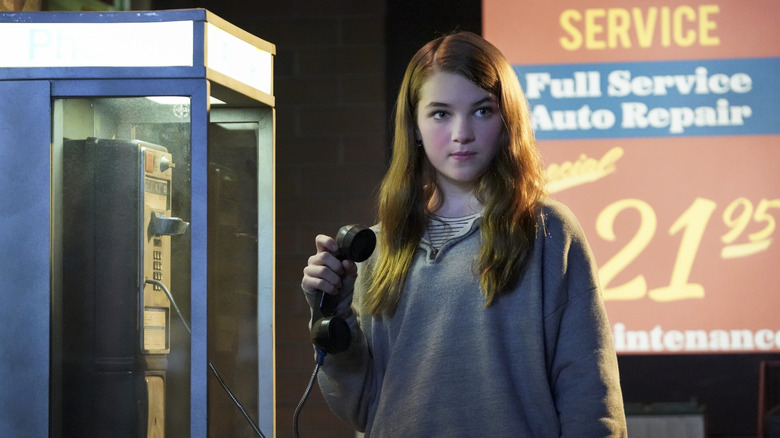 CBS
Raegan Revord has been a busy actor since she burst onto the scene. She plays Melissa "Missy" Cooper, Sheldon's (Iain Armitage) younger twin sister on the hit CBS sitcom "Young Sheldon." Missy loves her brother, but she'll never admit it. She teases him, but she clearly relies on him as well. While Sheldon is the brainiac of the family, Missy has the intuition, so to speak.
On top of playing Missy on "Young Sheldon," Revord has appeared in several short films, and in movies like the horror thriller "Wish Upon" and shows like "Modern Family" all since starting her career as a child in 2014. Now, she's looking to add the title of author to her resume as well.
In a 2018 interview with Meaww, the then-10-year-old actor said of her other interests beyond acting, "I would love to be an author one day! I've already started writing a couple of books!" Two years later, in an interview with A Book Of, Revord would reveal that she had been working on a book once titled, "My Story as a Gold Nugget," which would later be renamed "The Goldie Diaries."
An avid reader herself, Revord said that writing sort of snowballed after her Twitter hashtag #readingwithraegan, where she shared what books she was reading at the time, took off. When asked in a 2021 interview with Sense of Self Magazine how her novel was coming together following that, she said, "It's going well. I actually ended up writing an animated TV pilot pitch for it and I'm finding that is a really long process! And apparently animation is an even longer process. I started writing 'Goldie' when I was about 9, so she's been with me for a very long time. I'm so ready to release her to the world." As of yet, it doesn't appear like the book has been released, but Revord is clearly still invested in the process.
Revord has started writing multiple books
CBS
In the same interview, Raegan Revord explained that her book, "The Goldie Diaries" started out as a personification essay assignment when she was in school and it grew into a book. Revord described the book's premise, saying, "It's about a gold nugget named Goldie who is 12 years old and lives in Brazil. One day, she gets captured by a human and taken to a museum with one of her friends, Pyrite. Together, they have to figure out how to get home, while also helping other rocks get home as well."
She went on to say that she hoped the book would "teach you about different minerals, cultures, and countries." Funnily enough, back in the 2018 interview with Meaww, Revord said that one of the things she bonded with her "Young Sheldon" co-star was the very thing she ended up writing about: gems and rocks. She said, "I have a great relationship with Iain! We have so many things in common ... Musicals, animals, rocks! When we aren't filming, the stage becomes like a big playground for us."
Revord appears to be quite prolific, adding in her conversation with Sense of Self Magazine, "I've written another book that's more YA (Young Adult) that I'm super excited about!" Hopefully, these projects will end up in the hands of her fans soon, and perhaps even be adapted for the screen.