Young Sheldon's Raegan Revord Thinks Missy Has Grown A Lot Since Season 1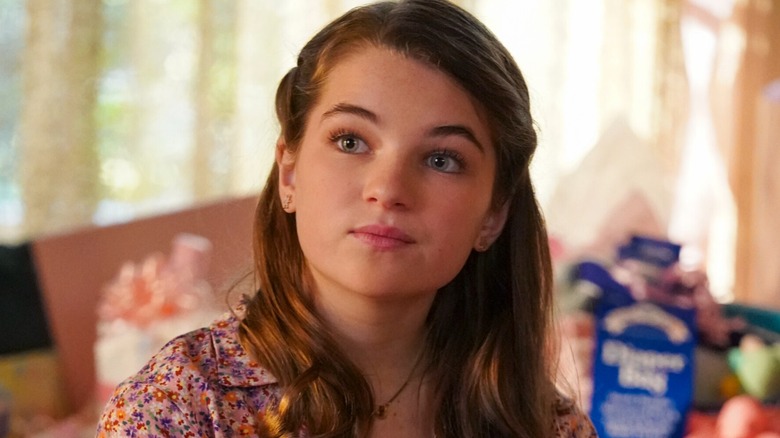 Michael Yarish/CBS
As the title implies, "Young Sheldon" is all about the formative years of Sheldon Cooper (Iain Armitage). The show affords fans the opportunity to see how he became the person he is by the time of "The Big Bang Theory," detailing the highs and lows of his Medford, Texas upbringing. To do this effectively, "Young Sheldon" puts in the work to spotlight the entirety of the Cooper family and the dynamics within it. One of the strongest elements of the Cooper clan has turned out to be Sheldon's sister, Missy, as portrayed by "Modern Family" alum Raegan Revord.
Much like her twin brother, Missy on "Young Sheldon" is quite different from the adult version of her we see on "The Big Bang Theory." She can come across as a bit snarky and never misses an opportunity to give Sheldon a hard time. Then again, she has displayed a caring side, comforting her sibling when necessary. In stark contrast to Sheldon, she doesn't display much interest in schoolwork and would much rather play sports or watch cartoons. Nevertheless, Revord doesn't think of Missy as a stagnant person by any means.
In fact, according to Raegan Revord, Missy Cooper has grown significantly since the first season of "Young Sheldon." Here's how she came to this conclusion.
Revord thinks Missy has become more multi-dimensional over the years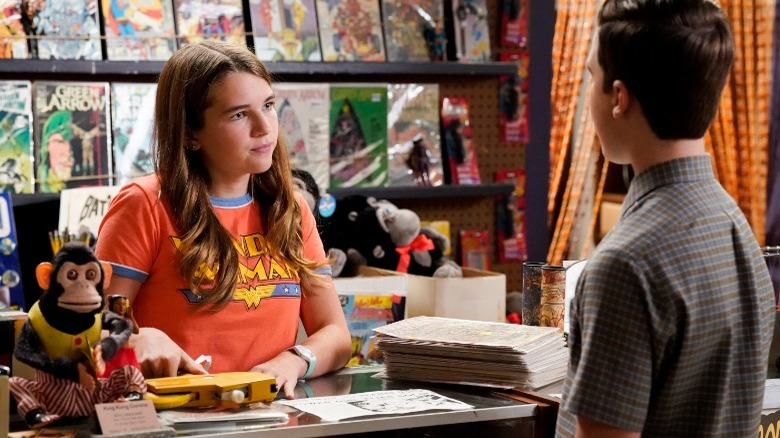 Robert Voets/CBS
Speaking to Popternative, Raegan Revord delved into Missy Cooper's evolution over the course of "Young Sheldon," explaining how much she has changed over the years. As she explains, in the first season, Missy was little more than the sassy younger sister of Sheldon, who was used for comedic relief above all else. However, as she has gotten older, she has become far more multi-dimensional. "She's older, she's in middle school, and you see all these layers to her as she's dealing with, you know, school," Revord said, also pointing out the complex emotions Missy now has to contend with.
As Missy has evolved throughout "Young Sheldon," so has Revord's approach to the role. In an interview with Unclear Magazine, she shared a bit about how things have changed for her in that regard — specifically when it comes to her sense of on-set awareness. "I approach the scenes differently by thinking about the camera setup, my timing, I just have a deeper understanding of what's really going on," she said, noting that previously, she'd simply show up to set with her lines memorized and not think twice about the nuances of the production.
Throughout her "Young Sheldon" run, Raegan Revord has worked hard in pursuit of making Missy Cooper a standout on the show. Especially as the character has become more fleshed out, she's done just that and then some. Time will tell how much longer the series will go on, but so long as she continues to enjoy playing Missy, hopefully, Revord will get to do so for many more years to come.