Ted Lasso's Jason Sudeikis Humbly Explains Getting In 'The Zone' For The Show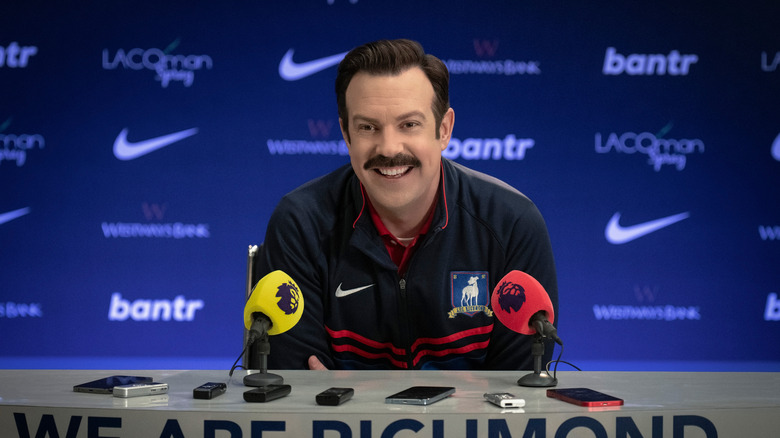 Apple TV+
The runaway success of "Ted Lasso," an Apple TV+ sitcom with an unassuming fish-out-of-water premise that belies the beating heart it wears on its sleeve, has surprised even its creators. According to star Jason Sudeikis, many of the show's greatest moments have arrived equally unexpectedly.
Speaking to CNN, Sudeikis said that ideas for the show, which follows his titular Ted as he coaches an English football team, have come to him in the same way real-life athletes prepare for games. "It feels indulgent to say that, but I say it humbly. It's what athletes call 'The Zone.' It's a real thing. And sometimes we only feel it in the 20 seconds when we first get in the shower."
So, what does Sudeikis do when that limited window of inspiration strikes? "You stay open to it and just let the universe lead the way," he explained. He noted that one such moment occurred when actor Jeremy Swift regaled him with tales from his jazz-playing days, leading Sudeikis to write an arc for Swift's character, Leslie Higgins, in which he returns to his jazz roots.
Ted Lasso is a show that ebbs and flows with its creators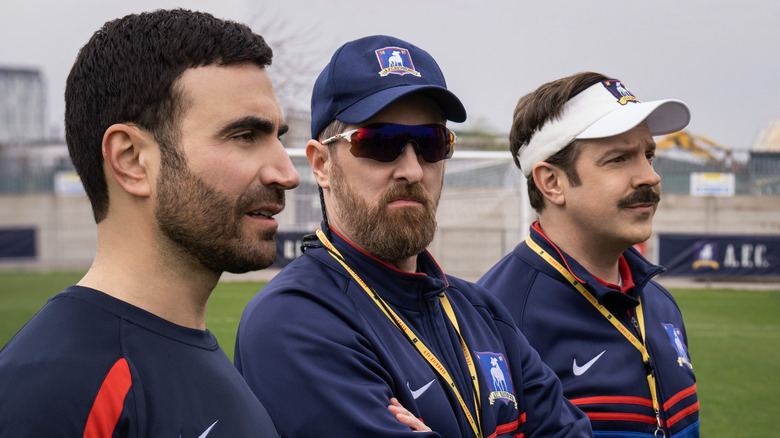 Apple TV+
"Ted Lasso" is, at its core, passionately optimistic about the human capability for positive change. There are no broken people in the world of Richmond football, only those in need of repair. Jason Sudeikis describes his creative process toward the show in a manner that reflects that spirit. Happy accidents, as the late TV painting personality Bob Ross would have put it, are at the core of the "Ted Lasso" writing process.
Others aside from Sudeikis have described that open-ended writing style. Breakout star Brett Goldstein, who plays footballer Roy Kent on the Apple TV+ series and is best known for his animalistic growls, has described how the character of Keeley Jones was adapted to fit actor Juno Temple's upbeat personality.
Sudeikis retains that same energy when describing the potential for a fourth season of the sitcom on which his mustache is the main star. As of this writing, the show has not been renewed for a fourth season, and Season 3 is being treated as its last, though spin-offs are in the works. But, says Sudeikis, "If that which seemed impossible became possible, then maybe even the impossible can become possible."