Chris Pratt Says Guardians Of The Galaxy Vol. 3 Is Testing 'Very Very Well'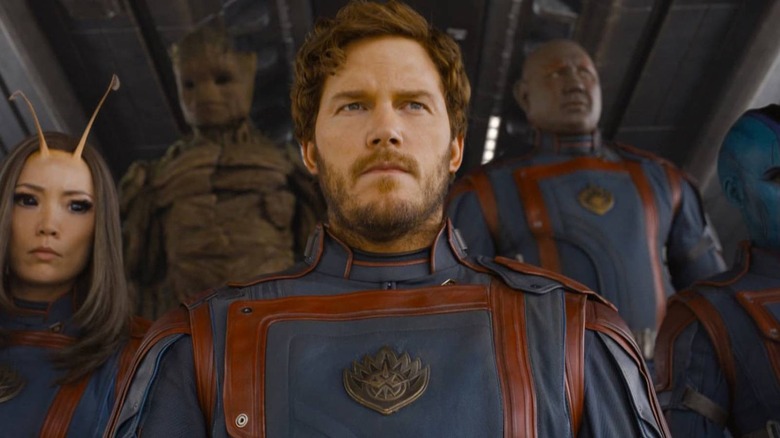 Marvel Studios/Disney
Marvel Studios started 2023 on somewhat rocky footing. "Ant-Man and the Wasp: Quantumania" opened to an impressive $106 million box office debut domestically on its opening weekend but faced severe drop-offs in subsequent weeks. That's not even getting into the critical reception, placing the film amongst the worst-reviewed of the entire MCU. The studio needs a hit to convince audiences the franchise is still strong, and "Guardians of the Galaxy Vol. 3" may just be the film to do it.
The first two "Guardians of the Galaxy" movies, both helmed by director James Gunn, were well-received, making them highlights of the MCU. Gunn is back to round out the trilogy, and Star-Lord actor Chris Pratt is confident "Vol. 3" will connect with audiences. When speaking to ExtraTV about the upcoming "Super Mario Bros." movie, Pratt spoke about the other big blockbuster coming out later this year: "It's so good. It's testing very, very well. James Gunn was back to do the third installment, which is really rare in that type of space to have the same writer/director do all three movies. He's continuing to refine his ability as a filmmaker, and it's really evident in this movie." The fact that it's supposedly testing well should be good news for Marvel execs and Marvel fans alike. 
Guardians of the Galaxy Vol. 3 is 'emotional' and 'super funny'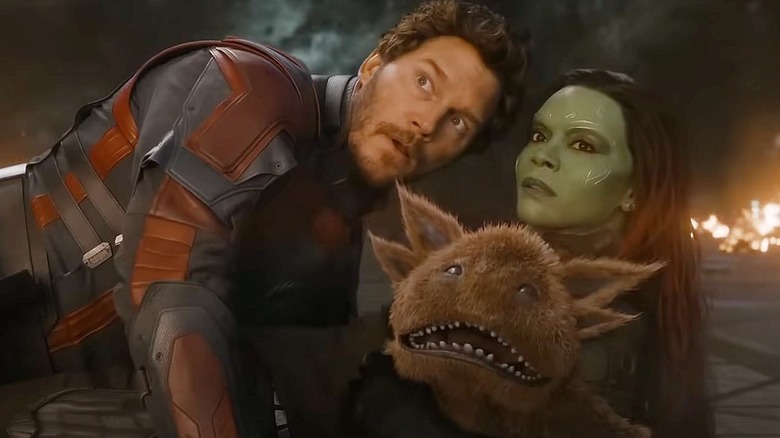 Marvel Studios/Disney
"Guardians of the Galaxy" and its sequel are highly regarded among Marvel fans. The first film has a 92% positive rating from both critics and audiences on Rotten Tomatoes. On the same website, "Vol. 2" has similar impressive scores, with an 85% positive rating from critics and an 87% rating from audiences. Those are some pretty big expectations for a trilogy capper to live up to, especially seeing how this will likely be Gunn's swan song for the MCU as he sets his sights on "Superman: Legacy" and guiding other DC projects.
According to Pratt, Gunn has certainly achieved a fitting end for these beloved characters. When describing the film itself, Pratt stated, "It's emotional, it's powerful, it's super funny, it's really moving. It's got an incredible, I think the best soundtrack yet which is saying a lot ... it's a really fantastic movie." He concludes by saying how people who enjoy Marvel and these types of movies are going to be "truly moved" by "Vol. 3," and if those trailers are any indication, it's definitely going to be an emotional rollercoaster.
"Guardians of the Galaxy" has always been a solid performer for Marvel, so much so that the crew got their very own Holiday Special on Disney+. It may be the end of the journey, but it sounds as though they'll go out with style. See for yourself when "Guardians of the Galaxy Vol. 3" comes out in theaters on May 5.