Some Yellowstone Viewers Boil The Show Down To A Trashy Soap Opera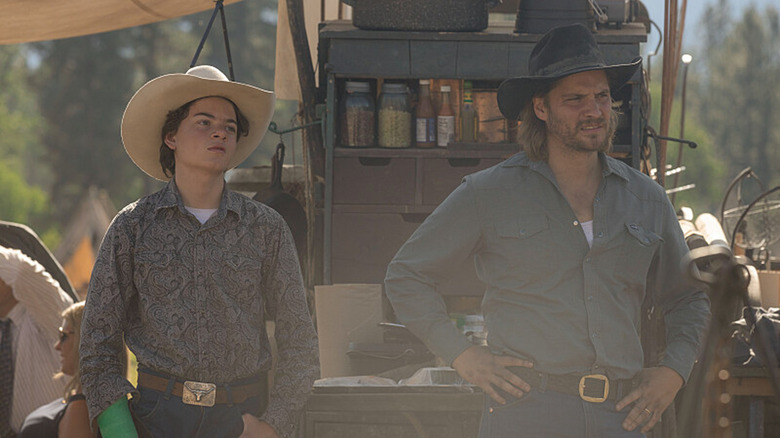 Paramount Network
Since it first premiered back in 2018, "Yellowstone" has been incredibly popular. In fact, Taylor Sheridan's neo-western is so popular that it has led to several spin-offs, including "1883" and "1923," as well as other Sheridan projects like "Tulsa King" and "Mayor of Kingstown."
With at least one more round of episodes coming in the summer of 2023, it looks like fans aren't finished with their time at the Dutton ranch either. Still, while "Yellowstone" remains a successful series, some fans have taken to criticizing its faults, with many even calling it a trashy soap opera.
On the r/television subreddit, u/KJM31422 made a thread about how they don't really understand the hype that surrounds "Yellowstone," and many other users jumped in to point out that the show definitely isn't for everyone.
U/BigChocolateMilk had the top comment, comparing the show to another popular series with a soapy subtext. "I have recommended Yellowstone to other people, but I do ask them if they enjoyed Sons of Anarchy," the user said. "This is literally SoA but with cowboys." U/wguerrettaz was less kind, however, suggesting that the series is way overhyped. "Yup, don't get The Sopranos, Succession, The Godfather comparisons," they said. "Those are high art; YS is a trashy soap with a budget."
Though the series is popular, fans still note its flaws as they watch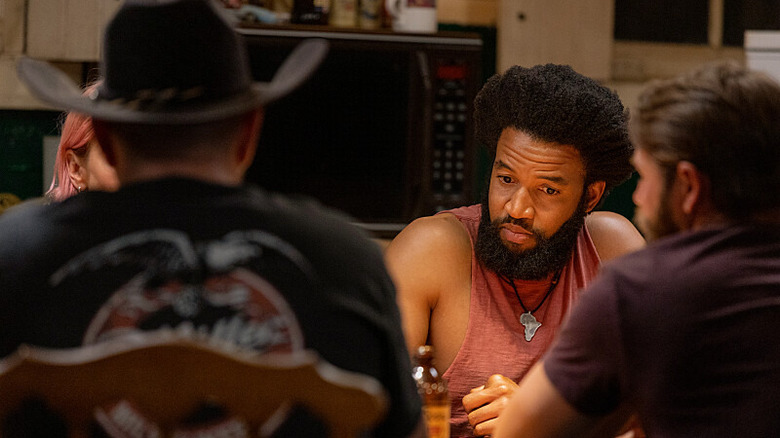 Paramount Network
Still, other "Yellowstone" viewers popped in to point out how ridiculous the show's many subplots can be and how unrealistic that often makes the series feel. "I think the show is ridiculous," said u/Arsenis. "A kid's dad finds an entire dinosaur in his backyard after getting mad at a tractor and blowing it up. Kids father kills a van full of people, then discovers they are possibly kidnapping a young girl not too long after killing a meth maker after his trailer exploded," the user went on.
The Redditor is, of course, referring to a series of plots that follow Kayce Dutton (Luke Grimes) over the course of just a few episodes in Season 1 of "Yellowstone." Though competing business owners have been known to get nasty in order to take out their partners or the competition, this seemingly random sequence of events doesn't even have anything to do with the titular ranch, really.
Other users admitted that they had lost faith in "Yellowstone" in more recent seasons. "It's a nighttime soap opera," said another user. "I enjoyed the first three seasons because of the focus on ranching and more realistic scenarios. It's lost me lately, but I'll finish what I started," they said. "John Dutton ain't no John Dunbar, that's for sure," the user concluded, drawing a comparison from John Dutton to Kevin Costner's "Dances With Wolves" character.
Taylor Sheridan's neo western style isn't going away any time soon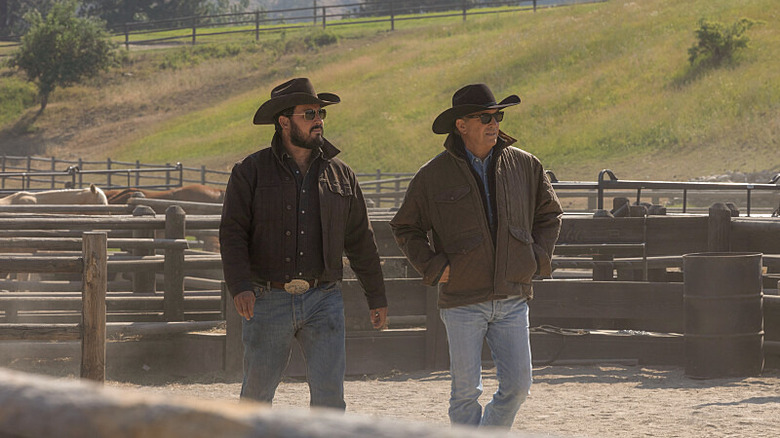 Paramount Network
While the above user was at least content to follow "Yellowstone" through to its conclusion, other viewers were far more critical. "Soap opera in a cowboy hat," said u/dgarner58. "Not gonna be able to do it." U/SugoiHubs went a step further in analyzing the storytelling of the popular series. "Exactly what my wife and I thought," they agreed. "When you actually write down the S1 plot points in chronological order all in front of you at once, it's literally a soap opera."
Though these many viewer assertions clearly show that "Yellowstone" can be an incredibly divisive series, television fans are going to have to get used to Taylor Sheridan's neo-western style whether they like it or not. On top of "1883" and "1923," at least two other spin-offs of the popular series, "1883: The Bass Reeves Story" and "6666," are said to be in the works, on top of Sheridan's already full plate of projects