Kevin Costner Didn't Need To Attend Yellowstone's Cowboy Boot Camp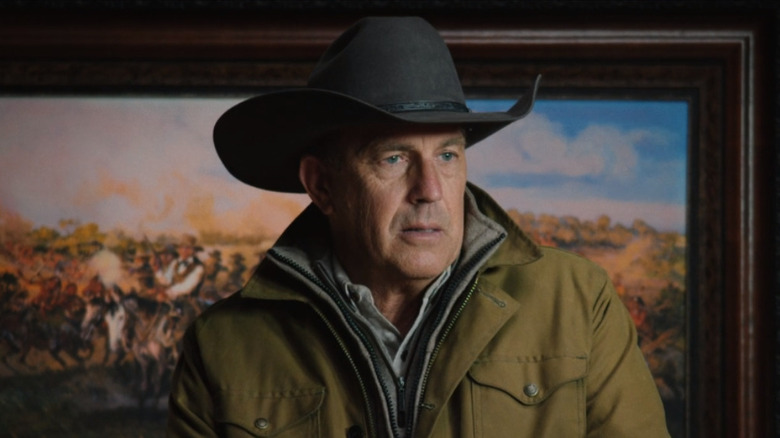 Peacock/Paramount Network
Nobody who knows their recent film history could really say that they were surprised that Kevin Costner accepted the role of John Dutton on "Yellowstone." His presence was a major selling point for Taylor Sheridan, who otherwise may not have gotten Paramount to go along with some rather strict demands. There is, of course, the fact that Kevin Costner is a very big movie star with a profile that provides a real draw to any project he's involved in. The other fact — which is more particular to the genre of "Yellowstone" — is that he is one of maybe a small handful of actors who can say they really understand the Western genre.
His resume reflects his familiarity with the genre. From "Silverado" to playing legendary lawman Wyatt Earp, this is an actor with serious experience in the wide-open, hard-bitten universe of lawlessness and gun-slinging. Case in point: pretty much all the main cast of "Yellowstone" had to go through what's called cowboy boot camp. Taylor Sheridan required it of them, with all but a couple of exceptions. One of those exceptions was for Kevin Costner. 
"Yellowstone" star Cole Hauser, who plays Rip Wheeler in the flagship series, confirmed this fact while speaking to Entertainment Tonight's Cassie DiLaura about who he thought did better at cowboy camp: him, Costner, or Tim McGraw. "Kevin wasn't at cowboy — he did cowboy boot camp like 30 years ago, for 'Dances With Wolves,'" Hauser said.
Costner taught at least one actor how to ride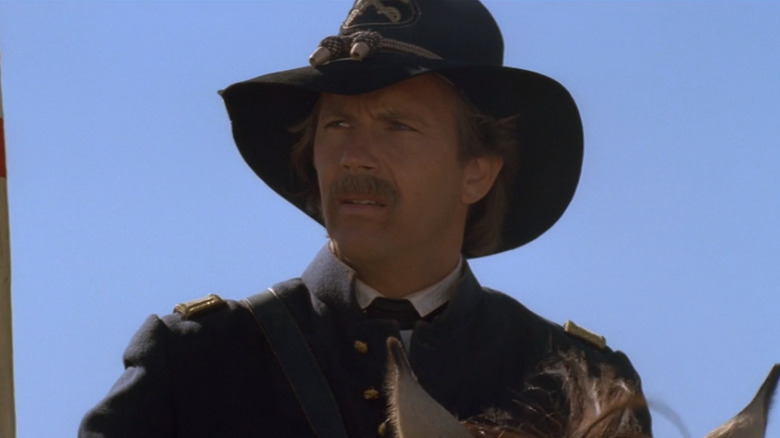 Orion Pictures/HBO Max
Kevin Costner's experience riding horses — and doing other cowboy stuff on-screen — predates "Dances With Wolves." "Silverado," released in 1985, was something of a breakout role for him, and saw his character riding a horse countless times. That said, it's understandable that most might see "Dances With Wolves" as more representative of Costner's connection to the Western genre and cowboy skills. Costner directed and co-produced "Dances With Wolves," winning the Oscar for best director and best picture at the 1991 Academy Awards. The film won five other Oscars that year, including best adapted screenplay and best cinematography.
In any event, it's pretty undeniable that Costner knows his way around a horse. He even taught Bobby Cannavale how to ride one, according to the latter during an appearance on "Late Night with Seth Meyers." After essentially lying on his acting resume to include horseback riding in his list of special skills, Costner, who directed the film, brought out a horse for Cannavale to mount. "And he brought the horse to me, and... I just look at it. And he goes like, 'You gonna get on it?' And I said 'Yeah, yeah, I'm just, just waiting.' And he went 'You don't know how to ride a horse.'" 
Costner was kind enough to teach Cannavale how to ride, though his role was ultimately cut from the film. In fact, there's not even any mention on IMDb about which film it might have been.