Seth Rogen Is Worried He'd Break Steven Spielberg's Brain With Weed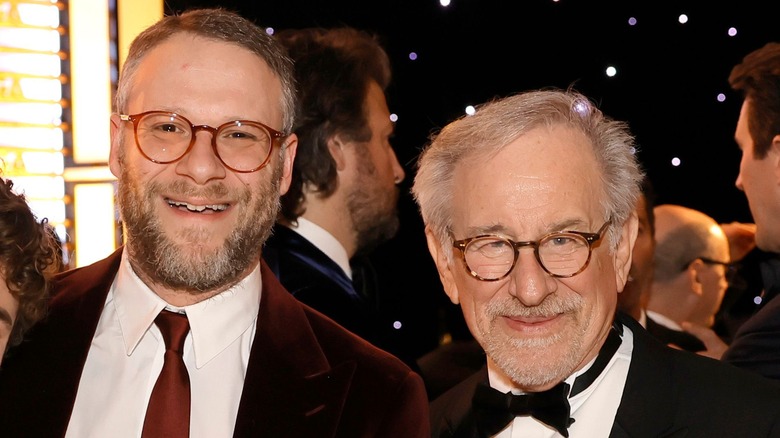 Kevin Winter/Getty Images
Seth Rogen has always been a proud stoner. Among his breakout hits was the buddy comedy "Pineapple Express," and these days he runs Houseplant, a company which produces bespoke smoking accessories. 
Over the course of his career, he's also traded social circles. After years working predominantly with comedy kingpin Judd Apatow, he recently starred in Steven Spielberg's semi-autobiographical Oscar nominee, "The Fabelmans." If there are two things he'd rather not mix, it's his newfound friendship with Spielberg and his proclivity for a top shelf strain of cannabis.
Rogen most recently hung with the venerated director at the Oscars, where "The Fabelmans" was up for several awards. Describing the scene on Jimmy Kimmel Live, Rogen said that Spielberg spent the night taking pictures of the people at their table. "He's like a kvelling father," Rogen said, "in that, yeah, he loves me, and he's in complete denial about how much weed I smoke."
Asked by Kimmel whether he'd ever asked Spielberg to share a toke, Rogen responded, "No, never, never. He talked about it. Obviously, he'll joke about it and stuff like that. But no. I don't want to be the guy who breaks Steven Spielberg's f****** brain, you know what I mean? That's a heavy burden. That's the last thing I need."
Rogen first met Spielberg while smoking a joint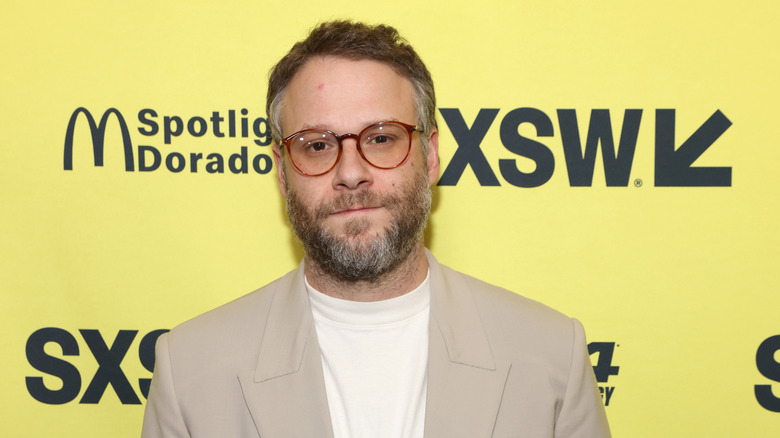 Rick Kern/Getty Images
Kimmel, hosting the Academy Awards in March, sent a few drug related zingers toward Rogen and Spielberg, who were seated with each other. "Seth, what are you on now?" the late night host asked. A few moments later, he joked that Spielberg's "E.T." could only have been made under the influence. "You mean to tell me you were sober when you made a movie about an alien who eats Reese's Pieces all day and can't remember how to phone home? You were high as a bike when you made that movie."
Rogen has been caught red handed (or, more accurately, green handed) by Spielberg in the past. In 2018, the "Knocked Up" star recalled to Kimmel that the director happened upon him at an Oscar party, right after Rogen had sparked a joint. "I was like, 'Do I stop or do I just hold it?' That's weird," Rogen told the late night host (via Page Six). 
At the time, Rogen thought the encounter had lessened him in Spielberg's eyes. But only a few years later, he received a call from the "Jaws" director, who wanted him to star in the most personal film of Spielberg's career. As Rogen noted at the Los Angeles premiere of "The Fabelmans," he'd first mistakenly assumed Spielberg was calling to complain about a joke Rogen had made. Instead, he was calling to offer him the role of a lifetime.