Seth Rogen Regularly Googles Himself In A Very Specific Way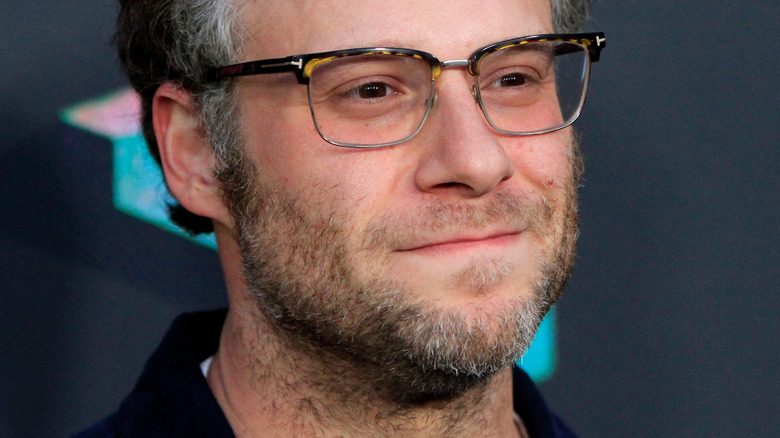 Kathy Hutchins/Shutterstock
Seth Rogen loves roasting his fellow celebrities, and he doesn't pull any punches. For instance, when presenting an award to Charlize Theron for The Hollywood Reporter's Women in Entertainment breakfast in 2022, Rogen took the opportunity to roast Vin Diesel, the quiche served at the breakfast, and Kim Kardashian, the latter of whom he specifically tagged for her absence. "All I'll say is this: I have seen every episode of 'Keeping Up with the Kardashians,' so I know she's not doing something more important than this. I've seen 100,000 hours of her. She's never done something more important than this."
Another one of his famous roastings came during the 2021 Emmy Awards, when he blasted the organizers for their lack of COVID compliance. "Let me start by saying: there's way too many of us in this little room! What are we doing? They said this was outdoors. It's not! They lied to us. We're in a hermetically-sealed tent right now. I would not have come to this. Why is there a roof?" (per Decider).
The funny twist? In a recent interview, Rogen admitted that he roasts Hollywood royalty so often that, by now, he often forgets who he has already insulted — and when confronted, he has to consult Google to see what he said.
Seth Rogen can't remember everyone he's already roasted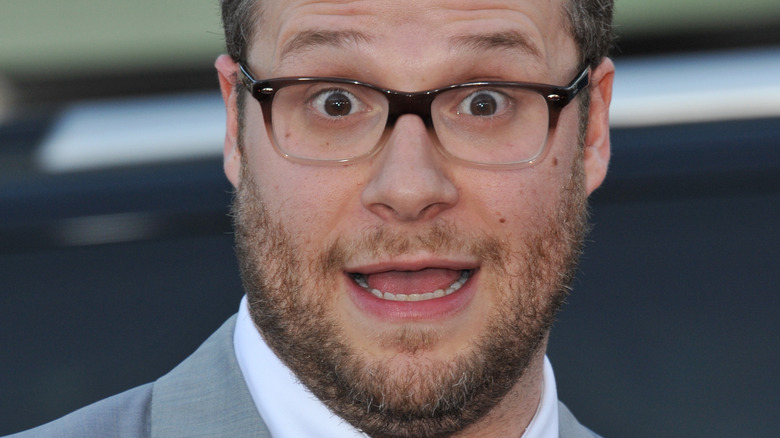 Featureflash Photo Agency/Shutterstock
In an appearance on "Jimmy Kimmel Live," Rogen — discussing his emotional 2022 film "The Fablemans" – admitted that when Spielberg first contacted him about starring in the film, he was concerned that the call might be an angry one. As Rogen explained, that's because his frequent jokes about other celebrities have landed him in hot water with those same famous people many, many times, leading to awkward conversations where he doesn't even remember what mean comment he actually said. 
"I make jokes about people that I forget I make," he elaborated. Because of this, Rogen then Googles his name, combined with the names of other celebrities. As Rogen explained, "I have to, like, Google 'Seth Rogen Pete Davidson joke' and then I'm like, 'Oh, I did say something one time.'"
This wasn't an isolated instance, to put it mildly. "It's happened to me so many times," he said, mid-laughter. 
For the record, that reference to making a joke about Pete Davidson probably isn't random — it's actually a real incident that happened. In 2018, when Davidson was engaged to Ariana Grande, Davidson posted a picture of his then-fiancée on Instagram in a post that is no longer available (Davidson no longer seems to be on Instagram). Grande posted "I love you" as a comment and Davidson responded "I love u more tho," to which Rogen then responded "Guys seriously" (via US Weekly). The couple called off their engagement later that same year, as explained by People, so it's not hard to imagine that maybe there's a reason Rogen specifically noted this roast gone wrong.