Justified's Season 6 Finale Was Meant To Honor The Author After His Passing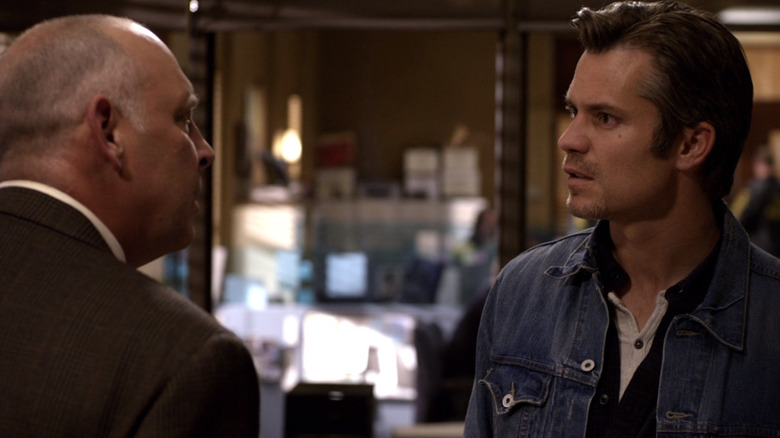 FX Networks
Raylan Givens (Timothy Olyphant) is returning to FX soon with the new revival series "Justified: City Primeval." But the sixth and final season from the original run of "Justified" remains a strong send-off for the cowboy lawman and his love/hate relationship with criminal Boyd Crowder (Walton Goggins).
Where many shows are canceled without any conclusion to the overall story, developer Graham Yost started planning his drama's finale around Season 4. "We just felt like if this chapter in Raylan's life was about Raylan and Boyd that we could only take it so far, that was basically it," he told Entertainment Weekly. "We didn't want to outstay our welcome."
This meant the series could progress towards an endgame in earlier episodes, resulting in Raylan's inevitable confrontation with Boyd, Ava Crowder (Joelle Carter), and Avery Markham (Sam Elliott) during the last season. The decision to end "Justified" was also because of the 2013 death of author Elmore Leonard, whose books inspired the show. Here's how the finale honored his legacy.
The series finale is dedicated to Leonard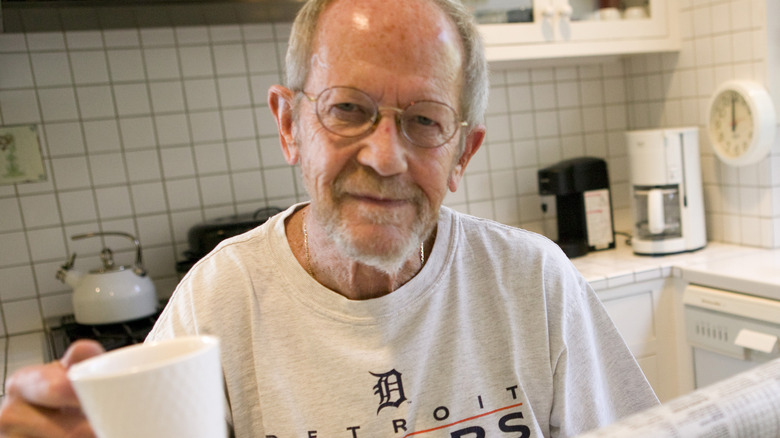 Andrew Sacks/Getty Images
Crime writer Elmore Leonard didn't just create the characters of Raylan Givens and Boyd Crowder in his short story "Fire in the Hole" before writing various Raylan adventures. He also penned plenty of hit novels adapted to the screen, including "Out of Sight," "Get Shorty," and the novel "Rum Punch," which inspired "Jackie Brown."
The "Justified" writers strived to be faithful to Leonard's colorful source material, and the writer evidently enjoyed the show. He even fatefully advised Graham Yost, "You might wanna keep Boyd around." So when he died in 2013, this only solidified Yost's decision to figure out the end for his characters.
Olyphant remarked to Entertainment Weekly of the series finale, "It's going to be sad. We thought that Elmore would have liked it." They also dedicated the episode to Leonard in tribute. But there was really no better way to pay homage than with that bittersweet final scene, as Raylan and Boyd acknowledge they'll always be connected because as they put it, "We dug coal together."