John Wick 4 Creator Can't Help But Scoff At This Marriage Theory
With "John Wick: Chapter 4" about to launch its way into theaters, fan theories have started swirling around the Internet at breakneck speed. It's par for the course for the franchise, which has created a world of complex, fascinating mythology — even while delivering thrilling action set pieces. To address this discourse surrounding the film, director Chad Stahelski and star Keanu Reeves filmed a video for Vanity Fair, reacting to the most salient "John Wick 4" Reddit fan theories. However, one theory just doesn't hold water with either creator.
After reading that one fan thought John Wick might get married in "Chapter 4," Stahelski laughed and quickly debunked the theory. "I can't believe that people aren't picking up that John Wick is getting married in part 4," wrote one Will Norris, to which Stahelski replied, "I can't believe it either, Will."
However, that doesn't mean that John Wick will remain single forever. In fact, both Stahelski and Reeves know exactly how John Wick's wedding is going to look.
A Wick wedding will have champagne and a dog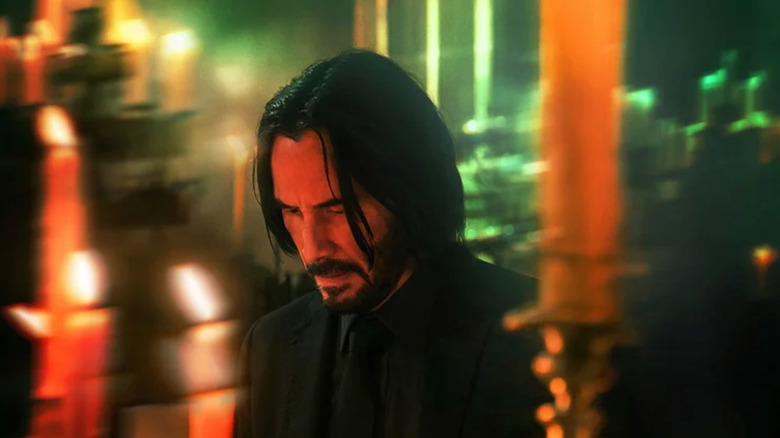 Lionsgate
Redditor Will Norris' theory certainly had logic — if not truth — to it. Norris felt that John Wick would have to get married so that "his family will have a seat at the table." The idea came from Laurence Fishburne's moment in the "John Wick: Chapter 4" trailer when he says, "A man has to look his best when it's time to get married. Or buried."
And while Chad Stahelski and Keanu Reeves both scoffed at the idea, they also left the door open for Wick to get married in a future iteration of the series. "I think [Wick is] still in those stages of grief with Helen," said Stahelski, as a way to explain why Wick wouldn't get married in "John Wick 4." But then he and Reeves imagined how a hypothetical wedding might play out.
"People would be well-dressed. There'd be champagne," said Reeves, before Stahelski added, "It would be an occasion. There would be dancing and a dog." Of course, such an occasion would be a very happy ending for John Wick, and could perhaps come at the end of a hypothetical "John Wick 5." Whether or not we'll get one, however, is anyone's guess.