How Dwayne Johnson Reportedly Played A Part In A Shazam 2 Sabotage
Contains spoilers for "Shazam! Fury of the Gods"
Dwayne Johnson spent most of the build-up to "Black Adam" teasing that the hierarchy of the DC universe was about to change, but his ambitious dreams for the franchise have seemingly been dashed. On the heels of "Black Adam" garnering a poor reception, "Shazam! Fury of the Gods" was met with largely negative reviews and bombed at the box office. Ironically, none other than Johnson himself could be to blame for the DCEU's recent misfortunes, as he allegedly constantly meddled behind the scenes.
A report by The Wrap details how Johnson pushed back against Black Adam and Shazam crossing paths onscreen. Most notably, he apparently vetoed a "Black Adam" post-credits scene where Zachary Levi's Shazam joined the Justice Society of America. This stinger was eventually used in "Shazam! Fury of the Gods," but The Wrap says Johnson blocked potential appearances from his "Black Adam" co-stars. That's why Jennifer Holland and Steve Agee reprise their DCEU roles as Emilia Harcourt and John Economos, respectively, in the sequence.
The Rock's franchise ambitions were too big for their britches
This is just the latest example of Johnson interfering with the DCEU. Back when the first "Shazam!" movie was in development, Black Adam was set to have a key role. However, Johnson convinced Warner Bros. to make a standalone "Black Adam" film instead, feeling it would be "an incredible disservice" to his character if "Shazam!" featured a pair of origin stories. Despite the characters' close connection to each other in the comics, Shazam and Black Adam made their big screen debuts separate from each other.
While some may have thought the two would meet in a future installment, Johnson seemingly had other ideas. He infamously strong-armed Warner Bros. into approving a "Black Adam" cameo for Henry Cavill's Superman, setting the stage for a massive fight between those two characters. Throughout "Black Adam" promotion, Johnson continuously hyped up such a confrontation, a curious decision since Shazam — not Superman — is Black Adam's arch-rival. By downplaying Black Adam's strong links to Shazam, Johnson unwittingly hamstrung two comic book franchises. An argument can be made if he used his platform and influence to drum up anticipation for Shazam vs. Black Adam, these two properties could have a bright future instead of being shelved.
The future of all Shazam characters may now be in question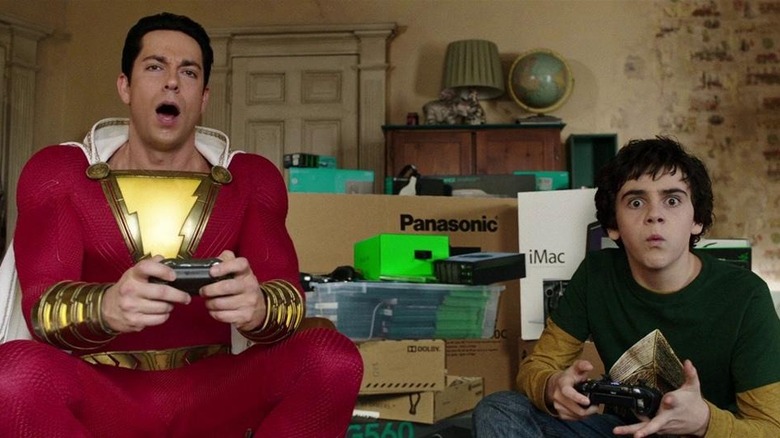 Warner Bros. Pictures
Now, it looks like all of these characters, including The Wizard (Djimon Hounsou) and Shazam's new team of family superheroes from "Shazam! Fury of the Gods," will likely be either taking a hiatus or getting flushed from the DCU altogether to make room for the whole slate of new characters set to make their debuts. This has got to come as a major blow to Warner Bros. Discovery. The first "Shazam!" was both a critical and financial success, netting a score of 90% on Rotten Tomatoes and bringing in $366 million on its estimated budget of only $100 million. Meanwhile, "Shazam! Fury of the Gods" debuted with $30.1 million domestically, bringing in less than half of its hefty budget.
To complicate matters further, new heroes like Blue Beetle are set to join the DCEU. If "The Flash" and "Blue Beetle" do well for Warner Bros. Discovery, it seems unlikely that James Gunn and Peter Safran will see any reason to bring back failed characters, especially with so many other DCEU heroes already on the chopping block. 
Although Dwayne Johnson has long been thought to be one of the biggest box office draws around, his meddling with the DCEU may have tanked a shared three-movie franchise. What this will do to Johnson's cache as an actor and producer will remain to be seen in the fallout of these decisions.