Shazam 2: Djimon Hounsou Brought The Comedy In A Big Way
Contains spoilers for "Shazam! Fury of the Gods"
"Shazam! Fury of the Gods" flew into theaters this weekend, and even though it bombed at the box office, it continued bringing its lighthearted nature to the doom and gloom that enveloped the DCEU. It turns out Djimon Hounsou, who played the Wizard Shazam in both films, was a big source of that comedy, bringing his natural comedic talent to the role.
"I worked with Djimon before on 'Fast 7,'" "Fury of the Gods" screenwriter Chris Morgan told Polygon. "And in some roles he can come off stoic and strong or whatever, but man, that guy's really, really funny. And so the chance to bust out with the Wizard a little bit was just too much to resist." One scene features Hounsou donning his own Wonder Woman costume, showcasing the actor's willingness to go the extra mile for the bit.
Co-writer Henry Gayden echoed Morgan's statement, praising Hounsou for elevating the comedy in "Fury of the Gods." The actor's Wizard stands behind Freddy (Jack Dylan Grazer) and Anthea (Rachel Zegler) during an emotional scene, mimicking their conversation with talking hands. That wasn't in the script, but "Djimon really just took over there and made everything funnier," according to Gayden.
Djimon Hounsou deserves more recognition as an actor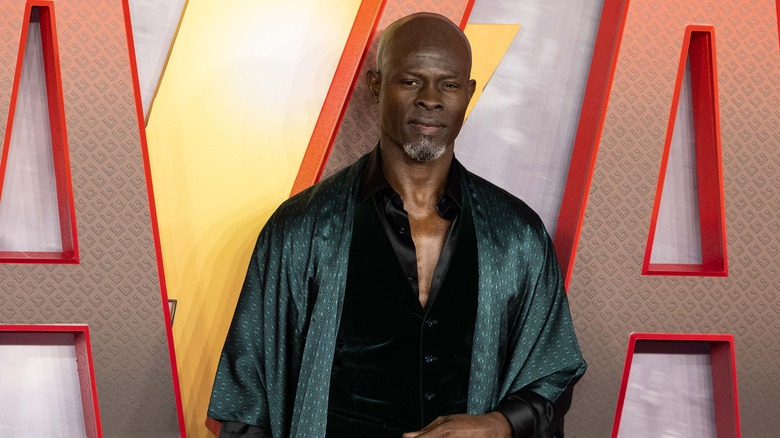 Jeff Spicer/Getty Images
Djimon Hounsou knocking it out of the park in "Shazam! Fury of the Gods" shouldn't surprise moviegoers. The actor has crafted an incredible career, has been nominated for two Academy Awards, starred in numerous blockbuster franchises, and worked with some of the best directors ever. However, as he told The Guardian, his name doesn't carry the same weight as other actors with fewer accolades.
"I'm still struggling to try to make a dollar!" he said, referencing the lower pay he receives for roles. "I've come up in the business with some people who are absolutely well off and have very little of my accolades. So I feel cheated, tremendously cheated, in terms of finances and in terms of the workload as well."
Taking a step back to examine Hounsou's career, he has every right to be angry, disappointed, or any other strong emotion regarding his treatment in the industry. He earned Oscar nominations for incredible performances in "In America" and "Blood Diamond" and worked with filmmakers like Steven Spielberg and Ridley Scott. Those credentials alone should bill him as a "leading man," but he now has to settle for small parts in the MCU and other franchises like "Kingsman" and "Fast & Furious." While playing the Wizard in "Shazam! Fury of the Gods" (and "Shazam!" and "Black Adam") showcases his comedic talents, Hounsou has already done more than enough to prove he deserves a more significant spot at the table.