Brett Goldstein Calls Juno Temple 'The Light' On Ted Lasso's Set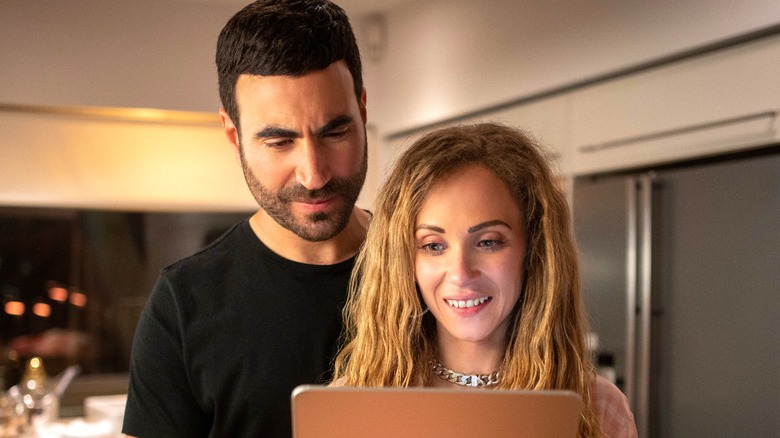 Apple TV+
"Ted Lasso," the ceaselessly positive sitcom from Apple TV+, rocketed to success on the back of its upbeat comedy and lovable cast. While its leading man, Jason Sudeikis, plays the title role of an American fish out of water coaching an English soccer team, the supporting actors and actresses have proven to be equally integral to the show's status as a critical darling.
Sudeikis is joined by a wonderful ensemble cast that includes Brett Goldstein and Juno Temple, who play over-the-hill soccer star Roy Kent and fashion model turned soccer club marketing guru Keeley Jones, respectively. While Goldstein got his start in comedy, writing and starring in humorous shorts and putting on one-man shows for the Edinburgh Fringe Festival, Temple's background is firmly rooted in drama. While she's taken on her fair share of comedies, with credits in Harold Ramis' "Year One" and Alexandre Aja's "Horns," among others, her roles have tended further toward the dramatic overall. Still, she shines in "Ted Lasso" as one of the show's most earnest figures, both a nurturer and an ambitious entrepreneur who always has a word of sage advice for those around her.
For Goldstein, Temple is a cherished presence on the set of "Ted Lasso" and brings light to the proceedings, as he explained in a recent interview.
Brett Goldstein thinks Juno Temple is a radiant presence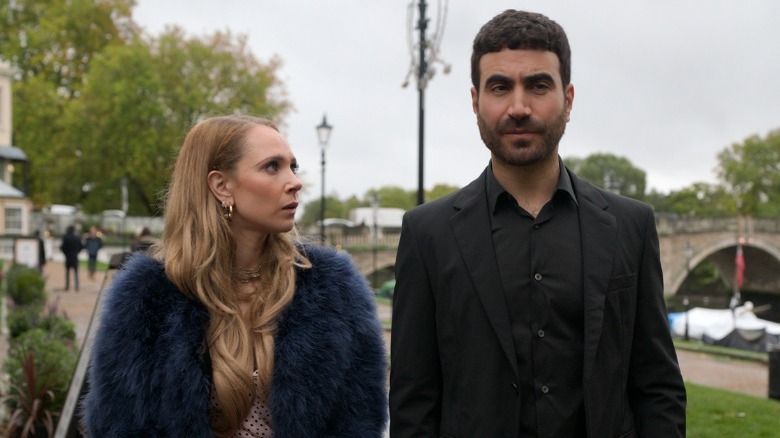 Apple TV+
Speaking to Marie Claire for a 2022 profile of Juno Temple, "Ted Lasso" star Brett Goldstein spoke of his Apple TV+ co-star in glowing terms, explaining that her presence on set was always a positive one. Using language characteristic of his "Ted Lasso" character, Roy Kent, Goldstein said, "[Juno's] the f***ing light. I don't know how else to express it."
According to Goldstein, Temple's gaze shines through on set with a sense of life and empathy that elevates her performances. "Her eyes are giving everything," Goldstein continued. "she's alive and she's excited to be with whoever she's with, and she cares about them."
That mirthful quality even influenced the character of Keeley in the writing process, Goldstein revealed. As it became clear that Temple was equally as funny as the comedy stars she shared screen time with, the dialogue assigned to her was adjusted to take advantage of her skills. "We didn't change the story of Keeley," Goldstein said, "but how she spoke and how she was funny changed, because Juno was much funnier than what we'd written for Keeley."
For her part, Temple enjoys playing such a wholesome character, saying, "I like the unpredictability of what kindness and respect do."