Yellowstone's Ian Bohen Has A Very Specific Hope For Ryan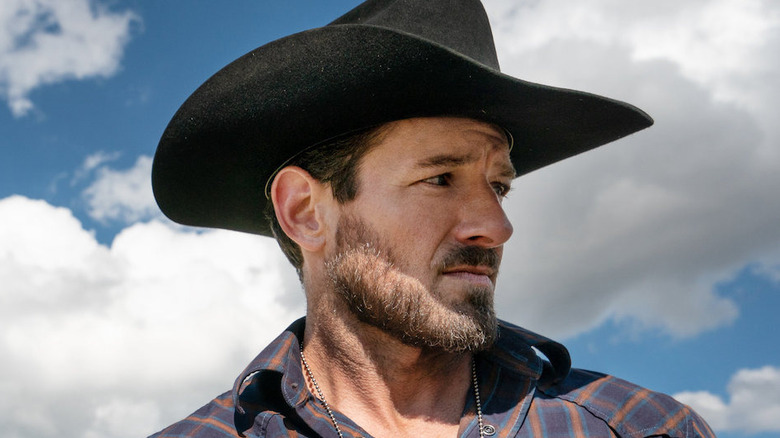 Paramount Network
"Yellowstone" has pulled off the same trick that shows like "The Sopranos" and "Game of Thrones" have managed. Namely, while the neo-western series began by focusing on a smaller group of characters, background and supporting characters have become more fleshed out and been given rich backstories over time.
One of these characters, no doubt, is Ryan (Ian Bohen). While Ryan seems like just another rowdy member of the bunkhouse in earlier episodes, by the end of Season 2, he's stepped up to take the "Yellowstone" brand, showing that he's willing to do whatever it takes, legal or not, to help further the aims of the Dutton family and protect his fellow ranch hands.
However, according to Bohen, he would like to see something different for his "Yellowstone" character as the show continues. As he told TV Insider, Bohen thinks Ryan needs something more to add to his life as he gets older. "I'd like to have a love interest and to watch him be a person detached from the ranch and not just an arm of that entity," the actor said.
Ian Bohen would like to see Ryan with more layers and depth
Being that many of the ranch hands on "Yellowstone" are more loosely developed than members of the Dutton family or other characters like Chief Rainwater (Gil Birmingham), it's easy to understand why Ian Bohen might crave the opportunity to grow not just his character, but also face the unique challenges that such changes to Ryan would offer him as a performer.
"Who is he as a man? How does he talk to people, and what does he want and think about as opposed to just sort of a soldier?" the actor wondered while speaking to TV Insider. "That would be interesting to me, and I hope I get a chance to look into that." When you consider how well-developed other ranch hands like Rip Wheeler (Cole Hauser), Jimmy Hurdstrom (Jefferson White), and Lloyd Pierce (Forrie J. White) have become over the course of "Yellowstone," it's certainly not out of the question for Bohen's character to evolve a bit further.
Either way, fans will have to wait and see how the second part of "Yellowstone" Season 5 builds out Ryan's character, and whether he will continue to play a role in the series' possible subsequent seasons.